You have /5 articles left.
Sign up for a free account or log in.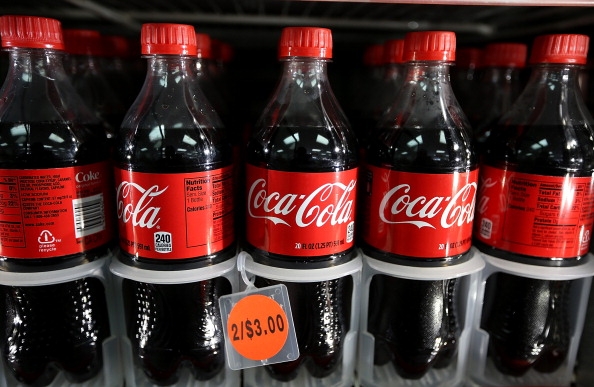 Justin Sullivan / Getty Images
Officials at one health professions campus think it's just common sense to encourage students and employees to make healthy decisions about what they drink.
So the University of California at San Francisco, where all programs are in the health professions, is becoming the first college nationally to stop the sale of sugary beverages on campus. That means no Coke or Pepsi, or plenty of other products. But the policy wouldn't prevent diet sodas, zero-calorie drinks or 100 percent fruit juices from being sold, nor would it impact the sale of unhealthy foods on campus, and students could bring the forbidden drinks onto campus -- after purchasing them off campus.
The new rules will go into effect at the start of July, and each vendor on the campus has agreed to what Clare Shinnerl, the associate vice chancellor of campus life services, described as a voluntary policy (not all vendors agree on the voluntary part).
She said only drinks that have caloric sugar additives will no longer be sold, in line with work from researchers at the university that has identified the negative health effects associated with a large intake of sugar-filled beverages, like Coke and Pepsi.
"We want to walk the talk, so I do think we have that added responsibility as a health sciences campus," Shinnerl said.
A team of three university researchers published a paper in Nature in 2012, citing high levels of sugar consumption as one of the main causes for major health issues. Similar findings had gone viral a year earlier, after one of the researchers, Robert Lustig, posted a 90-minute lecture on YouTube on the negative effects of sugar that has now been viewed more than 5 million times.
"A lot of this work is completed by researchers at UCSF," said Leeane Jensen, the wellness coordinator manager for the university. "Because of that we decided to take action on what our science says so that we're really living our mission."
Yet diet sodas, which use artificial sweeteners, didn't make the cut, nor did fruit juice, which has high levels of sugar, although that sugar is considered to be natural. Jensen said the evidence on the health effects of those artificial sugars wasn't well established enough to make a formal policy addressing those drinks.
The American Beverage Association declined to comment on the policy for this story.
The University of California at San Francisco is the first university to make such a sweeping ban on sugar. The campus first limited smoking in 2005 before designated smoking areas were removed in 2008. In 2013, all tobacco products were banned, as a part of a plan by then University of California President Mark Yudof to remove tobacco from all campuses in the university system by 2014.
This ban is reminiscent of the New York City "soda ban" in 2012, proposed by then Mayor Michael Bloomberg and ultimately shot down in court, which sparked debate over freedom of choice by New Yorkers.
Just as Bloomberg was criticized for going too far in imposing choices on individuals, comments in the similar vein were posted on the university's announcement of the ban on its Facebook page. Reactions ranged from supportive to anger to questioning why only some drinks were banned to passionate defenses of the freedom to choose.
"Um, end 14-hour rotation days first. Less soda subscription means more Adderall use," wrote one user. Another commented, "Doesn't make sense to take that away when you sell other items that are also bad. Example: hot cheetos, candy, etc.…"
Jensen noted that the sugar taken in while drinking a sugary beverage doesn't fill a person up as much as sugar from foods like cookies, which was why the ban was directed toward drinks only.
Shinnerl said all vendors on campus agreed to go along with the voluntary ban, but business owners said they felt as if they had to comply in order to remain in good standing with the university.
Kenneth Guzman, manager of a restaurant on campus called The Pub, said he "didn't really have a choice" in deciding to adopt the policy or not, because to his knowledge all other vendors on campus were.
"I felt like it was a little too rash, they are too harsh," he said. "We could've just educated our customers on how to choose healthier alternatives and not punish them, taking away what they love."
Ali Keshavarz, who has one of his three Peasant Pies locations on the university's campus, said he originally didn't carry soft drinks but the demand on campus was so great he eventually gave in.
He said he wanted to only offer the healthy beverages he sells at his other two locations, but will continue to carry Diet Coke and Coke Zero. But as a chemist, he questioned the science behind the decision to continue carrying diet sodas.
"Those artificial sugars are worse than sugar itself. If my kid had a choice between a sugar soda and a diet soda, I'd want them to have the sugar soda, I know that for a fact," Keshavarz said. "But that's my decision."