You have /5 articles left.
Sign up for a free account or log in.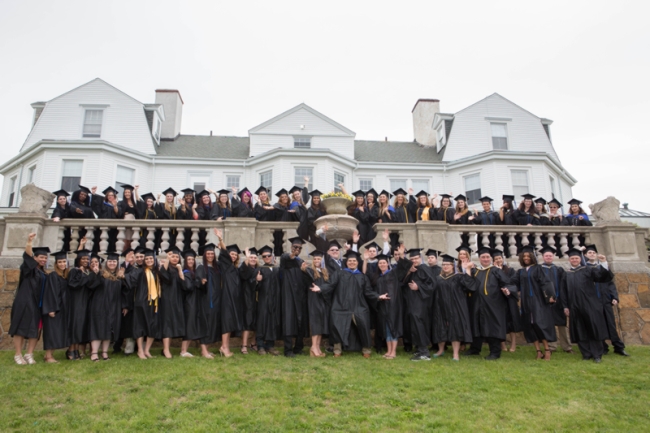 Faculty members knew Marian Court College was on the brink of closure, but they didn't quite expect the 50-year-old institution to shutter so soon.
The announcement came exactly one month after the governor of Massachusetts addressed graduates during commencement in a speech the college described as full of "hope and optimism." But in the month since, initial fall 2015 enrollment numbers appeared weak and the college couldn't find financing to keep it afloat for another year.
The tiny Catholic college on the coast of New England, about 15 miles from Boston, announced Monday that it will close its doors at the end of the month due to insurmountable financial challenges.
"It certainly seemed like a possibility, but I didn't expect it to happen in the summer with such short notice," Gregory Walsh, chair of the college's liberal arts department, said of the closing.
President Denise Hammon said that as recently as a month ago she was hopeful the college would remain open. Yet it proved too difficult to dig the college out of a challenge that faces many small, private college: the troublesome combination of extreme tuition reliance and declining enrollment.
Marian Court was always small, but has been getting even smaller in recent years. There were 183 full-time-equivalent students enrolled in 2013 (a mix of 266 full- and part-time students were enrolled that year), the latest year of federal data available. FTE enrollment dropped by about one-third in a decade.
The college derives 87 percent of its revenue from tuition, according to figures provided by Marian Court. Last year the college had $3.2 million in expenses, with an operating deficit of $530,000.
"Our donor support has never been large…. We've never had an endowment, we've had no rainy day fund," Hammon said. "It all points back to the low enrollment."
Marian Court is a commuter college, and the majority of its students are first-generation college attendees. The tuition discount is 13 percent, a relatively modest discount for a small private college.
Yet in 2013, 85 percent of first-year, full-time students received some level of grant aid from the federal government, the state or Marian Court, according to federal data. The average grant that year was $5,600.
Annual tuition is $16,500.
Tiny institutions with little cash and few resources are at a disadvantage, says Kent Chabotar, former president of Guilford College and an expert in higher education finance. Such institutions often find it difficult to differentiate themselves from other colleges and provide the services of their larger peers.
"These days it's an arms race to have climbing walls and one-on-one attention, and you just can't do that with a small college," he said, adding that tiny colleges have historically struggled more than others. "It's worse now because of demographics, and because students and families are smarter about looking for schools with niches."
Four years ago Marian Court began offering four-year degrees in business and criminal justice. This year produced the first graduating class to receive four-year degrees, with about two-thirds of the 67 graduates receiving them. In recent years more students pursued the bachelor's degree program, yet overall enrollment has continued to decline. Given more time, Hammon says, the program may have eventually boosted enrollment.
"It takes a while for the brand and the messaging to get out there," she said.
About one-fifth of Marian Court's students are older than 24, and many of them work and take classes at the same time. In addition to creating four-year degrees, Hammon says the college was also advertising its evening classes to try to boost enrollment.
Yet the Boston area is crowded with colleges and universities, most of which are wealthier than Marian Court. Meanwhile, the number of high school graduates in New England is dropping, according to the New England Board of Higher Education. From 2000 to 2010 the number of children in New England fell 6 percent, a decline that continues today.
"What's hurting schools more than in the past is the demographics squeeze," said Ken Redd, director of research and policy analysis for the National Association of College and University Business Officers. "You're going to see a lot more of these small- to midsized public and private schools struggle with enrollment."
Changing demographics, combined with more interest in professional schools and degrees in science, engineering and technology, puts pressure on small, tuition-driven colleges. Marian Court was founded in 1967 as a Catholic secretarial college for women and went coed 20 years ago.
"There's nothing sacred about going under," Chabotar said. "Given demographics, we have too many colleges and universities, and so the herd will be the thinned out."
Marian Court has few assets to leverage, which in some ways makes it different from the more high-profile closing of Sweet Briar College earlier this year. Sweet Briar closed despite an enrollment more than double that of Marian Court and an $85 million endowment, although much of that money was restricted.
Meanwhile, Marian Court doesn't own its land, which belongs to the Sisters of Mercy. Hammon asserts that downsizing the college's already small set of employees would have negatively affected student services. Tax filings for 2013 reveal that the college had $418,000 in cash and investments, about $100,000 less than the year before. Giving was low, at about $137,000 that year.
The decision, Hammon said, was "purely financial." The college tried to get a credit extension but was denied, and could not have paid employees if it remained open this summer. Hammon tried to drum up extra donor support, but was unable.
"Everyone who has ever given to the college has changed students' lives," she said.
"I don't want other small colleges to go through what we're going through," Hammon continued. "I don't want people giving to other colleges to stop because they're small. They're making a huge change for students. It can't stop, because if it stops, these highly tuition-driven colleges can't exist."
Redd says that while it's not unusual for colleges to close, more and more colleges are closing because of enrollment struggles.
In the last four years an average of five colleges have closed a year, according to data from the National Center for Education Statistics. So far this year four colleges have announced closures, and one has suspended operations. Another Boston-area institution, the Montserrat College of Art, is considering a merger with Salem State University that could be finalized this summer. (Marian Court's students can transfer to North Shore Community College or Salem State.)
"In the past schools have closed for reasons of the market. They weren't operating the right degree programs for their market, and things like that," Redd said.
"Now you're seeing schools close for reasons of finance. Tuition revenue is declining, enrollment is declining -- that's the new concern for schools," Redd continued. "They could have the perfect model, they could be meeting the needs of students, but there just aren't enough students in their market."
Like Walsh, the liberal arts chair, Richard Wormwood, an English professor, said he too was surprised by the timing of the closure, although he knew the college was struggling financially. Faculty members received an email at 1 p.m. Monday informing them of a meeting two hours later. Shortly after 3 p.m., they learned they'd be losing their jobs.
"I didn't realize it was as dire as it was. I thought we had another year to turn it around," he said. "People around here always called Marian Court a hidden jewel. I guess it was too well hidden."