You have /5 articles left.
Sign up for a free account or log in.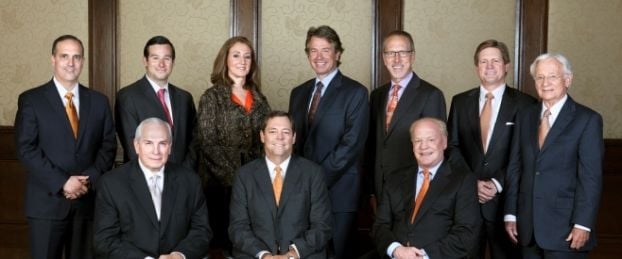 Trustees have a tremendous amount of responsibility. They're in charge of setting the agenda of an institution, approving tuition charges and green-lighting multimillion-dollar construction projects. But how do they know how to do their jobs?
Legislatures in two states this year have considered bills mandating training for trustees. In both Alabama and Texas, lawmakers unhappy with the actions of state institutions' regents and trustees argued that, given the large responsibility they have over their institutions, trustees should undertake training in things like ethics, budgeting and governance.
Another state -- Massachusetts -- is considering a similar bill requiring trustee training. The proposal was submitted to the state legislature by the state's inspector general, who drafted it in response to the resignation of Westfield State University's president amid allegations (which he denied) of wantonly spending university funds on luxury and personal travel.
Texas passed a bill, authored by Senator Judith Zaffirini, that requires training for all public university board members. Zaffirini says she was motivated to draft the bill after a contingent of trustees of the University of Texas System questioned, among other things, whether state funds should be used in research. In recent years, she says, trustees have repeatedly overreached their powers.
"Some of the newly appointed regents didn't understand their roles. When they were appointed they assumed that they were going to be the CEO," she said, adding that the bill is not punitive. "They have a limited role. And important and high-level role, but it is restricted to governance."​
When a trustee uncovered preferential admissions at UT-Austin, Zaffirini in particular was called out for using her political influence to sway the admissions process for a friend of a fellow senator, whose child was rejected from the university's law school. She denied any inappropriate role.
In Alabama a bill requiring ethics and accreditation training for board members, as well as requiring disclosures of conflicts of interest, handily passed the state's House of Representatives with 60-plus co-sponsors. It successfully moved through a Senate committee, but the legislative session ended before the Senate voted on the bill. Representative Jack D. Williams, a Republican and the bill's author, says he plans to bring it up again in the next session and is confident it will pass.
The impetus behind the Alabama bill was also political. Williams says he wanted to create a more transparent system but also send a message to board members "that the legislature is paying attention to how things are operating."
Williams and other legislators believe that board influence contributed to the controversial dismantling of the University of Alabama at Birmingham's football team. Though some said shuttering the football program made fiscal sense and would eventually save the university $50 million, many in Alabama, including legislators, protested the decision. Their persistence paid off: more than $17 million in donor funds was raised and the football program will carry on.
"I was first tuned in to this for what happened with the athletic program at UAB, but as I looked into it further, I thought this was a legitimate need for board members," Williams said. "If there's a controversy surrounding something … I'm not afraid to deal with what I believe could be underlying issues behind the controversy."
One of those underlying issues, Williams said, is a lack of adequate training.
Regardless of what people think about whether Alabama and Texas trustees made improper use of their authority, most can get behind enhanced or required training for board members.
"In most sectors board of directors include many industry experts, and in higher education that's not true. There are often one or two, if any, members of the boards who are higher education experts," said Merrill Schwartz, vice president of consulting at the Association of Governing Boards of Universities and Colleges. "It's a lot to ask of members to understand the industry, and trustee education really is a leg up."
She continued: "Anytime you introduce a bill, it appears there are politics there. But there are underlying good reasons for these kinds of bills that are grounded in sensible approaches for citizen trusteeship."
It's common practice for corporate board members to receive training, and legislators in both Texas and Alabama receive training when they're elected.
Legislative Guidance
Texas becomes one of five states to require training for board members, according to AGB. Arkansas, Virginia, West Virginia and Oklahoma already require training, and nine other states offer training on a sporadic and volunteer basis.
Training sessions often include information on state higher education agendas, university budgeting and board accountability. Both bills would require online training, although in-person training is also available. The Texas training still needs to be developed by the Texas Higher Education Coordinating Board.
Michael Poliakoff, vice president of policy at the American Council of Trustees and Alumni, an organization that is often critical of college leaders and supports board activism, said that as "credibility of higher education has really suffered in recent years," there's more of a burden on trustees to be transparent and ethical in their decision-making process.
"It's not unreasonable for the state to give that legislative guidance," he said of the recent bills seeking to require training. Yet it's preferable, he added, when institutions create and enforce conflict-of-interest policies and board training. Both AGB and ACTA offer trustee training.
"Board members have to be scrupulous in avoiding conflicts of interest and the appearance of conflicts of interest," Poliakoff said. "They should have training to understand what that means in the context of their universities and their states."
Neither the University of Alabama or University of Texas systems made administrators available for interviews for this article, although they both released statements saying they already offer in-house training and would comply with any legislative changes.
Board disputes aren't unusual in today's higher education landscape. Whether it's about the leadership of a president or the direction of a college, boards are called upon tackle at times controversial issues, such as allowing in-state tuition for undocumented students or divesting in certain endowment funds.
In Texas there has been discord between the Board of Regents and former University of Texas at Austin President Bill Powers, whom some regents pressured to resign amid disagreements on issues like tuition and research funding. The university also came under fire for admitting students based on their family connections, a practice that was uncovered by a regent who was criticized by legislators for overreaching when he requested thousands of documents from the university.​
"It caused us to reflect a little. Do we really give our members that are appointed … the background on education in order to be a successful board member?" recalled Representative John Zerwas, a Republican who sponsored the bill in the Texas House.
Yet others who follow university governance say that Wallace Hall, the regent, acted properly in uncovering the admissions violations.
"What Wallace Hall uncovered is something that really needed sunshine," Poliakoff said, adding that board members should have "the willingness to challenge and ask hard questions." A legislative committee last year censured Hall, however, and some have accused him of embarking on witch hunts that have hurt the university.
In Alabama, public intuitions have been on accreditation probation three times in the past 15 years. Alabama's two-year college system, which is now overseen by a Board of Trustees, was rocked by scandal and corruption in the mid-2000s, which eventually led to the conviction of the system's chancellor for bribery and nepotism.
In Texas, public board members are appointed by the governor. At the University of Alabama, most appointees are chosen by the board. Though trustees are often politically aligned, it's important they aren't improperly influenced.
"In an era of economic scarcity and polarization, board members are under greater scrutiny, and it remains essential that they understand and abide by ethical parameters," said Thomas Harnisch, director of state relations at the American Association of State Colleges and Universities. "There's concerns today about the fundamental purposes and directions of public colleges and universities, and this has resulted in board members with starkly contrasting visions for campuses. In an effort to make their visions a reality, they need to know what the ethical standards are."
Sherri Fulford, executive director of government affairs at Auburn University in Alabama, said the state has an existing law requiring training for public officials.
The law defines public officials, in part, as those who are elected to office. Fulford said that even though Auburn's trustees aren't elected, the university interprets them to be public officials and already requires them to complete state training. Not all universities share this interpretation -- the University of Alabama System doesn't require that its trustees attend state training, but offers members informal training by university officials.
"We think it's valuable for them to understand more about the expectation of being a public official," Fulford said of trustees, adding that integrity and honesty are part of those expectations.