You have /5 articles left.
Sign up for a free account or log in.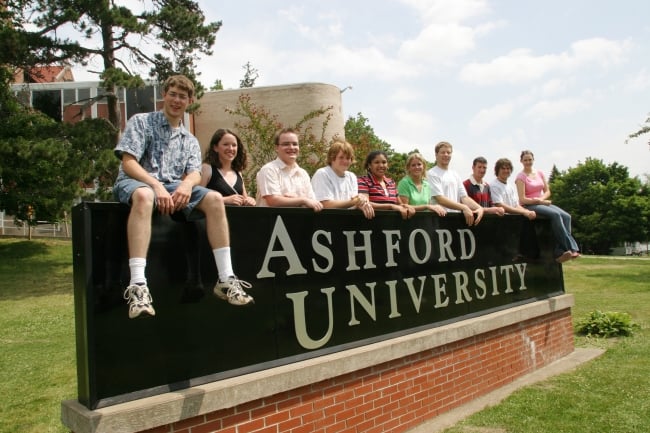 Ashford University is shutting its physical campus in Iowa, the latest in a series of recent closures of small colleges (many in obscure places) with shrinking enrollments and revenues. But Ashford, given its history and its owner, is far from just another private college.
A decade ago, in 2005, Franciscan University of the Prairies was on the verge of closure, its enrollment down to 320 students and the religious order it was affiliated with, the Sisters of St. Francis, in steep decline. In stepped Bridgepoint Education, a California-based company that vowed to pour resources into the Iowa college's physical campus and bolster its enrollment and revenues with online programs.
Over the next 10 years, Bridgepoint's takeover of Ashford became exhibit A of one of the perceived questionable tactics of for-profit higher education: the "buying" of accreditation, by annexing an existing institution and transforming it into something very different (almost always online, and usually on a mass scale). The small Iowa campus became a springboard for a publicly traded college company with (at one point) soaring online enrollments and significant profits, drawing the enmity of U.S. senators and prompting significant scrutiny of the accrediting agency that approved the initial transaction.
So it isn't surprising that this month's closing of Ashford's Iowa campus led critics to question Bridgepoint's commitment to the on-ground college -- especially since 2013, when it no longer needed a physical presence in the Midwest to keep its accreditation, having been approved by the regional accreditor in California -- and to accuse it of having broken its promises.
Those critiques of Bridgepoint's handling of Ashford may be relatively easy to dismiss, because the critics behind them consistently doubt the motives of for-profit colleges.
That's far less true of Steven D. Crow, who was head of the Higher Learning Commission in 2005 when the accreditor approved the initial purchase of Ashford by Bridgepoint.
In an interview, Crow said the only thing that surprised him about Bridgepoint's decision to close Ashford's Iowa campus was that it took so long. He said it became clear to him a short time after the purchase that Bridgepoint's "real interest was in distance ed," and that he "figured the campus had very little interest to them, except to provide pictures" to woo online students with the idea of a traditional college.
Crow, who has had little to say about Ashford since leaving the accreditor in 2008, said with regret: "I felt we'd been hoodwinked on that one."
Bridgepoint and Ashford officials bristle at Crow's suggestion that they were anything less than forthcoming that supplementing the campus-based programs with a significant online learning presence would be the only way to save Ashford, and that they fell short of a full-fledged effort to make the Iowa campus a going concern.
They note that they poured more than $40 million into campus facilities and spent $10 million a year in scholarship funds to try to bolster student enrollment, which topped 1,000 earlier this decade before dropping below 500 now. They assert that the same forces that prompted leaders at Marian Court College in Massachusetts and Virginia's Sweet Briar College to decide those campuses were unsustainable (a decision reversed, for now, in the latter case) drove Bridgepoint's board to the same conclusion.
If Bridgepoint had not been committed to the Iowa campus, "we would not have invested in it, not worked as hard as we did to build it, and closed it down instead of spending almost a decade working to build the campus and its enrollment," Andrew Clark, Bridgepoint's chairman and founder, said in a rare interview with Inside Higher Ed. "We pursued it with sincere belief that we had the ability to grow the campus, and we were on track to do so until the world of higher education started changing in 2012. As other institutions from all sectors have found -- it is difficult to get students to go to a small liberal arts school in a remote part of the country."
From 320 to 1,000 Students …
Franciscan University of the Prairies, a Roman Catholic college founded in 1918 and known for most of its history as Mount St. Clare College, was poised to fold a decade ago, accumulating sizable annual deficits and a huge backlog of deferred maintenance.
After one potential buyer dropped out, the nuns that ran Franciscan reached out to Bridgepoint, which, at the time, offered online courses with ACE credit recommendations through a partnership with Charter Oak State College (think an early version of StraighterLine).
Bridgepoint officials told Inside Higher Ed at the time that no Ashford employees would lose their jobs in the transition and that the company was "committed absolutely" to remaining in Clinton, Iowa. Clark, the CEO, said that Bridgepoint would work to expand two small master's programs that Ashford offered at the time.
What an understatement. By 2012, Ashford's enrollment had soared to more than 90,000, with all but about 1,000 students online. That phenomenal growth enabled company officials to take Bridgepoint public in 2009 and led to high-visibility (and arguably unwise) steps like buying naming rights to a college football bowl game.
Bridgepoint's brashness and Ashford's growth combined to make the company an easy target for critics, especially congressional Democrats, who, encouraged by the Obama administration's regulatory crackdown on for-profit higher education, ramped up their own scrutiny of the sector.
Bridgepoint's origins were an especially sore point. A March 2011 hearing held by then Senator Tom Harkin of Iowa was designed to ask hard questions of Bridgepoint's Clark, but he opted to skip it.
Instead, Sylvia Manning, who succeeded Crow as head of the Higher Learning Commission of the North Central Association of Colleges and Schools, took significant heat from the assembled lawmakers for the fact that her agency had allowed Bridgepoint to buy Ashford and turn it into something completely different.
"What was wrong in our process," Manning said at the time, "is that once we accredited [Franciscan's transition to Ashford] … it grew this enormous superstructure of online education …. We had not seen that before, so we didn't have the tools to predict that or control that." She noted that her agency, and most other accreditors, had responded to the Ashford situation by changing their policies in ways that have largely precluded others from following suit in taking over the accreditation of existing institutions and radically transforming them.
"What happened in 2005 could not happen today," Manning said at the hearing.
Crow, who headed the accreditor at the time of Ashford's purchase, said in the interview with Inside Higher Ed last week that he did not think Bridgepoint officials had been transparent enough with the accreditor about their plans for the Iowa campus.
"The way it was presented to me, they were going to save the campus, and use online learning to more broadly serve the state of Iowa," Crow said. "That became more and more unreal" as Ashford's national enrollment exploded and the university's operations in Bridgepoint's California home expanded, he said.
"I bought a line," Crow said.
Bridgepoint did not mislead the accreditor, Clark insists. "Bridgepoint was very transparent in both its actions and conversations with HLC regarding planned growth on the campus and online," he said in an email statement. "Beginning in 2005, AU had numerous HLC team visits, submitted and received approvals for new programs, and submitted required reports to our accreditor. In fact, one of the recommendations from HLC was that we needed to grow our online enrollment to provide additional revenue to continue improvement of facilities and services on the campus."
Yes, the company expanded its online enrollments significantly, Ashford and Bridgepoint officials acknowledge, but they also went to great lengths to bolster the Iowa campus.
Richard Pattenaude, a former University of Maine System president who became Ashford's president in 2012, said the university essentially tripled its Iowa enrollment from 2005 to 2011 through a series of investments in facilities (about $40 million) and scholarships and other financial aid (to the tune of about $10 million a year, subsidized with revenues from online students), as well as expansion of academic and athletics programs.
But those efforts flagged in the face of the financial and competitive headwinds that began to hit all of higher education earlier this decade, Pattenaude and Clark said.
The college found it increasingly difficult to attract students to the rural campus in northeast Iowa, and that became even tougher as the institution sought to lower its tuition discount rate to closer to the national average, which is nearing 50 percent. Last fall, Pattenaude said, the college fell short of its goal of 200 freshmen, and for this coming fall, Ashford sought 150 students -- and "will not reach 100," he said.
"We've been studying this for six months, and just can't get away from the fact that enrollment does not support the campus," he said. With Ashford's online enrollments falling, too -- Bridgepoint's latest quarterly report puts total enrollment at about 55,000, down from its peak of over 90,000 -- the company can't continue to subsidize the campus operation "for the other 99 percent of our students and our stockholders," Pattenaude said.
Ashford officials are negotiating transfer agreements for its students with a dozen or so other colleges, and beginning in January will let any campus-based student who wants to finish his or her degree online do so tuition-free, Pattenaude said.
Faculty and staff members are being given priority in hiring for positions at Ashford's and Bridgepoint's other locations (including the University of the Rockies, in Colorado) and on its online faculty. Those who don't catch on with other jobs there and stay through next May will get a "generous" severance package. And the company plans to try to sell the physical campus itself.
So, 10 years after Bridgepoint stepped in to save a failing campus in Clinton, Iowa, it will teach out its own failing campus in Clinton, Iowa.
Ashford officials portray it as just another example of "the national phenomenon" of small independent colleges with struggling business models closing, and in some ways it is. But given its history, it is something else, as well.