You have /5 articles left.
Sign up for a free account or log in.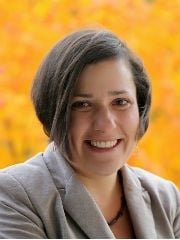 It started off like a fairly typical campus political spat: liberal professor criticizes conservative politician; conservative campus group criticizes liberal professor, who in turn criticizes the conservative group. Much of the criticism on both sides is through social media. And, as has been the case in several recent campus controversies, the professor is a sociologist and one who has never been accused of holding back on her views.
But unlike several of the recent cases, which involved scholars just starting their academic careers, the sociologist at the center of this discussion is Sara Goldrick-Rab of the University of Wisconsin at Madison. She is a big name in sociology and education research circles, and her ideas have been influential in the development of state and federal legislation on higher education policy.
She has many fans, who admire her research and advocacy on behalf of low-income students. Many also cheered her on as she opposed Governor Scott Walker's proposed budget cuts and removal of tenure protections from state law -- moves in which he succeeded. She also has thousands of loyal Twitter followers.
When Goldrick-Rab was criticized in the last 48 hours, she fought back and found herself on the receiving end of ugly online comments and calls for her dismissal. While she attracted instant support online, she also was strongly criticized for Twitter comments that some faculty leaders (not just the campus Republicans) found unprofessional.
What She Said
First there was a tweet that said Governor Walker had similarities to Hitler:
That was followed by one in which she said: "No doubt about it -- Walker and many Wisconsin Legislators are fascists. Period. They proved it today. #SHAME"
Beyond those tweets, critics also jumped on her tweets about new high school graduates who posted a photo to Twitter of themselves in their caps and gowns, with the W hand gesture of Madison fans and the hashtag "#FutureBadgers." She tweeted at them, sharing an article about changes in shared governance in the state. The students were not impressed, tweeting back at her "no one cares Sara" and "who are you lol." Goldrick-Rab replied, "We don't want students 2 waste their $. It's info that's all."
A student then replied, "It's not a waste if you're going to Madison," and Goldrick-Rab answered: "University is changing as we speak. Maybe look at info?"
Another response from Goldrick-Rab: "Oh good. I thought you want a degree of value. Too bad." She also said many faculty members would soon be leaving Madison due to the changes there.
College Republicans Call for Action
The College Republicans at Madison issued a press release on Facebook Wednesday drawing attention to these comments on Twitter and calling on the university "to address the ongoing, out-of-line actions" by Goldrick-Rab. The letter said that she had "proceeded to cross all boundaries of professionalism and respect" by starting conversations with future students and sharing information to discourage them from enrolling. The College Republicans called Goldrick-Rab's statements on Twitter "disgusting and repulsive."
When the College Republicans' press release started to spread on social media, many started posting statements calling on the university to fire her. Some comments called for her home address to be published so people could send her snail mail as well. Many comments posted contact information for administrators at Madison.
Goldrick-Rab posted some of the hate emails she received, some of which noted her Jewish background.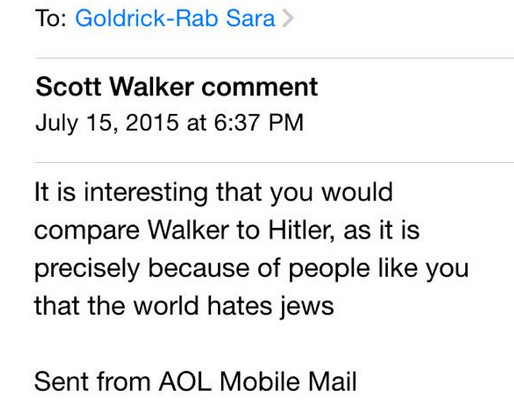 Backlash to the Backlash
Many academics responded to the calls to fire Goldrick-Rab by calling on the University of Wisconsin to defend her academic freedom. A common theme was that it was especially disconcerting to see a campaign against a tenured University of Wisconsin professor so soon after the new state law pushed by Governor Walker removed tenure protections from state law. (Tenure remains policy of the University of Wisconsin Board of Regents.)
Here are some of the comments supporters of Goldrick-Rab made on Twitter, some of which were in direct response to calls for people to go after her: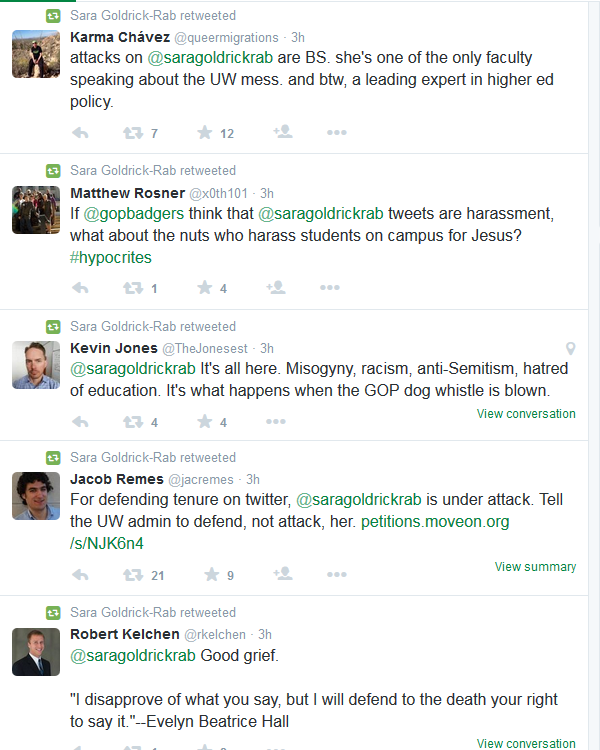 Goldrick-Rab was on vacation Thursday, intending to spend time kayaking with her children. But she answered a few questions via email with Inside Higher Ed.
On the question of her tweets to prospective students, she said: "I have donated a great deal of my time to education via Twitter, interacting with tens of thousands of students over many years. Sharing information is a good thing -- it isn't lobbying. My institution has engaged in efforts to shut down open discussion of this tenure policy and didn't inform families paying tuition to the school about what was happening. I teach higher ed policy to undergrads. I shared info with prospective undergrads and the majority thanked me for it. But these few saw an effort to make a political point."
She did not respond to two questions asking her to elaborate on the Hitler-Walker comparison, but she did email the College Fix, a conservative website that wrote critically of Goldrick-Rab, to answer a similar question. She wrote: "If you reread the tweet, you will see that I stated that an expert in the field -- a psychoanalyst with decades of experience -- compared the 'psychological characteristics' of the two individuals, and that I was struck by his analysis. There do appear to be commonalities. I'm confident you are capable of seeing the difference between such an assessment and equating the whole of two different people."
In her email with Inside Higher Ed, Goldrick-Rab summed up the criticisms by calling them "cherry-picking aimed at furthering a specific political cause and it's aimed at me as a public scholar at the most 'liberal' institution in candidate Walker's state."
The University's Response
Much of the criticism of Goldrick-Rab has come from the conservative online world. But some criticism, particularly about Goldrick-Rab's statements to the prospective students and her numerous tweets about how the best faculty will all leave Madison, came from the administration and faculty leaders at the university.
Rebecca M. Blank, the chancellor at Madison (who previously worked in senior positions in the Obama administration's Commerce Department), said: "I feel compelled to respond to those who may question whether the University of Wisconsin-Madison is still a great place to learn and to teach. The answer is a resounding yes -- and I know that because I hear it daily from students, faculty members and staff as well as alumni, donors and friends. Any institution has its critics, and especially in social media, it's important to remember that the loudest voice usually isn't the most accurate. The Badger community is strong and continues to stand for excellence in education, in research and in community outreach."
And late Thursday the steering committee of the Faculty Senate at Madison issued this statement: "As faculty members of the University of Wisconsin-Madison, we support free speech and diversity of opinion, as has been our tradition. Such freedom requires responsible behavior and in this respect we are deeply dismayed with the actions Professor Sara Goldrick-Rab has taken toward students and faculty on Twitter in recent weeks to discourage them from coming here. While claiming to stand for academic freedom, she has in fact damaged that principle and our institution with inaccurate statements and misrepresentations. We stand with our fellow faculty, staff and students who have devoted themselves to maintaining and building on our university's extraordinary and distinguished record of teaching, research and service to the people of Wisconsin and beyond."