You have /5 articles left.
Sign up for a free account or log in.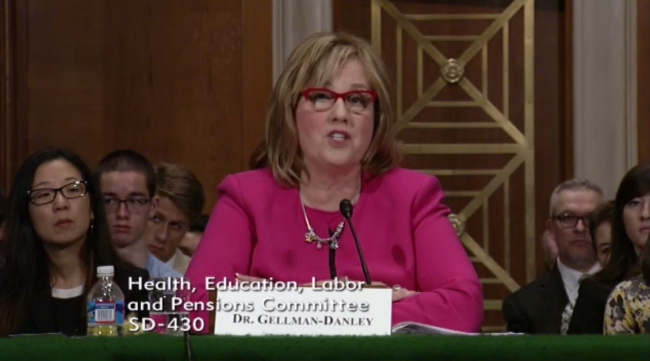 In recent years the U.S. Senate has done plenty of hand-wringing over "bad actors" in higher education, many of them for-profit and online. And that tension goes back to policy debates on distance education in the 1990s.
"We don't want to repeat debacles," said Senator Al Franken, a Minnesota Democrat, during a Senate education committee hearing on Wednesday. "That actually is the theme of our committee."
Franken was kidding, mostly. The hearing was one of several in the run-up to the eventual reauthorization of the Higher Education Act, the law that governs federal student financial aid.
The title of Wednesday's event was "exploring barriers and opportunities within innovation." During the hearing several senators and the four witnesses said they are optimistic about the potential of competency-based education and noninstitutional boot camps to provide a quality higher education at a lower price than traditional colleges typically charge.
The U.S. Department of Education is working on an "experimental sites" project that would allow some of those providers to offer federal financial aid to students by partnering with traditional colleges.
The goal of that project, and of experimental sites more broadly, is for the feds to craft limited, controlled experiments they can learn from in creating policies.
Senators from both sides of the aisle support that approach. But during the hearing, senators and witnesses said they want to prevent an opening of the floodgates of federal aid to undeserving institutions. Hence Franken's comment in response to a panelist's statement about previous missteps in online education.
A group of 17 institutions that have taken the plunge on competency-based education shares some of those concerns.
In a letter sent Wednesday to education committee leaders in both chambers of Congress, the group called for lawmakers to take a cautious approach with competency-based education as they overhaul the Higher Education Act.
"Policies that overprescribe stand to squelch innovation. Policies that are too lax will either get it wrong on the technical side (on issues such as aid disbursement) or allow poor programs and disreputable providers into the market," they wrote. "We urge those involved in making policy around competency-based education to think in terms of creating safe spaces for responsible experimentation."
Paul LeBlanc is president of Southern New Hampshire University, which signed the letter. He echoed the group's points with his comments during the hearing and in his prepared statement, which called on Congress to create "safe innovation spaces" for colleges to experiment outside of the typical regulations that govern them.
Creating those spaces for experimentation hasn't always been easy, at least for accreditors, said Barbara Gellman-Danley, president of the Higher Learning Commission.
"Accreditors are increasingly less able to provide a safe harbor. When our institutions come to us with new ideas, we find ourselves dealing with possible judgment by the U.S. Department of Education, and the Office of the Inspector General, who sometimes don't agree with each other, and we are caught in the middle," she said.
Accreditors, particularly the Higher Learning Commission, which is the largest of the seven regional accreditors, have absorbed some of Senate Democrats' harshest criticism about for-profits. As a partial result, accreditors could be excused for being wary about giving their approval to emerging forms of higher education, some of which look nothing like traditional colleges.
"When it comes to innovation, we are not a barrier," said Gellman-Danley. "We have to take some risks. It is a delicate balance."
For example, Senator Lamar Alexander, the Republican from Tennessee who chairs the education committee, asked Gellman-Danley why the Higher Learning Commission put a freeze on colleges' applications for competency-based programs that use direct assessment -- an approach that does not rely on the credit hour.
Gellman-Danley said Washington was to blame for that temporary halt, which since has been dropped. "The bus had left the station. We were ready to go," Gellman-Danley said, but "we had some interference from the Department of Education."
The reason, she said, was conflicting messages from the Education Department and its own Office of the Inspector General over the faculty role in online, competency-based programs.
Gellman-Danley also called on the Senate to create a new experimental sites project for accreditors. That experiment would allow "us to come out from underneath the statutory and regulatory barriers, which hold us back in working with institutions to promote innovation."
Senator Elizabeth Warren echoed the theme of the hearing when striking a cautionary note about the federal government's responsibilities with emerging forms of higher education.
"If we're going to loosen federal regulations, we need to ensure that the benefits are being passed on to students," said the Massachusetts Democrat. "Right now, colleges will not commit to doing that."
Warren also reprised her role during a similar hearing almost two years ago, where she lambasted LeBlanc over the financial surplus Southern New Hampshire reaps from its online programs.
This time, as before, LeBlanc fired back, arguing that "cross-subsidization" is common in higher education and that in this case it typically benefits low-income students. One difference in the exchange this time, however, is that LeBlanc just finished a three-month stint at Education Department. He advised the feds on competency-based education, alternative accreditation pathways and other issues.
Over all, however, the hearing was a genial affair, with plenty of bipartisan interest in competency-based education. And LeBlanc struck an optimistic, conciliatory tone when he said Congress -- just like accreditors and colleges -- is still learning about the promising form of higher education.
"You will make better policy in a couple years," he said. "You will know a lot more about this in a couple of years."