You have /5 articles left.
Sign up for a free account or log in.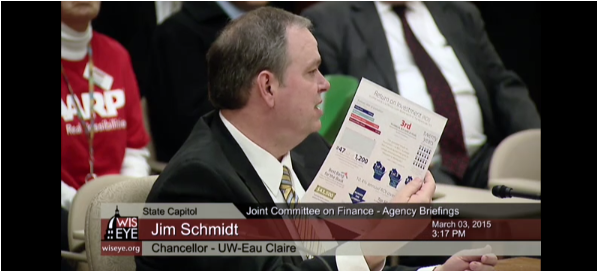 The University of Wisconsin-Eau Claire is not a particularly wealthy school.
So when the writing on the wall made it clear that the regional campus, which educates 10,700 students, would have about a quarter of its state funds cut this year, Eau Claire administrators had already planned a course of action to trim the fat: significant administrative reductions, preferably as far away from the academic enterprise as possible.
Yet dealing with a 13.5 percent reduction in operating funds requires massive change, and it turns out that it's very difficult to keep the impact of such a loss entirely off the radar of students.
The funding cuts were part of a controversial and sweeping two-year, $250 million pruning of Wisconsin's university system by Governor Scott Walker and fellow state Republicans, and were passed alongside the continuation of an existing tuition freeze.
Academics nationwide have been largely condemning the removal of tenure from state statute, also approved this budget cycle (tenure remains in effect through the University of Wisconsin System rules), and debating assertions by Walker that colleges should focus more on job training and less on humanities.
Much of the focus has been on the UW System's flagship campus in Madison. Yet Eau Claire, largely left out of the national spotlight, is well regarded academically and perhaps a better indicator of the challenges most of the UW System's 13 campuses face. The campus must grapple with cuts, but doesn't have the cushion of a $2 billion endowment or the ability to bring in hundred-million-dollar gifts.
This year Eau Claire, if its operating model remains unchanged, will have a $12.3 million hole in its budget -- a deficit that includes $10.8 million less in state funds than three years ago and accounts for a slight decline in enrollment in past years and stagnant tuition dollars.
When Eau Claire Chancellor James Schmidt announced the cuts -- and planned responses, like centralization of services and early retirements -- to faculty members, the mood was somber.
"In many ways a cut of this size feels like a betrayal from Wisconsin," he recalled telling faculty early this year, when the looming statewide cuts were predicted at $300 million. "It also feels like a death in the family."
This year Eau Claire, a regional campus much closer to St. Paul than to Wisconsin's capital, Madison, will get $22.1 million of its $82.2 million operating budget from the state, compared to last year when the university received $29.8 million of its $95 million operating budget from the state.
As much of an operational headache as the cuts are, Schmidt said they've had just as big of a negative impact on campus morale.
Schmidt said his priority in mitigating the cuts was to ensure morale didn't dip too low, and not to let the cuts have an outsized impact on academics.
Academic initiatives already underway -- such as increasing the four-year graduation rate to 50 percent (up from 30 percent), increasing first-year-student retention to 90 percent (up from 83 percent) and increasing racial diversity twofold -- will continue.
Eau Claire plans to continue emphasizing offerings that Schmidt believes sets the university apart from its peers, like study abroad programs and internships. About one in four graduating students study abroad, a high percentage, especially for a regional institution.
The campus in 2014 produced a Rhodes Scholar. And though the business and health programs are its most popular majors, Eau Claire is proud of its liberal arts roots, offering a full range of language and humanities courses at a time when many regional universities have made deep cuts in such fields.
Cuts and Changes
So far Eau Claire has cut 130 positions through voluntary buyouts, attrition and not renewing contracts that would typically be renewed. In all, the institution plans to cut about 158 positions -- about 11 percent of Eau Claire's staff -- although Schmidt admits that number could rise.
The majority of eliminated positions will be administrative.
The university plans to trim the number of senior-level administrators -- people with titles like associate dean or vice chancellor -- by 25 percent, or seven positions, a reduction that will save $684,000 annually.
By cutting a quarter of Eau Claire's leadership positions, Schmidt says he's "trying to flatten the structure and break up a lot of silos that naturally exist in any organization." Eau Claire also plans to cut 20 percent of its administrative support and academic department support staff, meaning fewer departmental secretaries (a projected savings of $460,000).
The staff reductions will be paired with restructurings that are becoming increasingly common at cash-strapped universities: things like shared-services centers to streamline and centralize functions like administrative services and student services.
The changes, for a school with roughly 1,387 employees before staff reductions, are large, and impact nearly every constituency of the university.
"We had to figure out what are we going to stop doing," Schmidt explained. "How are you going to do the work differently?"
Schmidt says that as he and his staff considered ways to reduce costs, they encountered redundancies that had gone unquestioned for years, such as several layers of administrative approvals required for catering at a meeting. Schmidt says he doesn't want to do more with less, but instead wants to do "less with less."
"We don't often sit back and say, 'What can be eliminated?' We don't step back and say, 'How does this form or this signature affect this process?'" Schmidt said. All that is changing at Eau Claire, which plans to implement many of its proposed changes by December and January.
As administrators began considering efficiencies, they polled alumni for expertise. Eau Claire didn't hire consultants to plan a transition to a shared-services model, but instead asked about a dozen alumni with business experience to share their expertise and recommendations.
In the case of Eau Claire, it helped build faculty buy-in and trust. Such a strategy is also less likely to engender "boilerplate, cookie-cutter" suggestions, Schmidt said.
Eau Claire will create a central, one-stop student services center, which will handle issues from financial aid to registration to dining and housing contracts to parking fees, all currently handled by separate offices at different locations. This centralization is expected to save about $300,000 annually.
At a similar, one-stop student advising center, each adviser will be tasked with mentoring some 300 students in an effort to increase the graduation rate.
Eau Claire is also in the midst of creating an administrative services center, which will streamline and centralize tasks like expenses and purchasing, and ultimately require 20 percent fewer employees than the existing decentralized way of providing such services (planned savings: $380,000).
The campus is in the midst of a facilities survey, and once the results are in Schmidt plans to implement efficiencies that will cut facilities costs by 20 percent, with a hopeful savings of $1.8 million.
Though most of the eliminated staff positions are administrative, the equivalent of about 20 full-time lecturers -- or about 38 full- and part-time lecturers -- won't return to campus in the fall, since their contracts were not renewed. Many taught at the university for several years, and all of the affected lecturers had year-to-year contracts. 
Meanwhile, most vacant faculty positions aren't being filled.
Though Eau Claire has tried to minimize the impact of the cuts on the academic enterprise, students will nonetheless experience change.
The reduction in teaching staff is creating a ripple effect -- class sizes will get larger and, for many courses, fewer sections will be taught. Fewer sections means students may have to compromise, taking a course at an undesired time or waiting a semester to enroll in a course. Most faculty at Eau Claire teach four classes a semester, and that will not increase after the cuts, Schmidt says. can you say average class size now? what about faculty course load -- will it go up ? or some topics eliminated? -sjEau Claire assembled a group to consider how such changes might affect the curriculum.
"We're doing the best we can to maintain the integrity of our academic program, our mission, but at least for the next couple of years there will be some challenges for students," said Mitchell Freymiller, a senior lecturer in Eau Claire's biology department and chair of the University Senate.
Before the downsizing, Eau Claire employed 184 instructional staff and 392 faculty members. It's unclear at this point exactly how many teaching positions are being eliminated, and the exact impact on class sizes.
What's Next?
Schmidt says he's consulted with faculty through each rung of restructuring, including through committees on academic workload, administrative redesign and student services. Members from the Eau Claire's University Senate agree that they've been part of the process, and that administrators have been transparent and communicative about reductions.
The changes, they said, aren't easy, but faculty members are generally on board.
"There's a lot of trepidation because obviously we're talking pretty dramatic change over a pretty short window of time … academics, as a whole, we don't deal well with change," said Geoffrey D. Peterson, chair of the political science department and Eau Claire's faculty representative to the University of Wisconsin System.
"The frustration is not really with the local administration, the frustration is further up the food chain," Peterson continued, speaking of lawmakers in Madison.
Added Freymiller: "No one likes to have to do more with less. But the majority of the people with whom I work are in this profession because we love the students."
As Schmidt and his staff consider the changes already underway, they're also anticipating the next budget cycle, which will come in 2017 since Wisconsin uses a two-year budget system. Are more cuts on the table? Another round of tuition freezes?
This budget cycle's $7.7 million in annual cuts follows the 2013-2015 cycle, which brought $3.1 million in cuts. Eau Claire now receives about three-quarters of its funding from tuition.
The university is hoping that the imminent restructuring will show lawmakers in Madison that it's working hard to be fiscally responsible, and that it can't cut much more from its budget without dramatically disrupting its academic mission.
"At the end of the day, there's only so much the government can cut us," Schmidt said, quickly adding that he's not issuing a challenge, just simply having trouble imagining a reality that includes less state funding.
Peterson said faculty at Eau Claire brainstorm everyday how to better get their message to legislators.
"The big question is, how do we change the narrative in the capital so it doesn't happen again in the next budget cycle?" Peterson said.
"Because, the truth is, if it happens again, that's where you start to have real problems. That's when you have entire departments close at multiple campuses …. That's when you're going to see a real bloodletting."