You have /5 articles left.
Sign up for a free account or log in.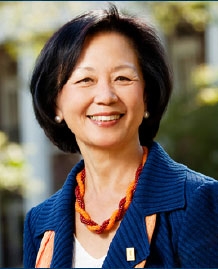 Phyllis M. Wise announced Thursday that she is resigning as chancellor of the University of Illinois at Urbana-Champaign, effective next week.
The abrupt departure follows four years in office, the last one of which in particular has seen the university facing intense controversies, some of them directly involving Wise.
While not specifying which issues led her to resign, a statement from Wise made clear that these controversies drove her decision. "External issues have arisen over the past year that have distracted us from the important tasks at hand. I have concluded that these issues are diverting much-needed energy and attention from our goals. I therefore believe the time is right for me to step aside," Wise said.
While four years isn't extraordinarily short for a presidential tenure these days, resignations from college or university presidencies typically involve much longer lead time than a week. Wise said that she plans to return to the faculty at Illinois.
A year ago, Wise made what may be the most controversial decision of her tenure when she wrote to Steven Salaita, who had been offered a tenured faculty position in the American Indian Studies program. He had already quit his previous job and been assigned courses for the fall semester. But Wise maintained that because the board of the University of Illinois had never voted to approve his hire, he had never formally been hired.
She also argued that his comments on Twitter about the Israeli-Palestinian conflict (comments that were strongly critical of Israel) raised questions about Salaita's ability to interact with students and to embrace campus values of civility.
The Illinois board backed Wise's decision, and some faculty members did as well. But many others did not, and Wise was condemned by multiple faculty groups at Illinois and beyond, including by the American Association of University Professors. Even many faculty members who shared some of Wise's concerns about Salaita were offended by the way she intervened so late in the process, and without consulting those faculty members who had been involved in the search.
Even though Wise has apologized for the way she handled the Salaita case (if not for the outcome), the issue has lingered. Wise's resignation letter was released hours after a federal judge rejected a bid by the university to dismiss a lawsuit Salaita has filed over his nonhiring.
Early in 2014, Wise was involved in a campus controversy in which she affirmed the values of civility, but also of free speech on social media -- even offensive comments. In January of that year, during a blizzard, Wise did not declare a snow day. Such decisions always make a president or chancellor a target of criticism. But in this case, some of those who took to Twitter to attack Wise did so with sexist or racist comments. (Wise is among the relatively small number of Asian-Americans who lead research universities.)
Illinois did not seek to punish those who posted the offensive comments, saying that they were protected speech. And in an essay for Inside Higher Ed, Wise wrote that colleges need to do more to promote civil discourse, but that they still need to protect free speech. "The negative comments, as offensive as they were, are protected speech. But what is protected expression and what is the level of discourse we as educators expect from our students can be very different things," she wrote.
Another controversy that has been growing in recent months concerns allegations from some athletes at Illinois of racist treatment by coaches.
The Chicago Tribune reported that, as part of an agreement to step down, Wise will receive a $400,000 payment. Her contract assures her of a salary, as professor of molecular and cell biology, equal to that of the highest faculty salary in that department, which is about $300,000, the Tribune reported.