You have /5 articles left.
Sign up for a free account or log in.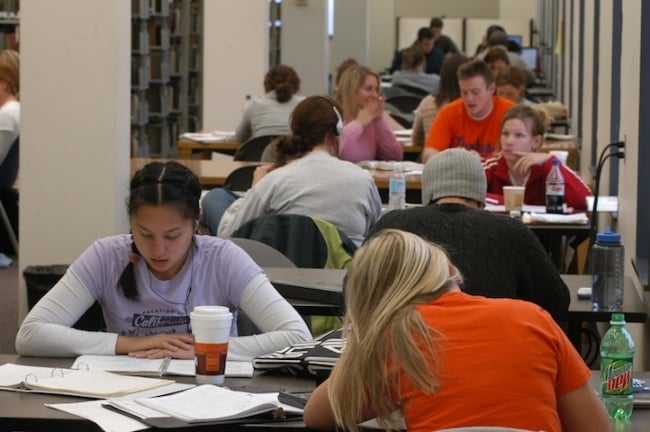 Lower student debt and increased retention: those are the results the University of Dayton says it's seeing two years after putting in place an unusual tuition strategy.
The Midwestern Roman Catholic university scrapped its student fees in 2013 and is one of few universities to guarantee entering freshmen who receive aid the same net price for four years, or 144 credits, of instruction. Under Dayton's strategy, while costs increase each year, aid also increases proportionately so students pay the same amount for tuition each year.
Students who pay full freight don't receive a net price guarantee. On average more than 90 percent of Dayton's students receive institutional aid.
The decision at the time was a risk -- how would the bottom line be affected? -- but two years later, borrowing is down and student satisfaction is up, and college leaders say they made the right choice.
"We're educating families at the beginning," said Jason Reinoehl, Dayton's interim vice president for enrollment management and marketing. "We're moving families away from all this time and energy spent on trying to figure out what the price is."
Dayton has an enrollment of 8,100 full-time undergraduates, and charges $39,000 for tuition and $12,200 for room and board. For students living on campus, Dayton's net price, what students actually paid, last year was an average of $34,000 -- or about $10,500 more than the national average for private institutions.
Students who entered in 2013 borrowed 13 percent less than their peers the year before, and their low borrowing continued at about the same rate the next year. In fact, during their freshman and sophomore years, they borrowed $1,800 less than the previous cohort, according to internal figures from Dayton. Students who entered in 2014, the second year of the new pricing structure, borrowed 9 percent less than students under the old structure.
About 82 percent of freshmen in 2013 took out student loans, at an average amount of $7,300.
Meanwhile, retention is up. The university, before the change, averaged an 88 percent retention rate from a student's first year to their second year. That rate is now 91 percent.
"This looks really promising and positive and smart -- if those numbers stick," said Jane Wellman, a senior adviser with the College Futures Foundation. "This has the benefit of being highly targeted on increasing retention and reducing student debt in an impactful way."
In previous years, students tallied their own room and board and tuition costs without knowing how those rates would change or how their scholarship awards would shift. Then they'd get hit with fees they hadn't previously considered -- as much as $4,000 a year.
In 2012, the last year of standard pricing, Dayton assessed an average of five fees per student -- for services like graduation, orientation and student counseling. That year the average student paid $2,100 in fees. Last year Dayton assessed no fees.
Dayton also offers students who apply for financial aid and visit Dayton's Ohio campus within a certain time frame scholarships that cover up to $4,000 in textbooks over four years. Next year 85 percent of students will receive that scholarship.
In surveys students reported feeling "nickel-and-dimed" under Dayton's old pricing scheme.
"It really gave them a lack of ability to plan for what the true cost is," Reinoehl said. The new, constant pricing method "eliminates all that unexpected burden on the family."
Now accepted students receive a document that tallies their projected costs from freshman to senior year. And if a student's federal or state grants decrease during that time, Dayton promises to make up the difference with institutional aid.
Reinoehl and his staff believe the increases in retention and the decrease in loans are a direct result of heightened transparency about the cost of Dayton.
Yet not everyone agrees. Karen Gross, a former president of Southern Vermont College and former senior policy adviser at the U.S. Department of Education, called the practice of constant net tuition pricing "smoke and mirrors." Most private institutions, she said, raise tuition a modest 2 to 3 percent each year, and students for the most part know to expect such increases.
"This is an expensive private school offering flat tuition probably to students for whom this is an added benefit but not a deal breaker," she said. "It's a marketing ploy that gives the illusion of stability to make it seem like you're getting a deal."
In recent years, tuition increases at Dayton have been slightly higher than the national average for private universities. This year the university hiked tuition 5 percent, and last year it increased 4 percent. In 2013, the year Dayton put its new pricing program in place, tuition was raised 7.2 percent. Officials say the 2013 increase was larger than normal in order to make up for abolished fees.
Last year, private institutions on average raised their tuition 3.7 percent, according to the College Board. Yet Dayton does not appear to be raising tuition at a higher rate now than it did before its new pricing structure. In the five years preceding the change, Dayton increased tuition an average of 5.1 percent a year.
Gross was also skeptical that the new pricing strategy alone caused changes in borrowing and retention rates. In general, she said, "increased public sensitivity to debt loads" has caused borrowers to be more cautious. And other factors, like separate retention efforts or facility upgrades, can affect the retention rate.
Dayton has undergone separate efforts to increase its retention, including improving its tutoring and peer counseling services and hiring an assistant dean in its College of Arts and Sciences whose focus is student success.
Dayton is one of very few institutions to offer a fixed net price promise to students. But it's not alone in its efforts to rethink its pricing structure in the midst of a heightened national focus on the cost of college.
"We know of a great deal of institutions that are looking hard at how they're setting tuition and how they're letting students know what the cost of their education is going to be," said Pete Boyle, with the National Association of Independent Colleges and Universities. "You're seeing a lot in the [media] about the cost of college and student debt, so to be able to have a piece of paper that says, 'this is the cost that you'll be locked in at,' that takes away some of the uncertainty."
How It Works
Under the new pricing method, an entering student receives a prospectus from Dayton outlining the first year's total cost, the scholarships awarded to the student, the year's net tuition cost, and projected housing and dining costs over four years.
The tuition price is promised to remain the same for four years, or 144 credits, of instruction, even if the student takes a semester off. Dayton even promises students who choose to study abroad for a summer or a semester a $3,000 stipend for their airfare. In most cases, the promised tuition rate is applicable to charges for studying abroad.
Over the four-year period, Dayton's tuition and charges will likely continue to increase, but the university promises students that their scholarships will increase simultaneously in order to keep their net tuition constant. 
At Dayton, 91 percent of first-year students receive some level of non-need-based aid (in 2013 the amount averaged $15,800). Total centrally awarded aid increased from $101 million in 2013 to $122 million this year. In 2014 and 2013, between 11 and 12 percent of freshmen received federal Pell Grants, which are distributed to low-income students.
Meanwhile, though the pricing promise is good for four years, a large swath of students take longer than that to graduate. Dayton's four-year graduation rate is 60 percent. That rate rises to 75 percent after six years.
Presumably a student uses the prospectus as he or she considers whether to attend Dayton.
"It provides the family peace of mind because they know exactly how much it's going to cost them," said Mark Kantrowitz, a financial-aid expert and publisher of Edvisors.com. "It makes the total cost of education completely predictable."
Yet Gross says the prospectus isn't as transparent as it claims to be, citing how it offers students the total amount of aid they'll receive over four years, but not the total tuition they'll pay during that time (although it does offer a year-by-year projected total). She also considered the amounts the form budgets for textbooks ($4,000 over four years) and upperclassman meals (about $3,000 an academic year) too low.
Surveys after the pricing change found that more than half of entering students said the new pricing method positively influenced their decision. And a quarter of accepted students who chose a different college also reported that knowing the full cost of an education at Dayton influenced their decision as well.
Those are the results Reinoehl and his team were hoping to see -- even if the prospectuses mean some students don't choose Dayton.
"We wanted to influence families to make better-informed decisions about where they send their sons and daughters," Reinoehl said. "It became a moral issue."
Reinoehl said increases in tuition, enrollment and retention have made up for lost revenue due to the elimination of fees and costs associated with the constant tuition pricing model.
For example, a 3 percent uptick in retention means roughly 60 more students are remaining at Dayton each year. At a net price of $34,000 -- that's more than $2 million in revenue.
Although the prospectus Dayton sends out to accepted students includes the net cost of their education, it does not include information about financial aid. Gross argues that information on loans, payment options and repayment opportunities would be more helpful information to distribute to students and their families.
The university sent financial aid information to accepted students the first year, including the average borrowing of families with similar incomes.
Yet Reinoehl said the information actually confused families who thought the averages were suggested, or even required, borrowing. Now Dayton's financial aid office is tasked with communicating loan information to students and their families, as is common among universities.