You have /5 articles left.
Sign up for a free account or log in.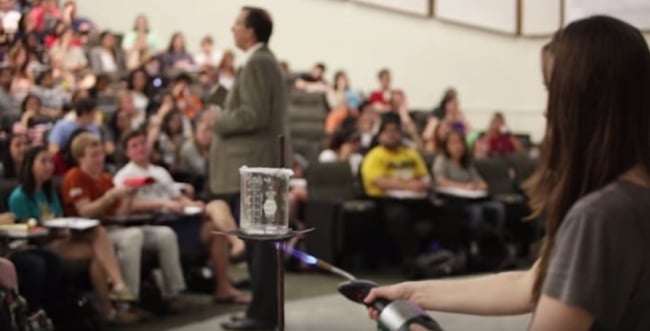 Last year 11 institutions partnered to share strategies for getting students to graduation, particularly low-income students. And one of the most promising schemes launched by a member of the University Innovation Alliance is a scholarship program at the University of Texas at Austin, which is aimed at students who are considered the least likely to graduate on time.
UT-Austin has stepped up its efforts to admit more low-income students, most notably by automatically admitting students who graduate in the top 7 or 8 percent of their class from Texas high schools. But getting into one of the more prestigious public research universities often isn't enough -- these students tend to need additional support to pass courses that they are underprepared by their high schools to take. These students may struggle to keep up with more affluent classmates, whether it's due to low SAT scores, a sense of not fitting in or other factors.
The University Leadership Network aims to help students who appear to be least likely to succeed. By creating an algorithm of 13 factors that can impact a student's ability to graduate in four years, David Laude, a chemistry professor and UT-Austin's senior vice provost for enrollment and graduation management, identified the bottom 10 percent of students, those who are least likely to graduate on time. Of that group, Laude identified those who were eligible for Pell Grants and used the resulting group to create the inaugural class of the University Leadership Network.
Laude has created other successful student completion programs at the university. He designed the Texas Interdisciplinary Plan, which seeks to create a small-college feel for students from low-income backgrounds. The program offers mentoring and extra advising to students who Laude has identified to be in the 40 percent of students who are most in danger of not graduating on time.
The University Leadership Network is more ambitious. And The New York Times noticed, featuring the scholarship program in lengthy, flattering article last year.
Laude said the program, which is going into its third year, was designed to help incentivize students to not only stay and succeed at the school, but to feel comfortable there.
He said that often students can't afford to live near campus (which does not have enough housing for the entire 15,000-person freshman class) and will often live miles away, taking a bus or other public transportation to class.
"What is it that the bottom 10 percent needs?" Laude said. "It wasn't so much the academic piece but a sense of belonging on campus."
Students in the program receive $5,000 in additional scholarship funds throughout the year, but never in one lump sum. Rather, they receive $1,000 during the first month of the fall and spring semesters and $500 each month during the rest of the semester.
To earn the scholarship, first-year students must attend a weekly speaker series and small group sessions with peer mentors, complete 10 hours of service a semester, have 30 hours of courses completed before their sophomore year, have a GPA of 2.0 or higher, and attend one to two network events each semester.
"I'm a firm believer that … attaching a GPA cutoff to financial aid for need-based scholarships makes students conservative in the way they take on their courses," Laude said. "They take easier teachers or take fewer hours because they're afraid they'll lose their scholarship. In the ULN, you only have to stay eligible to get the money."
During their second year, students are matched up with a campus partner for an internship in an area of interest for that student. For example, Laude explained, a student who's studying business could spend a year working in the university's accounting office, gaining hands-on experience.
The program seems to be working. In the past only 31 percent of the high-risk students identified by Laude have graduated in four years. But at the end of the program's second year, 84 percent of the first group of students in the leadership network were on track to graduate on time -- a rate equal to their peers across the university.
Laude said he hopes to expand the size of the program, by receiving grants from local organizations and proving the effectiveness of helping native Texans at the university. Roughly 75 percent of each incoming freshman class at the university is made up of students admitted through the automatic acceptance program.
Laude said the students also gain leadership skills, which lends itself to the network's name. He said he borrowed from competencies taught to business school students on how those students can best present themselves and their ideas to others.
"We build confidence in the students so that when it's time to go out and sell themselves for getting an internship or a job, they learn the professional skills necessary to be able to engage with others," he said.
Sharing Intel
Officials from the 10 other institutions in the University Innovation Alliance visited Texas in the spring, during one of the three site visits the group held this year. Harrison Keller, the university's vice provost of higher education policy and research, said during the June visit that the group was able to expand already developing relationships.
"I think we're at a little bit of an intersection point for the UIA, to start to think about what it would look like to cross-pollinate," Keller said.
During the Austin site visit, he said, Laude gave a presentation to demonstrate the effectiveness of the program. Keller said representatives from the other universities seemed interested in creating similar support systems on their own campuses.
Keller said UT-Austin also is working on a number of programs with high schools in Texas in order to make sure that students are prepared to go to college as soon as they graduate from high school, rather than having to take remedial courses. He cited partnerships with more than 60 high schools and dual-enrollment programs with community colleges as examples of ways officials are trying to better prepare students before they get to college.
"We're trying to, as a public research university, do a better job of sharing what our expectations are, because when a student gets on campus you could actually be doing triage with that student," he said. "So we can be signaling and providing opportunities for students earlier."
Bridget Burns, the executive director of the University Innovation Alliance, said she was most impressed by the way the network disbursed scholarship funds throughout the semester, rather than giving the entire amount to students at once.
"We spend millions on financial aid, and to have found this new creative approach to embed the student experience and embed their financial aid experience with practical knowledge to make them more successful, it's the next frontier," Burns said.
Burn also called it "the most creative program" that she's found from visiting different campuses and looking at the ways officials take on student success initiatives.
She said sharing ideas like the network perfectly fits into the mission of the UIA in promoting programs that already exist and have been proven to be successful. Now officials at other universities can examine it, she said, and see if it fits their own needs for their students.
"They're not afraid of innovation plagiarism, it's not how we believe it should work," Burn said. "We should capitalize on what's already been done."
And the ideas from UT-Austin are already being added to other programs in the country. At the University of California at Riverside, officials are piloting a scholarship for the university's Highlander Early Start Academy, formerly known as the Summer Bridge Program, where students can take courses and receive additional advising before starting at the university.
Steven Brint, the vice provost for undergraduate education at UC-Riverside, was part of the site visit to UT-Austin in June, as well as other visits to Georgia State University and Arizona State University, both of which are alliance members. Brint said the visit gave him and others an opportunity to see effective programs in action that could possibly be transplanted to his campus.
He said that an alliance group will visit the California campus later this year. Brint hopes to showcase what his university does to make students successful there. Minorities at UC-Riverside graduate at the same rates as white students, an issue many other institutions struggle with. Brint said he has already had calls with officials at other alliance campuses to discuss some of the programs at Riverside that have helped students and kept the achievement gap at bay.
"We want to make the time they have with us as enriched as possible and as fruitful as possible," Brint said.