You have /5 articles left.
Sign up for a free account or log in.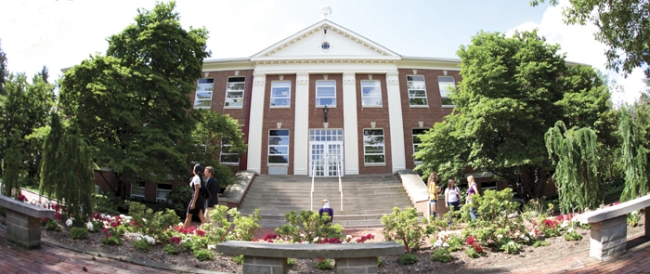 After Ashland University on Friday laid off 23 instructors -- many of them tenured -- and eliminated another nine teaching positions, President Carlos Campo described the future at the financially troubled university as "bright."
The move is a drastic one. Generally colleges avoid laying off tenured faculty members, and do so only if they're struggling to pay bills.
Guidelines from the American Association of University Professors implore universities not to lay off tenure-track faculty unless financial exigency -- a monetary crisis that threatens the survival of the institution -- has been declared, which is not the case with Ashland.
Ashland, a Christian affiliated university in Ohio, has experienced financial difficulty in recent years, but enrollment at the school appears steady and the institution had a near $3 million surplus in fiscal 2014. Officials began considering a restructuring of its academic enterprise a year ago. The move has the support of top university administrators and the governing board, but not all faculty.
A committee of administrators and faculty members has been meeting since then to decide which academic programs to "restructure" -- though the layoffs are against AAUP policy, Ashland's own rules allow for faculty layoffs if an academic unit is undergoing a restructuring. Positions were selected for elimination based in part on perceived student demand and individual productivity.
In all, 32 of roughly 240 full-time faculty positions are being eliminated: nine through attrition and 23 through layoffs. Yet Ashland may hire some of faculty back in other areas. Fourteen tenured faculty were laid off, along with three tenure-track faculty members. The disciplines affected are wide-ranging, from communications to music and computer science to business management.
"On a number of levels this is a serious action …. It's one of the last steps, if not the last step, that an institution takes," said Campo, Ashland's president of two months. "We are describing it as a needed reprioritization for the institution's long-term thriving."
Though Ashland is not necessarily at risk of closing, Campo says the institution has experienced financial difficulty since 2008.
Faculty members, for example, have not received a raise for five years and have had their benefits significantly reduced. And in December 2014 Ashland received a junk bond rating from Moody's. The rating agency characterized its outlook as negative, citing variable operating performance, debt (Ashland that year had nearly $70 million in debt) and a failure to hit its 2014 enrollment target. Moody's no longer rates the institution.
Yet some faculty members at Ashland still fail to see how layoffs are necessary for the institution.
"There was certainly shock and surprise and disappointment …. We just don't understand why decisions had been made that way," Gordon Swain told the student television station in fall 2014 about an earlier round of instructor layoffs. Swain, a math and computer science professor and leader of the Faculty Senate at the time, did not respond to interview requests for this article.
"We don't have too many teachers. We have a lot of students, we're not offering lots of extra classes, so to say that we have too many faculty doesn't make sense to us."
Similar layoffs at Valdosta State University have sparked frustration among faculty there. Yet at that school, enrollment declines persist. At Ashland, enrollment is on an incline. The university had a total enrollment of 5,430 in 2014, up from 5,150 the year before, according to federal data. And this year enrollment is looking positive, Campo said.
Swain said faculty members were upset with how administrators at the time determined layoffs by measuring faculty productivity. He told the student television station that productivity measures vary discipline to discipline, because some subjects require giving students more one-on-one attention. "We wouldn't agree with the choices that were made or even the process of coming at those choices," he said.
Campo said that accounting for the layoffs, Ashland anticipates having at 14.2 to 1 student-to-faculty ratio. He said the layoffs -- which will produce an annual savings of around $2.6 million -- were necessary in order to free up funds for other university expenses.
Ashland's strategic plan calls for cash-intensive endeavors like starting an adult and online college and investing between $1 million and $1.5 million each year in deferred maintenance. And with the infusion of cash, Ashland will now be able to offer faculty raises. The university also cut its tuition 37 percent last year, to about $19,000 a year.
"It's clearly strengthening our institution from a financial perspective as we shift those dollars from academic programs," he said. In all, the changes amount to a 15 percent reduction of the faculty personnel budget. "It was a long, involved process. A difficult one for everyone involved, and now what we're trying to do as an institution is really focus on that bright future."
Yet the move questions Ashland's commitment to having a tenured faculty.
A year ago Ashland's former president, Fred Finks, said in a memo to Ashland's governing board that the "tenure-track system in higher education is not sustainable in its current form" and suggested that the board should support a strategy to hire fewer tenure-track professors. But Campo said the university is still committed to employing and hiring tenure-track faculty members.
This article has been updated to clarify and correct some points.