You have /5 articles left.
Sign up for a free account or log in.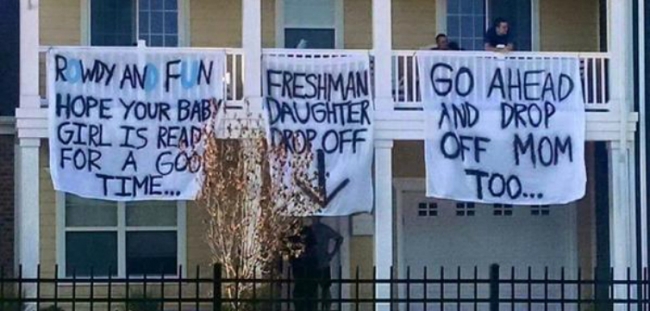 The Old Dominion University chapter of Sigma Nu was suspended this week after members living in an off-campus house hung signs that many found offensive and sexist. "Rowdy and fun, hope your baby girl is ready for a good time," read one banner. Another advertised that the house was designated as the "freshman daughter drop-off" point, and a third sign added, "Go ahead and drop off Mom too."
The banners have led to widespread condemnation and a number of critical essays and defenses of the behavior. But -- like the college controversy du jour earlier this month involving sorority recruitment videos -- the signs are not an uncommon sight on and near college campuses. Old Dominion students were completely in line with a tradition of many fraternities -- a tradition that angers many but has historically gone unchallenged most of the time.
Residents of a house near Ohio State University also hung similar banners this week, advertising their "daughter day care" services, and letting fathers know that they could "take it from here." These kinds of signs seem to appear outside fraternity houses or off-campus male group houses every year as new students arrive.
Last year, the Faculty Senate at Bowling Green University passed a resolution asking the dean of students to "impose sanctions" on students who post sexist signs. Banners with phrases like "daughter drop-off" and "we'll trade beer for girls" have been commonplace during move-in week for decades, the faculty group said.
Signs reading "thank you, fathers, for your freshman daughters" and "21 to drink, 18ish to spend the night" have been seen at several fraternity chapters across the country for years. Last year, the Georgia Southern University chapter of Delta Sigma Phi posted a sign with the latter phrase, followed by the hashtag #momsdrinkforfree.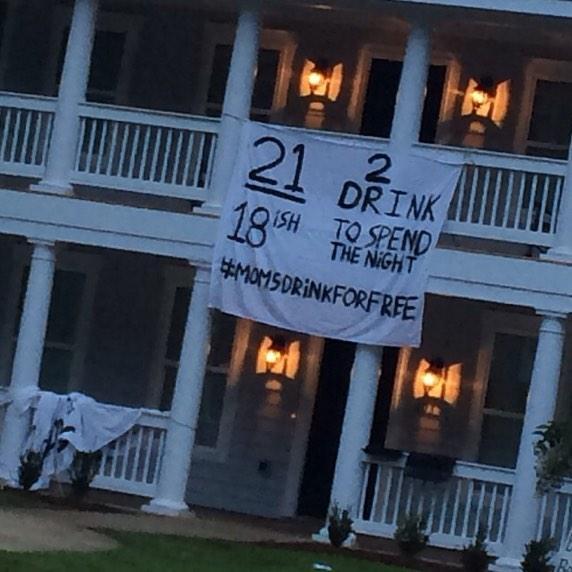 Recently, some syntactically confused students at West Virginia University posted a banner with the phrase "she called you daddy for 18 years, now its our turn" [sic].
Erin Hennessy, vice president of TVP Communications, a public relations agency focused on higher education, said the growing awareness around issues related to campus sexual assault and rape culture may mean that offensive or questionable content like sorority recruitment videos or fraternity signage is now less likely to go unnoticed or un-commented on.
"We're at a point in college campuses where there's a heightened sensitivity around gender and gender-based violence, and those conversations happening in larger society have become very intense on our campuses," Hennessey said. "It's really a mix of external factors and timing as to why some of these seemingly random stories take off this way."
Whatever the reasoning for the extra attention, the signs at Old Dominion were swiftly condemned on campus and online.
"A further breakdown of the messaging of these Sigma Nu signs also shows a concerning notion of consent," Ms. Magazine noted. "'A good time' is a clear reference to sexual activity, and 'hope your baby girl is ready' implies that this activity is going to happen -- regardless of whether she wants it or not. It has been widely proven that first-year students, specifically first-year women, are particularly vulnerable to rape and sexual assault on college campuses."
The national headquarters of Sigma Nu suspended the chapter, and Old Dominion officials promised that the university would investigate the signs and punish those responsible for hanging them. "I am outraged about the offensive message directed toward women that was visible for a time on 43rd Street," John Broderick, president of Old Dominion, said in a letter sent to students. Ohio State made a similar statement about the signs hung there.
Just what the universities will do to punish the behavior is unclear, however, and the Foundation  Individual Rights in Education said any sanctions against the students would be unconstitutional, as both Ohio State and Old Dominion are public institutions.
"These statements are troubling," said Sarah McLaughlin, a program associate for FIRE. "ODU and OSU, like all public universities, are not the arbiters of what students can and cannot say off campus. They can't even ban crude speech on campus. If students are found to be in violation of student codes of conduct solely for the content of these banners, ODU and OSU will have run afoul of the Constitution."