New analysis seeks to explain the declining interest of high school students in studying the humanities in college, and a reversal once they arrive.
Humanities professors spend a lot of time debating trends in humanities enrollments. Are they really down or does it just seem that way because women have more options than they did a few generations ago? Is interest down or are students being scared off by (generally ill-informed) stereotypes that today's English major is tomorrow's barista? Are data being collected by colleges to really understand the humanities or to look for reasons to gut programs?
A new analysis published late Monday by the Humanities Indicators Project of the American Academy of Arts and Sciences may point to a key paradox for those trying to predict the future behavior of college students. The data show a decline in the proportion of high school students (as they take the SAT and as they prepare to graduate) who say they plan to major in the humanities. But something seems to be happening to those students when they actually enroll in college -- and interest in majoring in the humanities goes up.
First consider the bad news (from the perspective of humanities advocates). The table that follows comes from a survey of college-bound high school seniors (the Freshman Survey, a national study by researchers at the University of California at Los Angeles) and a survey of those taking the SAT.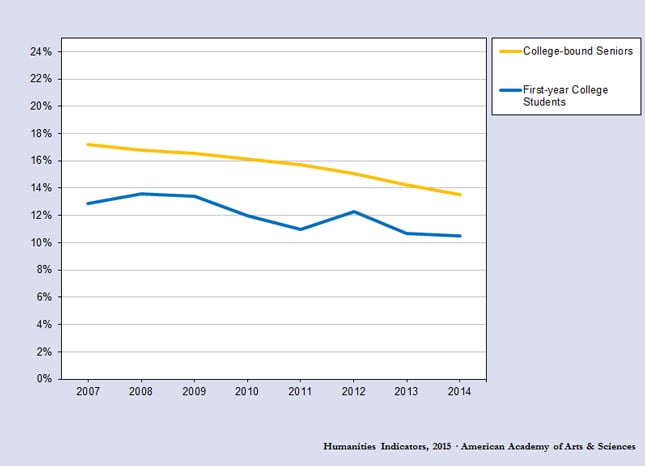 But then consider this figure from the study, not extending as far in time as the first one, but covering some of the same years. These data -- from National Center for Education Statistics datasets -- show that even as high school students reported declining interest in humanities, consistent with the UCLA and College Board surveys, the number of freshmen expressing interest in being a humanities major was going up.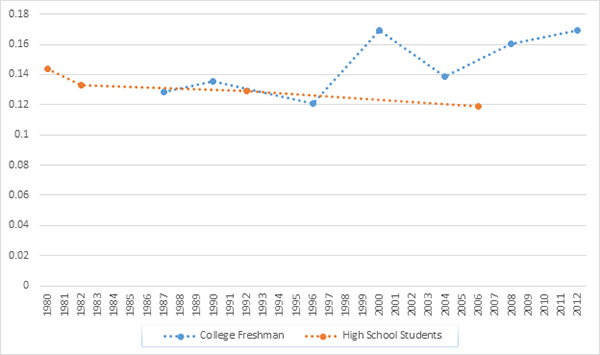 So what's going on?
Robert B. Townsend, director of the Washington office of the American Academy of Arts & Sciences, offered a few theories.
One is that high school students are encountering "a Common Core era of humanities, very test driven," that may not be encouraging the passion and excitement that the humanities disciplines generate with many others.
Then the numbers may go up once students arrive in college and, even if they don't intend to major in the humanities, they take an introductory course to fulfill a general education requirement. "They are jazzed by it and it engages them," he said.
If this theory is correct, Townsend said, it becomes more important for humanities professors and their advocates to focus on entry-level courses and to fight changes in requirements that allow students to avoid or have only minimal exposure to the humanities.
Follow me @ScottJaschik.