You have /5 articles left.
Sign up for a free account or log in.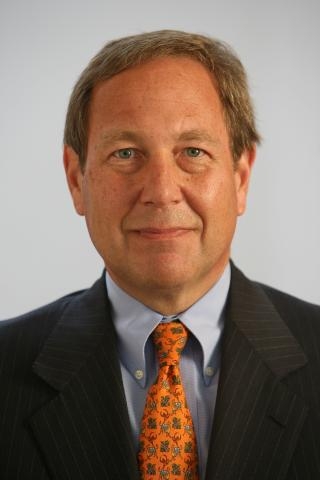 A nontraditional candidate. Concerns about faculty input. A lightning-quick final round of interviews. Each of these factors is present in the hunt for the University of Iowa's next president, a search that is underscoring tensions common today over executive searches in higher education.
The Board of Regents that governs Iowa's three public universities is in the process of interviewing four finalists for Iowa's top spot and is expected to make its choice on Thursday, just 24 hours after the last finalist's campus visit.
Sally Mason, Iowa's president for eight years, retired last month. The search for her successor has many faculty members concerned about the transparency of the process and the choice of a finalist with limited academic experience.
On Tuesday, that finalist, Bruce Harreld, a consultant and former senior vice president of marketing and strategy at IBM, visited the Iowa City campus to meet with faculty members and students. Aside from spending eight years as an adjunct business professor at Harvard University and Northwestern University, Harreld has no experience working in higher education.
Without that experience, how will he go about evaluating faculty or academic programs, how will he chose a provost, and how will he participate in shared governance, asked Michael O'Hara, a psychology professor and former leader of Iowa's Faculty Senate, in an interview.
"I doubt if he had to really worry a lot about his employees because they didn't have an independent source of power, so someone like him is going to come in and find that working in this environment, given his experience, is going to be very, very difficult," O'Hara said. "I don't know why we would be interested in essentially jumping off a cliff and hoping that the parachute opens up … I don't know why we'd want to take that kind of risk."
Other finalists include Marvin Krislov, president of Oberlin College; Michael Bernstein, provost of Tulane University; and Joseph Steinmetz, provost at Ohio State University. Each has also visited campus in recent days.
Iowa is one of a shrinking number of states that require universities to publicly announce multiple finalists (other universities, such as Ohio State University and the University of Minnesota, have in recent searches announced just one finalist). 
Yet faculty members at Iowa are concerned that the search committee was disbanded after the finalists were announced and therefore won't have the opportunity to give a final summary of the finalists to regents, as previous presidential search committees have. Faculty members interviewed for this article also say there's insufficient opportunity to offer feedback on candidates -- in part because of the rush of choosing a president within days of publicly announcing the finalists.
"The process was a little unorthodox and certainly not like previous searches, and that has a lot of people in the university upset," said Paul Muhly, a mathematics professor who has taught at Iowa since 1969. "There's very limited faculty participation."
Added Bob McMurray, a psychology professor: "We didn't feel like there was a strong mechanism for collecting the opinion of students and faculty and staff on campus."
The university originally asked faculty members to offer feedback directly to the search firm, Parker Executive Search. When this didn't sit well with many faculty members -- who said they didn't trust the search firm to accurately convey concerns -- faculty members were also given the option to submit comments directly to the Faculty Senate, which would summarize the feedback in a report to regents.
Yet Harreld, the last finalist, visited campus on Tuesday and regents expect to make their final decision on Thursday. Though the 21-member search committee included seven faculty members, some faculty say the quick timeline marginalizes the impact of faculty feedback.
"If we want to hire a new faculty member, it takes a really long time," said Kembrew McLeod, a professor of communication studies. "To have a decision made in two days is crazy for such a significant decision that's going to affect the university long-term … everyone I know is scratching their heads."
Jean Robillard, Iowa's interim president and chair of the search committee, pointed out that while the final stage of the search is moving quickly, the search itself has been taking place for months. The search firm was hired in February.
He highlighted the fact that faculty members have multiple avenues to submit feedback -- through both the Faculty Senate and the search firm -- and noted that at many other flagship public universities, faculty don't have the opportunity to hear from multiple finalists publicly.
"The process has been transparent and open at every corner," Robillard offered. "Many, many searches at universities, even public ones, are not that open. This is probably one of the most open searches that's done in the country."
William Funk, head of a Texas-based search firm that specializes in higher education, agreed that Iowa's search process is a relatively transparent one, given that most searches at major public and private universities take place behind closed doors.
He said that once finalists are chosen, search committees generally have limited influence, and the power shifts to a university's governing board, so the case of Iowa's search committee not meeting past the finalist stage is not uncommon. He also said it's common for universities to ask faculty to offer feedback directly to the search firm, and to want to minimize the amount of time between when a candidate's name is public and when the final decision is made.
"They're unusually open about their process," he said of Iowa. Funk has facilitated two past presidential searches at Iowa.
Nontraditional Candidate
Seconds after businessman Bruce Harreld finished his talk on Tuesday about why he should be the University of Iowa's next president, audience members flocked to the microphone: What's the place of tenure, academic freedom and shared governance at the university? Would he ever take money from Iowa's coffers and put it in another state university? Why did he even apply for this job?
The questioning, at times contentious, reflected the widespread concern on campus about a possible president who has little experience in academe. Harreld addressed those concerns head-on during the forum.
"Let me tell you why I am here. I am here because I have helped other organizations … go through transformational change," he said, adding that Iowa needs to undergo its own major changes. "It's completely legitimate for you to ask, 'What the hell is this guy doing?' "
Though many faculty members were surprised that Harreld was named a finalist, the Board of Regents early on in the search requested that the search committee interview nontraditional candidates.
Robillard said regents directed the search committee -- which included three regents, including the board's president -- to "present them a group of candidates that are different" from one another. They wanted to hear different approaches to the "challenges of higher education today," such as tuition and student accessibility, he said.
"It was very clear that was the mandate we got," he said. "They want a choice and they want a different group of people and that's what happened."
Funk said governing boards are seeking nontraditional candidates with increasing frequency.
Recent years have seen some high-profile selections of nontraditional candidates -- such as Mitch Daniels, a former governor, as president of Purdue University and William McRaven, a former military leader, as chancellor of the University of Texas System. But such placements still remain relatively uncommon, despite the increased interest.
"Boards and search committees are increasingly asking us to include in the pools some nontraditional candidates. That was something we saw beginning within the past five to ten years, but it seems an increasing request on the part of boards for sure," Funk said. "Our experience is that, at the end of the day, it's very difficult to get those candidates through the search committees. There is such an intrinsic hesitation from faculty on these search committees to someone who they perceive doesn't understand the academic community."
Such hesitations were apparent during Tuesday's forum.
"Universities are very complex organisms. Ours is definitely complex, and if you don't understand what makes certain parts of it tick … it's very hard to develop a sensitivity for," said Muhly.
Choosing an outsider might work, but it could just as easily backfire, he said: "That's a real gamble. And the question is, is it worth that gamble?"