You have /5 articles left.
Sign up for a free account or log in.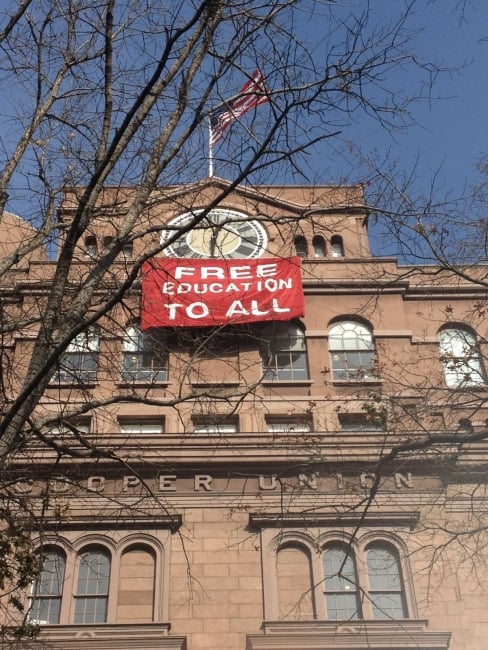 New York State's attorney general plans to announce a deal today that will substantially change the governance of Cooper Union and could create a path back to restoring the institution's longstanding but recently abandoned policy of being free to students.
The deal would require Cooper Union to add two students as voting members of the board and between five and nine (depending on the size of the board) alumni-elected trustees. In addition, four faculty members will be elected as nonvoting observers of board meetings. The board will also be required -- in a move that is unusual for a private college -- to publish all board minutes and reports, and to provide detailed reports on the university's finances, with some exemptions for information that must remain confidential. These provisions all reflect criticisms from many students and alumni that the board has in the past mismanaged the university's finances.
The agreement does not -- by itself -- require Cooper Union to return to free tuition. But the deal does require the board to create a committee, including student and alumni trustees and led by an alumni trustee, to try to find a way to do so by 2018. That year is significant because it is when rent Cooper Union receives on the Chrysler Building is due to increase from $9 million to more than $32 million a year, potentially creating a major improvement in Cooper Union's troubled finances. According to a statement from Cooper Union, any plan to return to free tuition must also maintain "Cooper Union's strong reputation for academic quality within its art, architecture and engineering programs at their historical levels of enrollment."
Today's news marks a stunning reversal of policy at Cooper Union, founded in New York City in 1859, and for most of its history, free to students. Peter Cooper, the founder, was committed to educating the working classes, not just the wealthy -- a radical idea when Cooper Union was founded. Over time, free tuition attracted many top students, some of whom might have gone elsewhere. The 2013 plan to impose tuition set off a huge protest -- including a lengthy occupation of some offices by students.
Cooper Union's leaders argued that they could not preserve the quality of the institution without tuition revenue, and pledged to use some of that revenue to preserve access for low-income students. Generally, private colleges have considerable leeway to set their tuition and financial strategies, however unpopular.
But in the case of Cooper Union, students and alumni said the board was violating its obligation to preserve the mission of the institution not only to offer a high-quality education, but to be free to students. Further, they charged that bad decisions by board leaders and administrators had violated their fiduciary duties.
While litigation failed to block the imposition of tuition, the movement attracted the interest of Eric T. Schneiderman, New York State's attorney general. He started investigating Cooper Union and reportedly pushed board members not to renew the contract of President Jamshed Bharucha, the architect of the plan to charge tuition. Then in June, five trustees who were supporters of Bharucha quit, and he left office well before the end of his contract.
The Wall Street Journal reported late Tuesday that Schneiderman will today issue a "scathing rebuke to the board and Mr. Bharucha," that will state that increased spending and the "risky" decision to borrow $175 million for a new academic building endangered Cooper Union's finances.
The Cooper Union Alumni Association issued a statement pledging support for the new governance system and the push to restore free tuition. "We are direct beneficiaries of Peter Cooper's gift of free education, and understand -- on a deeply personal level -- the importance of the full tuition scholarship in making our alma mater a vibrant and unique environment for learning," the statement said. "Our most recent election results confirm that 98 percent of voting alumni support free education at Cooper Union."
Statements coming out of the university were measured in tone, but supporters of Save Cooper Union, the group of students, alumni and others that organized opposition to the tuition plan, were jubilant. Many messages on social media noted that few outside the protest movement expected it to prevail, but it did.
On Twitter, Mike Essl, associate professor of art, wrote: "So um, you know how we've been fighting Cooper Union's board of trustees? WE WON."