You have /5 articles left.
Sign up for a free account or log in.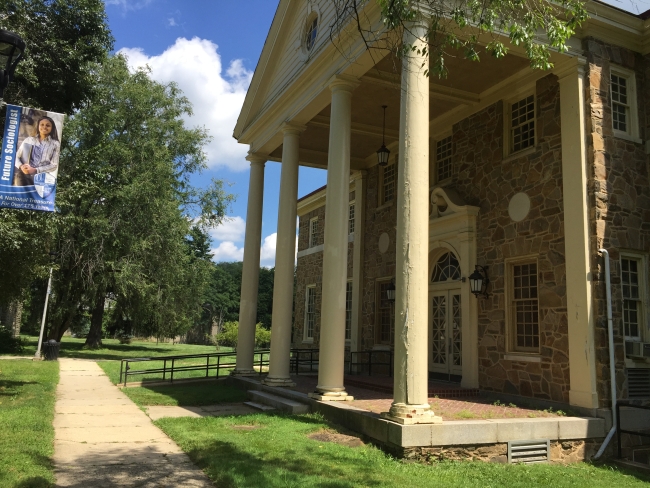 CHEYNEY, Pa. -- One of the oldest historically black colleges in the United States is fighting to survive.
Cheyney University, a small, rural public institution in Pennsylvania, faces challenges on nearly every front. The institution's students have been leaving in droves, and enrollment is down by about half since 2008. With its state funding slashed by 20 percent during that time, the university has a deficit of nearly $19 million.
The university has mismanaged many of its administrative functions, which are deeply disorganized -- a widely held view, including by supporters of the institution. During one recent admissions cycle, scores of forgotten and unreviewed applications were lost and then rediscovered too late, sources say.
A recent review found that Cheyney, which has no financial reserves and no endowment, may have to repay as much as $30 million in federal aid funds because it didn't properly administer or track them.
Many of its facilities are outdated and in disrepair. It hasn't had a permanent president in more than a year, and no search is underway for one. Its six-year graduation rate is 26 percent, low even among historically black colleges and universities (HBCUs) like Cheyney, which serve many disadvantaged students and historically have rates below 55 percent, the average national rate reported by the National Student Clearinghouse.
"There are lots and lots of factors at play that make it really messy," says Marybeth Gasman, director of the University of Pennsylvania's Center for Minority-Serving Institutions, of Cheyney. "It really does look like a shadow of itself."
Cheyney holds a unique place among HBCUs. Founded in 1837 -- a quarter century before Abraham Lincoln signed the Emancipation Proclamation -- as a school for teacher education, it's the oldest existing postsecondary institution for black students, though not the first historically black degree-granting institution.
It has been owned by the state since 1922 and was a founding member of the Pennsylvania State System of Higher Education (PASSHE), which was created in 1983. Its alumni include Julian Abele, architect of the Philadelphia Free Library and the Philadelphia Museum of Art; Rebecca J. Cole, one of the first black female physicians in the U.S.; Ed Bradley, the late 60 Minutes correspondent; and civil rights activist Bayard Rustin.
But Cheyney's legacy is at risk. As the university struggles to right itself, Cheyney faculty and HBCU policy experts alike wonder: Can the university rebound enough to once again cover its own expenses and better serve Pennsylvania's minority students? How much is PASSHE, one of the state systems with the lowest levels of per-student funding in the nation, willing to help Cheyney survive? What does a revitalized Cheyney look like?
And, more broadly, how do Cheyney's problems mirror those of other struggling HBCUs?
The state system is in the early stages of working with the university to develop a plan to increase enrollment through such strategies as the creation of new programs and marketing, and to cut costs by restructuring administrative units and possibly partnering with a nearby university. Yet Cheyney's enrollment and revenue have been declining for years, and until now little has been done to turn the tide at the institution.
"There is widespread concern about where we are headed and how we're going to progress through this period," said Norma George, who chairs the university's English, Languages and Communication Arts Department. "There's a tremendous amount of will to see the university weather this term and come out on the brighter side."
Enrollment Decline
Cheyney's enrollment dropped from about 1,470 full-time students in 2008 to just over 1,000 last year. This fall it is expected to dip another 300-some students, coming in just under 700.
Many HBCUs across the country are facing enrollment challenges, which in part stem from the growing number of options available to black students as more and more predominantly white colleges focus on recruiting black students. Enrollment at Lincoln University, the only other HBCU in Pennsylvania, was 1,820 students last fall -- roughly a one-fourth drop in seven years.
Officials at Cheyney attribute enrollment declines to reduced state funding, increased tuition and a slow-moving economy that has had a particularly harsh effect on low-income families. The vast majority of Cheyney's students are low income and first generation. For example, three-fourths of Cheyney's undergraduates receive Pell Grants.
Meanwhile, West Chester University sits six miles from Cheyney's campus. One of the most successful universities in the PASSHE system, West Chester had an enrollment of 16,090 in 2014, including 1,650 black students. The university outperforms Cheyney on several measures: its second-year retention rate among black students is 83.5 percent and its graduation rate for black students is 53.2 percent, according to West Chester's 2014 fact book. Yet it's also a much more selective university: West Chester admits 53 percent of applicants whereas Cheyney has an open-admissions policy.
There are concerns that the university's challenges -- issues like subpar facilities and falling behind in creating attractive academic programs -- are dissuading students from attending Cheyney. Undergraduate tuition is about the same throughout the PASSHE system. Cheyney's resident tuition is $9,340 a year and West Chester's resident tuition is $9,460. And if a student gets into a better-performing university, for many the choice is a simple one.
"The bottom line is that it's about the value proposition," says Ivan Turnipseed, who is chair of Cheyney's Hospitality and Recreation Management Department and has served in the leadership of its Faculty Senate and faculty union. "The reason Cheyney doesn't get the amount of students that we could handle is because it costs the same as West Chester and all the other schools, and the value proposition isn't the same."
Turnipseed added: "The overall experience leaves a lot of people wanting."
The result is that some students don't stick around long. Fully 45 percent leave Cheyney after their first year.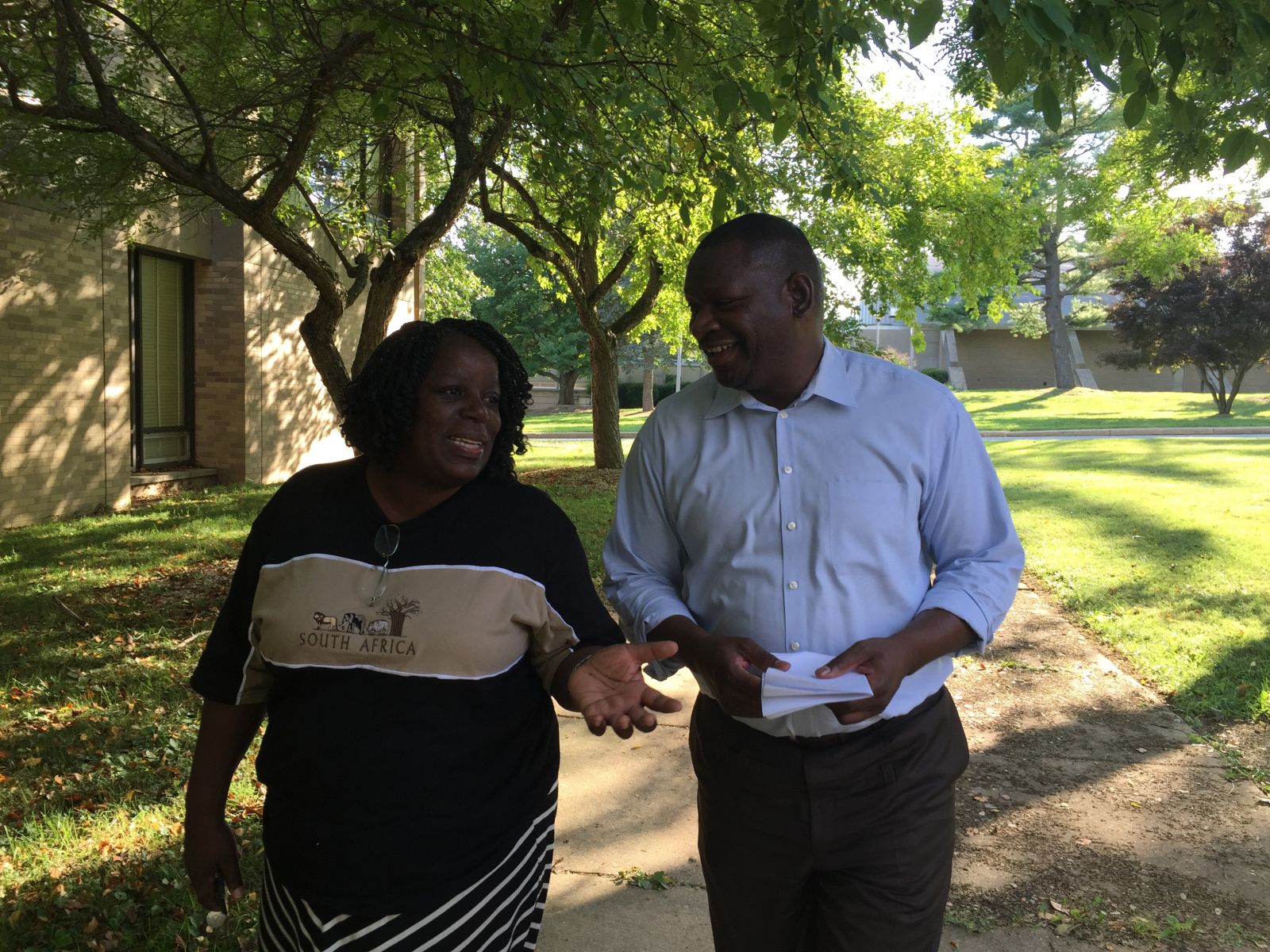 Cheyney's interim president, Frank Pogue, says that increasing enrollment for Cheyney is "priority No. 1." And the state has outlined goals for Cheyney to enroll 800 students by next fall.
The shrinking number of students has contributed to a growing deficit at the university, where annual operating losses rose from $213,000 in 2011 to $5.9 million in 2014. This summer, for the fourth consecutive year, Cheyney issued notices to faculty that they could be laid off at the end of the academic year.
Deferred maintenance for Cheyney's 634,000 square feet of infrastructure is estimated at nearly $26 million. Four of Cheyney's buildings are in such poor condition they're now closed and are slated to be demolished, along with another academic building. And many of the open buildings are in various states of disrepair: broken floor tiles, scuffed and rusted hallways and doorways, and broken air-conditioning are not uncommon. (See slideshow, above, for a look at some of the university's deteriorating facilities.)
Did Budgets Reflect Bias?
Many people interviewed for this article, from faculty members to Council of Trustees Chairman Robert W. Bogle to scholars who study HBCUs, placed much of the blame for Cheyney's challenges with the state of Pennsylvania.
They pointed to historic underfunding and unequal treatment of Cheyney. They described how, decades ago, contractors would use subpar materials when constructing new buildings. They noted that, in 1969, Pennsylvania's government was found by the federal government to be among 10 state governments operating an openly discriminatory higher education system, and how, in 1999, the PASSHE system signed an agreement with the U.S. Office for Civil Rights that aimed to provide more funding and new programs for Cheyney in an effort to compensate for decades of discrimination. Yet that agreement was never fully executed.
A new coalition of alumni and advocates, dubbed Heeding Cheyney's Call, has sued PASSHE and seeks "parity through equity," or support that would make up for historic underfunding due to past discriminatory practices. Michael Coard, a member of that group, says Cheyney is treated like the "stepchild" of the PASSHE system. Bogle says that "at no time" has the university been treated as an "equal partner" in the system.
"The bottom line really has to do with whether or not the institution has been properly supported," says James T. Minor, deputy assistant secretary for higher education programs at the U.S. Department of Education and a scholar of HBCUs. "If the answer is no, then all of the issues and the questions and the management challenges have to be understood through the primary problem or the first problem: insufficient funding over a number of years has a compounding effect."
PASSHE's neglect, critics say, isn't limited to funding. Kenneth Mash, president of the Association of Pennsylvania State College and University Faculties (APSCUF), PASSHE's faculty union, says that for years system officials were being told of mismanagement and didn't intervene.
"If you give money over but you don't make sure that money is being spent properly, if you don't provide the proper oversight, if you continually hear stories about things that are going on and you take no corrective action, and you only step in when things are absolutely at their worst -- then there is a real issue about oversight," he says. "One has to wonder about the fiduciary responsibilities of those involved."
PASSHE's chancellor, Frank Brogan, declined to grant an interview for this article but did offer a brief written statement, and the chair of the Board of Regents for the system did not respond to requests for an interview. Despite repeated requests, the system did not make an administrator available for an interview. 
Cheyney receives the most per-student funding of any state-owned institution in Pennsylvania by a wide margin: per-student state funding at Cheyney was $14,000 last year, triple the state average of $4,500. Yet the per-student figure can be misleading, as Cheyney has experienced a steep decline in students in spite of efforts to increase enrollment. In addition, the system's formula gives Cheyney extra money because it is a historically black college.
Taken as a whole, Cheyney's state allocation is the smallest in the PASSHE system, which isn't surprising, because Cheyney has, by far, the lowest enrollment of any PASSHE institution. Cheyney's base appropriation has dropped significantly in recent years: in 2008 the university received $15.7 million from the state, compared to $12.5 million last fall, a one-fifth reduction over seven years. That drop largely follows enrollment declines and cuts in overall state support -- the PASSHE system has not received a funding increase in four years and had its funding cut by 18 percent in 2010.
Cheyney has received more capital funding -- state funds separate from annual appropriations that are earmarked for campus construction projects -- than its peer universities in recent years, receiving $97 million since 2008, compared to the $43.5 million average for all system universities during that time. Those funds provided the bulk of support for Cheyney's two newest buildings: a $50 million student dorm and a $23 million science center, which were the first residence hall and academic building to be built on campus in more than 30 years.
Because many of its students are low income and first generation -- a population that is expensive to educate -- the level of state funding Cheyney receives is crucial, said Michelle Cooper, president of the Institute for Higher Education Policy.
"Funding is so important to these institutions because they are serving the students with the greatest need," she says of HBCUs.
In June PASSHE gave Cheyney a third, $6.5 million line of credit, bringing the total amount Cheyney owes the system to $13 million. A December 2014 state audit warned that Cheyney is becoming increasingly dependent on the system to stay afloat.
University leaders acknowledge that Cheyney's ongoing reliance on loans from the system isn't sustainable. "The state is not going to continue to lend you that money because they have limitations themselves and, in the absence of a comprehensive plan, I doubt that they would continue to support you," says Bogle.
"The writing's on the wall," he continued. "Resources are not inexhaustible. They're going to give out."
The system is working with Cheyney administrators to determine a long-term plan for the institution. System staff have filled in to help with poor-performing areas of the university, such as fiscal management and student financial aid functions. And the system has hired, and footed the bill for, a consultant to overhaul Cheyney's financial aid offices.
Questionable Leadership Practice
Several people interviewed for this article -- including Cheyney's interim president -- said the university's admissions and financial services offices have been mismanaged for years. Some students receive personal recommendations from faculty members, yet don't hear back from Cheyney's admissions or financial aid office.
Mash calls the stories stemming from such mismanagement "legendary." Gasman, the HBCU scholar, says the university has had "some really questionable leadership practices" in recent history.
Inefficiencies in the admissions office often pile on to the large systemic issues Cheyney is fighting against as it tries to maintain enrollment, like demographic shifts in the Northeast and the declining competitiveness of HBCUs. After a recent admissions cycle, for example, a trove of misplaced applications was discovered, apparently set aside and then forgotten about. The result was hundreds of students who applied to Cheyney but never heard back from the admissions office.
"It's a huge issue. We have low enrollment enough, but to hear over and over again that people never heard from anybody," says Turnipseed, "how would that be possible when we need people so desperately? That just seems crazy."
Meanwhile, the financial aid office has been working to fix years of mismanagement. A PASSHE review that concluded in August found Cheyney made numerous mistakes when awarding and tracking federal grants and loans between 2011 and 2013. Nearly $30 million in aid -- distributed as Pell Grants, federal work study, direct student loans and other awards -- is in question and may have to be repaid.
The consultant now operating Cheyney's financial aid office reviewed 3,900 of 4,400 student records during the three-year period, and found that 85 percent had at least one error. Of the 4,400 records, nearly half -- 47 percent -- were determined to be ineligible for aid, meaning they lacked elements like high school transcripts or proof of a student's academic standing or progress. In many cases, the students likely would have qualified had they completed their applications and provided necessary documentation.
The problems stem from a number of lapses, ranging from not confirming whether students actually enrolled to failing to integrating software used to track and award aid. The report noted problems with "enrollment management functions, the university's policies and procedures, communications, academic progress, student accounts, student records, financial records and student information management systems," PASSHE's chancellor wrote in a memo to regents.
The U.S. Department of Education is reviewing PASSHE's report and will determine what sanctions and repayments to place on Cheyney. If the university owes the department money, it will have to come from the state, as Cheyney doesn't have the funds itself.
"While progress is being made, the bitter truth is that students' federal student aid was mismanaged. Their Cheyney student accounts are wrong," stated a summary of the review. "With lifetime limitations on the eligibility for these federal funds, it is the students (and those that are borrowers) that are harmed."
In an April report, Moody's, the credit rating agency, anticipated that remediation of aid that Cheyney improperly awarded will be a liability for PASSHE, along with declining enrollment and significant financial challenges. For many who watch Cheyney, mismanagement of federal aid is a careless mistake: Cheyney had similar problems awarding and tracking aid from 1999 to 2007, and PASSHE worked with the university from 2008 to 2010 in an attempt to get its procedures in line.
"It has rippling effects," Gasman says. "When you have that kind of lack of organization and lack of integrity in those areas, students remember that, and what happens is they don't want to give back as alumni."
What's Being Done?
As Cheyney has struggled with enrollment declines, it's been slow to adopt a number of strategies that have worked for other struggling HBCUs. Cheyney, for example, has gone years without creating new, high-demand academic programs -- a strategy many HBCUs use to make their campuses attractive to students. The university is considering new programs like sports management and criminal justice, along with six others, for approval this year.
Yet prior to the current review, there has been little program development at Cheyney. The last new program developed was a graphic arts major in 2009. Coard, with Heeding Cheyney's Call, is a staunch advocate of Cheyney and places blame for much of its problems with the state system. But he admits that program creation is an area where administrators have dropped the ball.
"That's indefensible. There's no way I can get around that," he says. "These administrators did not do the right thing."
Meanwhile a search is underway now for a director of marketing -- a position that hasn't previously existed at Cheyney. Turnipseed says the lack of marketing at Cheyney has contributed to enrollment problems. Prospective students, he says, aren't being told about the university's successful programs.
As Cheyney's revenues have declined, the university has tried to cut expenses. A December 2014 state audit revealed that during the 2013-14 academic year, for example, Cheyney reported reducing its workforce by 23 percent and its nonpersonnel expenses by 22 percent. Low-demand programs, like fashion merchandising, have been axed. The university has overhauled its admissions, financial aid and student services offices with new staff in an effort to operate more efficiently.
Cheyney has eliminated dozens of positions, mainly through attrition. In 2014 Cheyney had 100 full-time faculty and instructors, compared to 138 a decade ago, according to figures provided by APSCUF, the state faculty union.
"If you discover that you are in debt, that your income is less than your expenses, you have to make adjustments," Pogue says.
"We've had layoffs here. We have positions that we have not filled," he continued. "We have reduced our workforce. We have eliminated several academic programs. We have reduced spending by reducing the number of activities and things that our faculty and staff can do."
And the university is considering a number of strategies to improve student retention and to increase enrollment. This fall, for example, the Faculty Senate agreed to nix a foreign language course requirement for graduation, feeling the requirement was holding too many students back.
Cheyney is considering stepping up its student recruitment in Philadelphia. The university is also in talks to collaborate with West Chester. Unlike Cheyney, West Chester has the largest student body in the system and not enough space for all its students. At this point the nature of a partnership isn't clear, but would likely involve sharing academic resources, like libraries, and facilities, as well as collaborating on joint academic programs. Though many say a partnership could help Cheyney have access to more resources, there are also concerns that West Chester could overshadow Cheyney.
"The whole notion of a collaboration wasn't and still isn't something that we prefer, but we realize it's essential," said Coard, who added that some alumni and faculty are worried about West Chester taking control of some of Cheyney's land and academic departments. There's concern that "Cheyney would become West Chester-like, and we're not having that," he said.
Leadership in Question
Since Cheyney's last president, Michelle Howard-Vital, abruptly left the institution in July 2014 after serving for seven years, the university has had two temporary leaders, including Pogue, the current interim president. Pogue is an experienced administrator, having served as president or interim president of three universities before coming to Cheyney.
Yet despite going more than a year without a permanent leader, there is no search underway for a new president. Before Howard-Vital, a different interim president led Cheyney for more than three years.
George, the English chair, says the university needs a "visionary" leader who is committed to Cheyney for the long haul. She faults the state system for neglecting to search for a permanent leader and for not firing the last president when things at Cheyney continued to deteriorate.
"There are strong candidates out there who want to make their mark, who want to say, 'Let me see what I can do with this dying beast,'" said George, who has served as a leader for the Faculty Senate and faculty union.
"You do not have to let it die by feeding it bad food and saying, 'It's sick already, why are we going to waste good money on it?' You get somebody who is proven, and who wants to prove themselves. You get them at the helm," she continued.
Gasman agreed that Cheyney needs strong leadership, something it's lacked in recent history.
"They've had presidents that have been sometimes timid with the state and with the board," she says. "They've had presidents who have not necessarily had the support of alumni, and have had contentious relationships with staff and faculty."
Meanwhile, Bogle has been a member of Cheyney's Council of Trustees since 1985, and chairman for at least two decades, and has seen six presidents come and go. Bogle is president of The Philadelphia Tribune, Pennsylvania's largest newspaper aimed at black readers.
A consistent presence during Cheyney's difficulties and internal mismanagement, Bogle emphasized that the role of the council is a limited one, and that ultimate control over funding and appointments lies with the PASSHE Board of Regents, which governs the 14-university system.
"The Council of Trustees has extremely limited influence on the day-to-day and ultimately the end result of what occurs at the university," he says. For example, the council cannot conduct a presidential search until it is directed by the state system to do so. "The state system has to agree to a search. We cannot arbitrarily, capriciously decide we're going to have a search."
Yet while the systemwide Board of Regents has ultimate say over funding, programs and presidential appointments, PASSHE's rules make it clear that the council has responsibility to advise the president and review his or her decisions, ranging from facilities to academic policies.
Cheyney's Future
About 9 percent, or 10,400, of the 95,700 students enrolled in PASSHE's 14 universities in 2014 were black. In addition to the PASSHE system, Pennsylvania has four state-related universities. The two largest, Temple University and Pennsylvania State University, enroll 4,500 (12 percent of the student body) and 4,700 (5.5 percent) black students, respectively, according to their most recent fact books.
Given Cheyney's mounting challenges, some question whether the university will survive -- or whether it should be allowed to fail.
Neal McCluskey, director of the Center for Educational Freedom at the Cato Institute, a libertarian think tank, says factors like enrollment are a measure of whether or not there is still a demand for a Cheyney education -- or one at any college.
"The best way to decide what is the place of Cheyney is that individuals would chose schools, and if there weren't enough that valued the history of a place like Cheyney then it should go out of business," he said. "People vote. People express their feelings about Cheyney with their feet."
Among scholars of HBCUs and people affiliated with Cheyney, this is an unpopular option.
​"There is a place for Cheyney, if Cheyney can get itself back on its feet," Gasman said, adding that with the recent spate of high-profile shootings of unarmed black men, some black students are seeking out HBCUs so they can be in a minority-majority setting.
"I really see black students across the country hurting," she continued. "HBCUs have a special [role] they can play by easing that pain."
Others note that many of the students enrolled at Cheyney wouldn't otherwise attend college if the institution didn't exist.
"Cheyney's mission is an important mission to this day. To deny that is to deny there are African-American students in the commonwealth that are being underserved," said Mash, the union leader. Yet Mash says for Cheyney to fully serve that mission, it has to be improved. "We're talking about a university where the students don't get the same treatment as they do at other universities. The faculty don't get the same treatment and respect as they do at our 13 other universities. That's a problem that's existed for decades and continues to this day."
Pogue noted that when Cheyney was first created, 90 percent of blacks in the U.S. were slaves. Its history as a pioneer for black education, he says, may be its saving grace.
"For any institution that is moving in a direction that we are moving, whether we want to or not, the future may certainly be at risk," Pogue said.
"I have worked in other settings where the challenges have been viewed often as insurmountable. The difference of what we have at Cheyney is that this is the oldest HBCU and it simply must be preserved," he said, adding, "We have to demonstrate that we have the capacity to turn things around."