Students at a Mississippi community college protest over sagging-pants ban that, they say, led to a student's unjust arrest.
A sagging-pants debate at a Mississippi community college has escalated into questions about campus police and whether students need to have identification cards visible at all times.
An altercation at Hinds Community College between a student and campus police officer led to an arrest and student protests -- although there is some dispute as to why the incident started.
The officer stopped 21-year-old Akinola Gonzalez outside the college cafeteria on Sept. 1 because his sagging pants put him in "violation of Hinds Community College dress code," according to the police report. A college disciplinary board later found he had not been in violation, but the incident escalated anyway. Gonzalez repeatedly refused to show his student ID, which all students are required to wear while on campus, when the officer asked for it. Eventually Gonzalez was detained and arrested for failure to comply, a misdemeanor charge punishable by up to six months in prison and a $500 fine.
Court records show Gonzalez was released from the jail the next day after posting bond, according to The Clarion-Ledger.
And a week after Gonzalez's arrest, a small group of students gathered to protest the arrest, some holding signs reading "#sagging is not a crime" and "stop criminalizing black expression."
Gonzalez told reporters during the demonstration that the officer was rude and used profanity when talking to him. "Then he put me in handcuffs and I asked why he was doing that. He said, 'I'm about to take you to the county because you can't follow directions,'" Gonzalez said to WJTC Channel 12.
Dara Cooper, Gonzalez's sister, cataloged much of the incident, its aftermath and the resulting protest in tweets and Facebook and blog posts.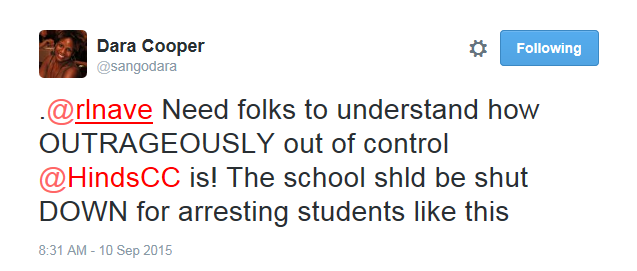 "Although Akinola was not suspended or expelled," Cooper wrote in a statement after the disciplinary board decision, "we still see this as outrageous -- that a student minding his own business was stopped on campus and found guilty of anything at all. And we certainly find it outrageous -- that a student walking to his dorm room ends up in jail."
College officials did not respond to requests for comment.
Sagging pants do violate the college's dress code, Tyrone Jackson, associate vice president of student services and dean of students, told The Clarion-Ledger. The code prohibits "clothing that is in any way controversial, provocative and/or revealing," according to an archived copy of the college's policies and regulations. But campus police would not arrest a student for a dress code violation, Jackson said.
Rather, Gonzalez was arrested for disobeying campus police, and "the campus police officers followed college procedure," according to a statement from the university. "All college employees and students are required to wear college-issued identification badges. A college campus is an open environment with several access points. Safety is a primary concern; therefore, all Hinds Community College students and employees are required to wear college ID."
Gonzalez and his supporters disagree, and an online petition demanding an apology, policy changes and consequences for the police officer had garnered 1,528 signatures as of Tuesday evening. Gonzalez was arrested "as a result of an alleged dress code violation: sagging his pants," the petition reads. "How Akinola was dressed or his alleged failure to produce identification on a campus where he resides and pays full tuition results in discriminatory policing and incarceration."
Today's News from Inside Higher Ed
Inside Higher Ed's Quick Takes
What Others Are Reading
Past:
Day
Week
Month
Year