You have /5 articles left.
Sign up for a free account or log in.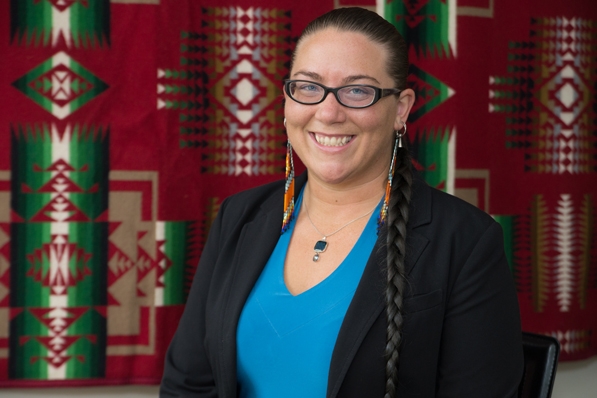 Dartmouth College this month appointed Susan Taffe Reed as director of its Native American Program. In a news release, the college noted Taffe Reed's academic background (a Cornell University Ph.D. and postdocs at the University of North Carolina at Chapel Hill and Bowdoin College), her research interest (ethnomusicology) and something else: Taffe Reed, Dartmouth noted, is president of Eastern Delaware Nations Inc.
If Dartmouth expected applause for hiring someone with a strong academic background and a personal background that would appeal to its Native American students, whom the program serves, it was mistaken.
Not all Native Americans recognize Eastern Delaware Nations as an Indian tribe. Nor do federal or state governments. So leading the group wasn't seen as a plus, but as a minus. And then a blog ran a detailed genealogical post about Taffe Reed's grandparents (from whom she draws a Native American connection) alleging, with legal documents, that they are white European immigrants and their descendants. Dartmouth and Taffe Reed dispute the blog post, but did not issue a detailed rebuttal.
From there it went to social media, with people writing on the Facebook page of Dartmouth's Native American Alumni Association that the college was insulting Native Americans, not supporting them. One post said: "Congratulations Dartmouth on hiring your very own Rachel Dolezal as the director of the Native American Program. Susan Taffe Reed is not a member of a federally recognized tribe nor does she have legitimate Native American ancestry."
The reference to Rachel Dolezal -- who was head of the Spokane, Wash., NAACP and an adjunct instructor of Africana studies at Eastern Washington University when it was revealed over the summer that she is white, despite her claims to the contrary -- is significant, even if Taffe Reed and Dartmouth officials say that she hasn't distorted her background and that the comparison is unfair.
Nonetheless, criticism of her appointment comes at a time of scrutiny of people who have claimed a racial or ethnic status that not everyone feels is accurate. There was the case of Andrea Smith, associate professor of media and cultural studies at the University of California at Riverside, who shortly after the Dolezal scandal broke was accused of faking a Cherokee heritage that many say she lacks. And there is the recent case of a white man who published poetry with a Chinese name.
Adding to the scrutiny for Taffe Reed is Dartmouth's history. The college was founded to educate Native Americans. While the 18th-century definition of educating Native Americans would not win support today, and didn't last as a focus of Dartmouth, the college since the 1970s has embraced that mission again, boasting of educating more Native American students than other Ivies or elite colleges.
A key difference between the Dolezal and Smith cases and that of Taffe Reed, Dartmouth says, is that she was forthright about an identity of mixed dlNative American and European heritage.
A statement from the college notes awareness that some Native Americans do not consider the Eastern Delaware Nations to be a tribe, but the college characterizes this as a dispute among different groups and not one for Dartmouth to judge.
"Susan Taffe Reed never represented herself as a member of a federally recognized tribe," the college's statement says. "It is illegal to hire or deny employment based on an individual's ethnicity; Susan was offered the position based on her skills and experience. The search committee was comprised of members of the community she will serve and they are fully confident in her abilities. While we recognize the legitimacy of the concern that individuals may falsely identify themselves as Native American, Dartmouth also understands that there are varying perspectives in the Native American community over what constitutes ethnicity, which is a separate issue from false claims of ethnicity. It is not up to Dartmouth to determine which perspective is correct."
That statement, however, has not satisfied some Native American scholars and activists, who have been circulating the blog post about Taffe Reed's background and speaking out against the college's decision. Generally, these Native Americans say they see roles for many different kinds of people -- including people without any Native American heritage -- in doing scholarship on American Indians and helping American Indian students.
Their anger is largely about the Eastern Delaware Nations. That group's website states clearly that it is not a recognized tribe, but says that its members come from 12 tribes that were present in Pennsylvania. The website also states that some of its members "are not of American Indian descent, but join as social members in support of a family member or to assist EDN in educational outreach and other activities."
Michelle Leonard, who is an active member of the Shinnecock Indian Nation, said that Native Americans have lost much of their history to "cultural thieves," who "appropriate" parts of Native American history and culture without truly being part of the communities they claim to embrace. "It's embarrassing and upsetting" that Dartmouth doesn't see the conflict over the group Taffe Reed leads, Leonard said.
The frustration is particularly strong for some members of the Delaware Tribe, which is a federally recognized tribe. Some Delaware leaders believe Eastern Delaware implies some level of connection to the Delaware. Nicky Michael, a member of the Delaware Tribal Council and a visiting professor of Native American history at the University of Wyoming, said that the Delaware Tribe members ended up in Oklahoma after six forced relocations by the United States government, and that history means something to members.
Michael said she would not have objected had Dartmouth selected a white person to lead the Native American Program. "I could swallow it if she was a non-Indian and got her job in her own right. I know a lot of academics who are [white] and involved with Native Americans, and they do fine. But to pretend to be something you aren't is different." She said that the Eastern Delaware group led by Taffe Reed "is using our culture and our name and she is using it to gain access to a position like that."
"I know what students have fought for" in programs for Native Americans, "and they have fought for the inclusion of real Native peoples," she said.
Because Dartmouth has, she said, supported Native American scholarship and Native American students, "this is a real stab at my heart."
Taffe Reed declined to participate in a direct interview, but agreed to answer a few questions via email. She did not respond to a question asking about her background and the claims made on the blog about her, but she indicated that some of the information on the website was not accurate, without providing details.
Issues of identity are important to her, Taffe Reed said. "My ties to all aspects of my identity are very important to me. Throughout this process, I have been forthright about my personal and professional experience. Given the history of this continent, it is not uncommon for Native identities to be mixed and complex. The Native and campus community at Dartmouth is inclusive of all backgrounds and experiences. It is important to me that all of our students feel welcome, engaged and supported no matter where they come from. My job is to provide academic, cultural and personal support to all Native students. When I teach in the classroom, the best learning experience comes from the variety of experiences and perspectives represented. Native students coming from different backgrounds learn from one another's experience in ways that enrich their own."
As to the questions raised about the Eastern Delaware Nations, Taffe Reed said that not only was she a member of that group, but that her research was based there. "My most recent academic scholarship is about powwow music and dance, and the experience of Native peoples in the mountains of Pennsylvania. It is a diverse group of people with a rich oral history and body of experience to share. I look forward to sharing my work and my experience with the Dartmouth community. It is simply inaccurate to say that there are no people of Native American descent in Pennsylvania."
Asked for her reaction to the online critiques of her hire, Taffe Reed said: "I am concerned about ways in which questions of identity and authenticity affect [students]. Sadly, it is a teachable moment that enables our students to reflect on the complex history and issues of identity in Indian country. I want all of our Native students to feel equally valued and welcome."