You have /5 articles left.
Sign up for a free account or log in.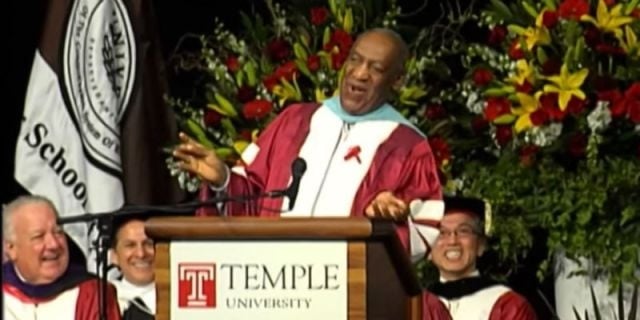 Three universities have rescinded honorary degrees they awarded to Bill Cosby. Now the question becomes: What will happen to the 23 he still has?
More than 30 women have come forward to accuse the comedian and former television star of sexual assault, many only in the last year. As the accusations piled up, colleges, especially those with close ties to Cosby, reacted in different ways and at different paces.
High Point University removed Cosby from its Board of Advisors in November 2014. The University of Massachusetts-Amherst asked him to step down as co-chairman of the college's fund-raising campaign later that month. And Spelman College ended a Cosby-endowed professorship in July.
Other colleges canceled speeches and took his name off buildings and programs. But until recently, even universities that had distanced themselves from Cosby -- like Berklee College of Music, which removed his name from a scholarship -- hadn't gone so far as to rescind one of his more than two dozen honorary degrees.
Fordham University and Marquette University became the first to do so last week, and Brown University followed suit several days later. All three universities pointed to statements Cosby made in a 2005 deposition that The New York Times excerpted in July as a deciding factor. In that testimony, Cosby admitted to giving women drugs before sex, though he claimed the encounters were consensual.
"It has become clear, by his own admission in legal depositions that became public this summer, that Mr. Cosby has engaged in conduct with women that is contrary to the values of Brown and the qualities for which he was honored by the university in 1985," Brown University President Christina Paxson said in a written statement. "It is particularly troubling as our university community continues to confront the very real challenges of sexual violence on our campus and in society at large, and had it been known to the Fellows in 1985, an honorary degree lauding the qualities quoted above would not have been conferred."
Of the three, Brown was the only university to previously rescind an honorary degree, but it did so only once and almost 100 years ago -- in 1918, the college annulled the Doctor of Laws degree it had given to Johann Heinrich von Bernstorff, the German ambassador to the United States from 1908 to 1917. Then college President William Faunce explained that "while he was ambassador of the Imperial German Government to the United States and while the nations were still at peace, he was guilty of conduct dishonorable alike in a gentleman and a diplomat."
Despite the small spate of rescinded honorary degrees awarded to Cosby, a handful of colleges said they have no plans to rescind their own.
"We don't rescind the degrees," Michael Roth, president of Wesleyan University, said to the student newspaper in April. "We don't go backwards." Wesleyan awarded Cosby an honorary doctorate in 1987.
"We don't think that everyone we've given an honorary degree to is a perfect person," Roth added. "On the other hand, we also don't expect to honor someone who has been accused of serious crimes. So I don't think we need to change the policy. We need to be prudent about who we give these awards to."
That interview took place before any college had rescinded one of Cosby's degrees, but a university spokesperson told Inside Higher Ed that "our position hasn't changed."
In fact, Wesleyan, the University of Notre Dame, the College of William and Mary, and Carnegie Mellon University all said they have no plans to rescind Cosby's honorary degrees.
"William and Mary bestows honorary degrees based on information known at the time when they are conferred, and these awards do not constitute a standing endorsement of an individual's moral character," said Brian Whitson, a college spokesman.
Eight more colleges, though, said they are actively considering or discussing the issue. It's on the governing board's agenda at Amherst College and in front of the Faculty Senate at Baylor University. Colgate University and Drew University both said a decision was forthcoming. Berklee College of Music, Haverford College, Oberlin College and the University of Connecticut said they are discussing or considering the matter. And Boston University is "monitoring developments," according to a spokesperson.
Another three institutions -- Yale University, Virginia Commonwealth University and Rensselaer Polytechnic Institute -- said they have never rescinded an honorary degree.
"Cosby received an honorary degree from VCU in 2008 based on what was known at the time," said Michael Porter, a spokesman for the university. "We have no precedent for revoking honorary degrees since they carry no special rights or privileges."
Swarthmore College and the University of Pennsylvania declined to comment.
Five more institutions did not respond to a request for comment: West Chester University, the University of Southern California, the University of Cincinnati, Paine College and Sisseton Wahpeton College.