You have /5 articles left.
Sign up for a free account or log in.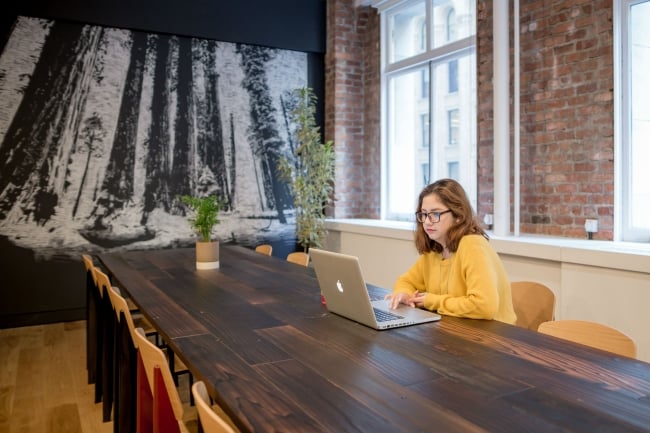 Students at Lynn University soon will be able to earn 15 credits by completing a 16-week academic program in technology design at a distant campus of General Assembly, the largest of the coding boot camps.
The partnership between the private university, in Boca Raton, Fla., and the upstart, nonaccredited General Assembly will offer Lynn's students an immersive form of study abroad, university officials said.
"The curriculum is designed for university students to supplement the education they receive in school with industry-specific skills," the university said in a written statement. "The new arrangement with Lynn allows students to pair a strong liberal arts foundation with just-in-time job skills."
Beginning in January, Lynn students will be able to apply to attend sessions at General Assembly campuses in New York City, London, San Francisco and Sydney, Australia. Participants will meet all day, every weekday in classrooms that will be limited to 25 students. Topics covered will include product management, user-experience design, digital marketing and web development.
Students from the university who complete the program will be able to earn up to 15 credits they can apply to their Lynn degree. The partnership appears to be the first in which students from a traditional university can earn a full semester's worth of credits in the rapidly expanding coding boot camp space -- a sector with an anticipated 16,000 graduates and $172 million in revenue this year.
"We like to create some different pathways," said Kevin Ross, Lynn's president. "We're excited to offer this to our students."
The experience will come with a relatively steep price tag. Lynn students will pay $14,000 in tuition for the 16-week General Assembly program, as well as $8,300 for housing. They also will pay for their own airfare.
Officials from both Lynn and General Assembly declined to discuss the financial arrangements of the deal. Presumably, Lynn is getting a cut of the tuition fee. General Assembly typically charges $10,500 to $13,500 for its immersive programs, which are 10-12 weeks long. The boot camp will handle Lynn students' housing arrangements, a university spokeswoman said.
Lynn also will offer its students a shorter program at General Assembly. Those study abroad sessions will run for 10 days, with a cost of $3,000 for housing and fees. The 16-week version will be available at General Assembly's New York City and San Francisco campuses. All four participating campuses will offer the 10-day variety.
General Assembly has partnerships in place for similar short-term programs at several other universities, said Mercedes Bent, the company's general manager for university programs and partnerships. Under those arrangements, students study for a day or two at General Assembly-run sessions, and often can earn a college credit for their work.
American University is one of General Assembly's partners, as is Colgate University. And Bent said the company has more arrangements with traditional colleges in the works. The goal in those partnerships, she said, is to expose and introduce university students to skills that have value in the workplace.
"General Assembly can bring a lot to the table," said Bent, particularly for colleges that are outside of a major technology hub. "We're trying to work with universities to supplement their educations."
Job Placement
General Assembly is the largest of the boot camps, by far. With 19 locations, mostly in the U.S., the company said it enrolls roughly 60 percent of all students in the sector. General Assembly is on track to have 20,000 graduates by the end of this year.
The rapid growth of boot camps has captured the attention of policy makers, in part because they appear to help close the "skills gap" between higher education and employers, at least in the tech industry.
For example, General Assembly claims a job-placement rate of 99 percent for job-seeking graduates of its immersive programs. The boot camp also offers part-time and online courses.
Later this month the U.S. Department of Education plans to announce the details of an experiment that would allow colleges to team up with boot camps (as well as with online course providers and corporate training programs) on academic programs that would be eligible to receive federal financial aid.
But Lynn and other colleges are moving ahead even before that experiment gets off the ground. The draw, said Ross, is that General Assembly has an established track record in teaching technology design -- and in helping its graduates land jobs in Miami's booming tech industry.
Lynn would not have been able to match General Assembly's quality of instruction in those areas, Ross said, at least not quickly. "We would have to go create a whole department."
The university also has had previous success in collaborating with a noninstitutional partner. Lynn offers a bachelor's degree in entrepreneurship with Watson University, a nonaccredited Colorado-based education provider with a curriculum that focuses on fund-raising, team building, marketing and other skills.
"Our culture at Lynn is looking at what's out there," said Ross.
The General Assembly partnership began taking shape in March, when Ross met Jake Schwartz, General Assembly's CEO and co-founder. The two chatted at SXSWedu, a large education technology conference. Ross said the university then reviewed General Assembly's academic chops, and were impressed with that they found.
In many ways, Ross said, the boot camp's small class size and focus on collaborative projects are reminiscent of the liberal arts. After studying General Assembly's curriculum and doing reference checks, the university moved forward with the plan to issue credits for students' prior learning at the boot camp.
The final 16-week curriculum now maps to four Lynn course equivalencies -- in creativity and innovation, trends in e-marketing, web design and product development. Students who participate in the 10-day version can earn two credits from Lynn in new venture creation.
Students in most majors can apply the credits they earn at General Assembly as electives, the university said. Business students can apply them toward their major.
Lynn's regional accreditor, the Southern Association of Colleges and Schools, has not questioned the arrangement, Ross said.
"Our reputation is on the line," he said of the partnership with General Assembly, adding that "we like what they stand for."
General Assembly's instructors have work experience in industries the boot camp helps its graduates break into, typically at technology start-ups. Lynn students won't be automatically accepted to participate, and will have to clear an admission process, Bent said, that seeks to vet their drive and motivation, among other attributes. The university will require that they hold a grade point average of at least 2.8 to be eligible to apply.
Students from Lynn will spend their first 10 weeks at General Assembly, the university said, learning skills that "form the building blocks of emerging and sought-after careers in tech." They will spend their final six weeks applying those skills by interning on a digital product team -- an experience that will be worth three credits.
For example, on the web development side, they will design and code interactive, client-facing websites, the university said.
Teaching undergraduates from Lynn will be a somewhat of a departure for General Assembly, which focuses mostly on career changers.
"The average student in a General Assembly program is 30 years old and has a bachelor's degree," said Bent. "We're focusing on a new audience."
As a result, the curriculum for Lynn students will have different pacing, she said, with more time built in for the cultural immersion of its relatively young participants.
Students from Lynn also won't be mixed with the typical General Assembly students.
"Lynn students will be studying alongside other undergraduates," Bent said.
General Assembly would not say from which institutions, besides Lynn, those students would come. But the company appears confident that more traditional undergraduates will be popping up in their classrooms.