You have /5 articles left.
Sign up for a free account or log in.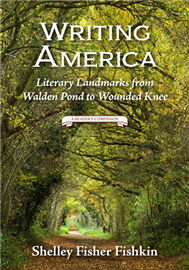 The best writers bring places, real and imagined, to life. Think of John Steinbeck's vivid depictions of the dust bowl in the 1930s or Margaret Atwood's outlandish speculative other worlds. In her new book, Writing America: Literary Landmarks From Walden Pond to Wounded Knee (Rutgers University Press), Shelley Fisher Fishkin looks at the reverse process: how places shape writers and their work. Writing America mines the National Register of Historic Places for insight into the intersection between the physical world and the literary. She describes more than 100 sites where writers lived, wrote or fostered some kind of link, allowing Fishkin "to recall, rethink or revisit literature that mattered to [her]."
Fishkin is an English professor and director of American Studies at Stanford University. She is the author or editor of dozens of books and hundreds of articles and essays. Fishkin responded via email to questions about the book.
Q: What drove you to write this book? Is connection between physical location and literary work a new interest or a longstanding one?
A: I had not thought about the connections between physical places and literature in any depth until I began working on this book. In a 21st-century environment of rapid social and technological change, of shortened attention spans, and of the commercial exploitation of every visible surface, both American literature and American places are "endangered" -- at risk of being ignored and forgotten, unread and unseen, pulped or bulldozed. I was struck by the absence of sites on the National Register of Historic Places with a direct connection to many authors and works that I especially valued and I found that even sites that were linked to literature often failed to make the importance of that connection come truly alive. Might paying more attention to these relationships -- and finding connections that hadn't been made before -- help us appreciate and value both the literature and the landscape more fully? I wrote the book to find out.
Q: You note in the book that, to some extent, all the places you include carry some level of personal significance. But some, like Mark Twain's house, are special. Can you describe what his home in Hartford, Conn., means to you? And how it changed your relationship with his literature?
A: My mother startled me out of a cocoon of cartoons and cocoa during a snowstorm one Saturday morning when I was a child, and told me to bundle up. We set out on a "mystery trip" that blustery day that ended two hours later at the Mark Twain House in Hartford, Conn., which had recently been restored and turned into a museum. In the entry hall, I was fascinated by the opulent mosaic tiles, Oriental carpets and stenciled wall coverings -- and the phone booth, complete with a report card Mark Twain used to grade the phone company. One "+" signified, "Artillery can be heard" in the phone lines; two, "Thunder can be heard." I marveled at the fireplace with a divided flue that let you bask in the warmth of a crackling fire while watching the snowflakes fall right above it, and at the strange, complicated machine in the basement that was designed to set type automatically but never quite did what it was supposed to and somehow ate all of Twain's money instead.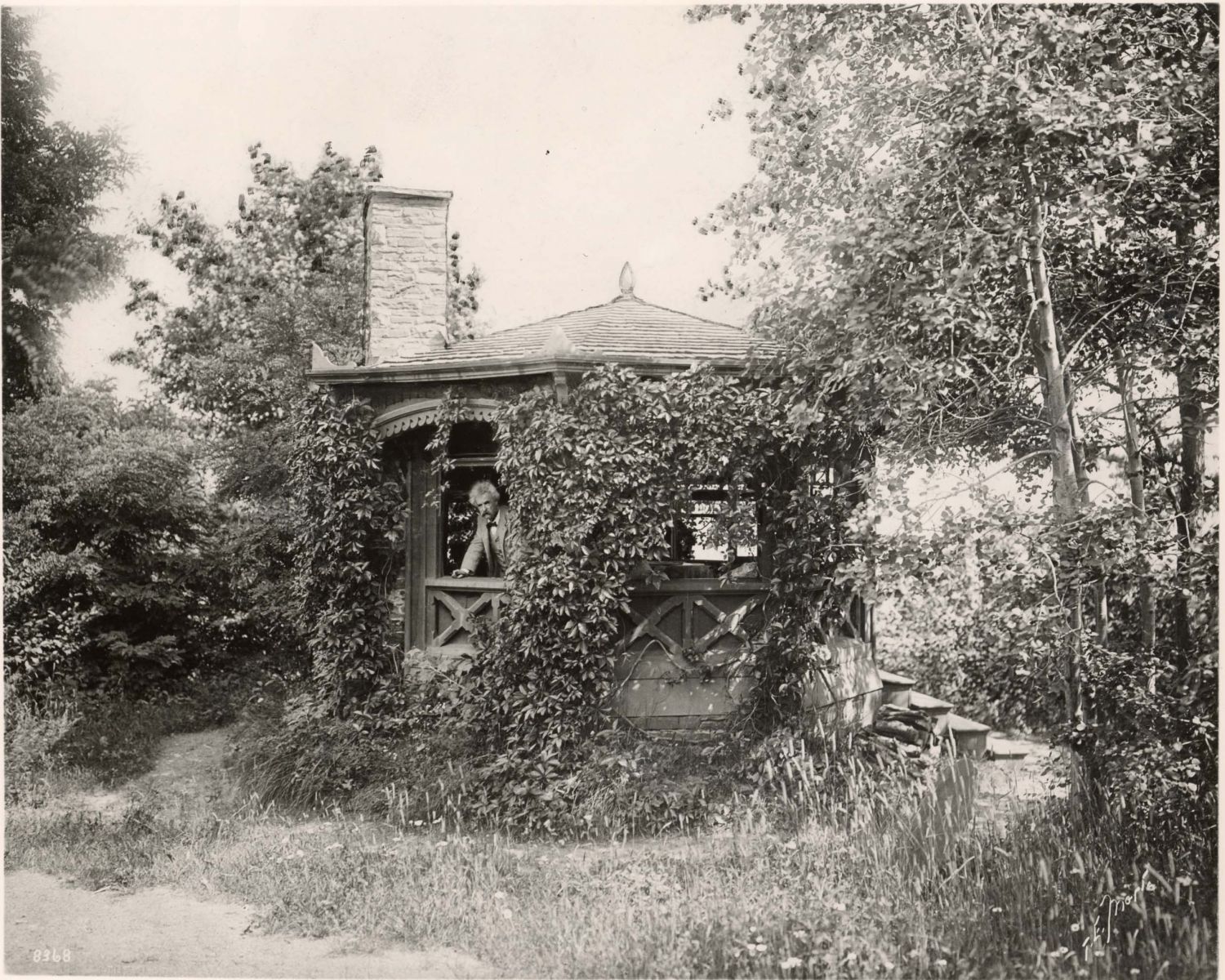 That early visit to his Hartford home planted the seeds of a lifelong fascination with the man who had lived in that house that led me to write two books and more than 50 articles, essays, book chapters and columns about Twain; edit 30 volumes of his writing; edit two books and two special issues of academic journals about him; deliver lectures about him on four continents; and bring a play he wrote to the Broad­way stage. Twain's presence has loomed so large in my life for so many years that my husband jokes that he is the third person in our marriage. It all began with that visit to the Mark Twain House in Hartford when I was a child. (Pictured above: Mark Twain looking out the window of the octagonal study in which he did all his writing during summers at Quarry Farm. Photo credit: Courtesy of the Mark Twain Archive, Gannett-Tripp Library, Elmira College, Elmira, N.Y. Reprinted with the author's permission.)
Q: You also say in the book that you were "unprepared for some of the lessons that architecture and artifact taught me about the literary past." What was one of the lessons you were unprepared for?
A: I hadn't expected that a curious piece of furniture that Paul Laurence Dunbar's mother kept in the dining room of the home he bought for the two of them in Dayton, Ohio, would give me to new insight into the racial politics of Dunbar's po­etry. The delicate china platters and electric chandelier in Matilda Dunbar's dining room reflected the solid middle-class comfort her famous son had earned through his writing. But across the back wall was a distinctive piece of furniture that recalled Matilda Dunbar's roots in slavery: it is called a "mammy's bench." She had appreciated the ingeniousness of the long rocking bench with the removable gate across half its length as she juggled household tasks, her work as a laundress and the challenge of minding young Paul and later his baby sister. The clever piece of furniture allowed a mother to rock her baby safely in the gated section while having room on the other half of the bench for herself and the things she needed to do -- folding laundry, shelling peas and so on. Matilda had been introduced to a bench like this as part of her work as a house slave near Shelbyville, Ky. There were no more babies in the house by the time she moved to Summit Street in 1903, but that didn't stop Matilda from keep­ing, in a prominent place, this big and bulky reminder of her slave past.
Her talented son grew up listening to stories of family members and family friends, many of whom, like his parents, had been raised in the slave South. And some of those stories of slavery and voices of slaves found their way into his poetry, leading some black critics, decades after his death, to charge him with emulating the commercially successful and politically suspect Plantation Tradition authors to woo a white readership (white writers like Thomas Nelson Page who painted nostalgic scenes of loyal slaves with no lives of their own who lived to serve their beloved masters).
But the mammy's bench suggested a different way of looking at Dunbar's dialect poems set in slavery -- one that challenged the notion that he was simply trying to conform to known models of commercial success. Like his mother, he knew that not everything from the slave past deserved to be forgotten: alongside the pain and humiliation and degradation there was occasionally something worth savoring or saving -- melodies, moments of laughter and ingenious furniture for minding babies. His parents and their friends had not liked being slaves, to be sure. But they also were able to recall fleeting periods of pleasure, often involving music, or family, or early love or food -- and those memories were just as real as the memo­ries of being whipped and exploited.
Slaves in Dunbar's dialect poems of plantation life are vibrant and alive individuals with likes and dislikes, energy and agency and special talents. Can we blame Dunbar for not wanting to cede to white authors propping up the Plantation Tradition the right to write about the complexity of his parents' lives and those of their friends? Ultimately, in his most memorable dialect poems, far from imitating the Thomas Nelson Pages of his day, Dunbar is doing something far more subversive: he is celebrating the genius and beauty of his people, a radical act in a society that in dozens of subtle and unsubtle ways, every day, declared them stupid and ugly. (Pictured below: Paul Laurence Dunbar's desk in his home in Dayton, Ohio. On the desk is a scrap of paper that was there at Dunbar's death in 1906 on which he had written, "It is one of the peculiar phases of Anglo-Saxon conceit to refuse to believe that every black man does not want to be white." Reprinted with the author's permission.)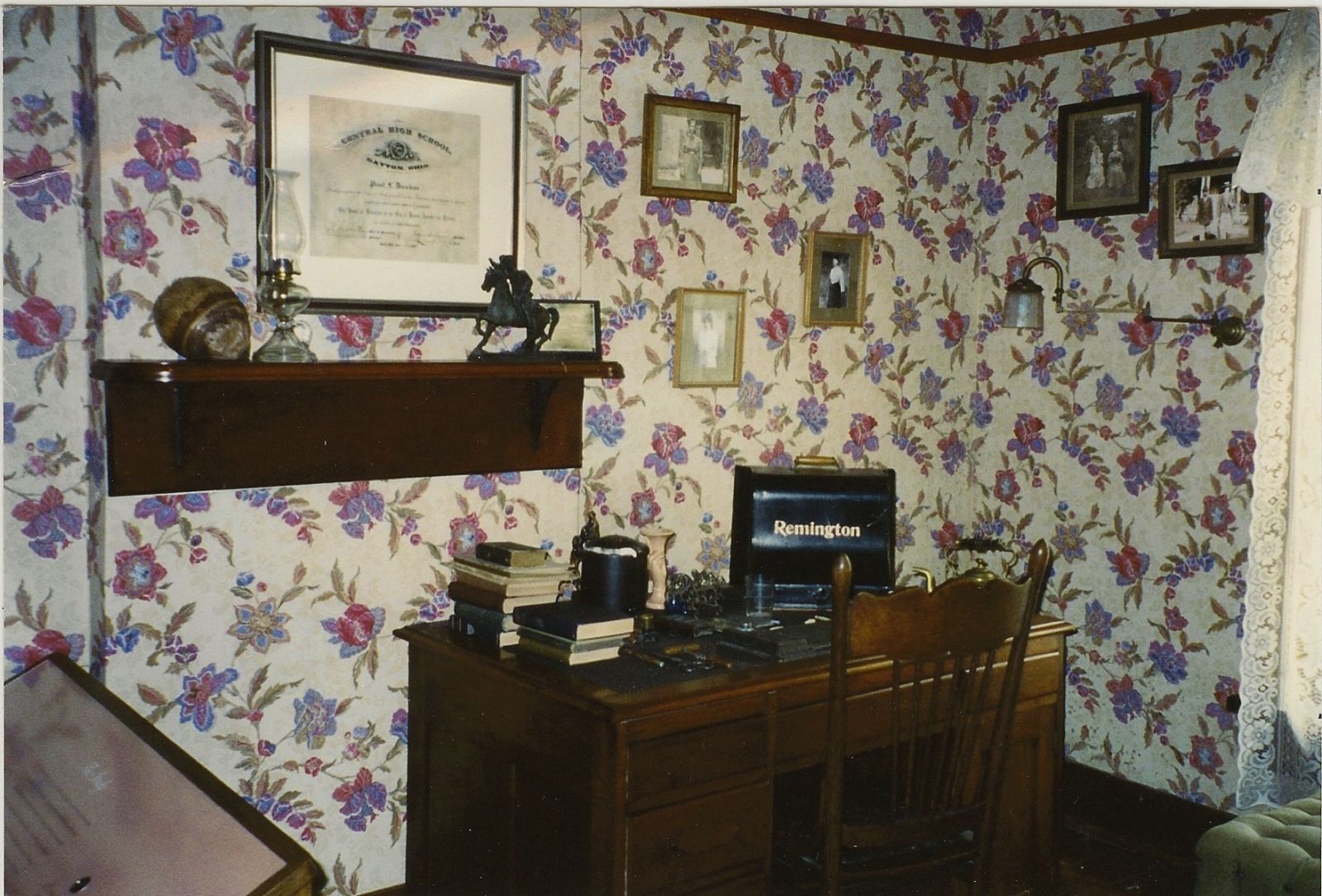 Q: Was there a writer or piece of literature that you would have liked to include but couldn't because finding a physical, real world connection proved too difficult?
A: I really would have loved to include two of my favorite writers, Fanny Fern and Charlotte Perkins Gilman, but there was no physical site connected with them. Fanny Fern was a satirist who tackled with enormous wit and élan such issues as gender inequality within the family. She was paid $100 a column by The New York Ledger, making her the highest-paid journalist in America in the mid-19th century. But there's no physical place extant today that I could connect directly with her. Equally frustrating was the lack of physical sites connected with Charlotte Perkins Gilman (1860-1935), a foremother of American feminism, and a brilliant writer whose work I've treasured for years (I co-founded the Charlotte Perkins Gilman Society many years ago, and it's still going strong today). I managed to slip some mention of one of my favorite Gilman stories, "The Unnatural Mother," into the chapter devoted to Sinclair Lewis and the Original Main Street (in Sauk Centre, Minn.) -- for Gilman's critique in that story of the shallowness and self-serving myopia of much of small-town life is part of the same "revolt from the village" that Lewis was leading. It's a shame that there is no site on the National Register with a direct connection to Gilman or Fern.
Q: Has the process of researching and writing this book changed the way you read? Do you feel differently now when you crack open a new novel?
A: I find myself thinking more about the places that may have shaped the book -- and also whether the book's evocation of a locale is vivid enough and memorable enough to influence the image of that place in the nation's cultural memory.
Q: What do you hope readers take away from Writing America?
A: I'd like readers of the book to leave with an appreciation of the special ways that literature can bring a place to life and etch it into memory. I'd also like readers to leave the book with a respect for historic preservation: 2016 will be the 50th anniversary of the Historic Preservation Act that created the National Register of Historic Places. Many of the sites in the book are still around for us to visit to day in part because of this legislation. We need to try to keep them there for future generations to visit. I'd like the book to help lead readers to physical places and imaginative terrains that reflect and refract each other in ways that cast unexpected lights and shadows on the alchemy by which American writers have transformed the world around them into art, changing their world and ours in the process.
Visits to these sites -- and the literature they shaped or inspired -- can help us think about questions that are as unresolved today as they were when these writers wrote about them. A trip to the Angel Island Immigration Station, or the Statue of Liberty, or Wounded Knee, or the Original Main Street or the Roma Historic District, or Manzanar can help us think about questions like: Who is an American? What is an American? What unites us? What divides us? Who and what are still left out of the nation's narra­tives of who and what we are, and where we came from? Who gets to tell our public stories? Whose voices get silenced? Who gets heard? I hope this book will stimulate readers to think about these questions.