You have /5 articles left.
Sign up for a free account or log in.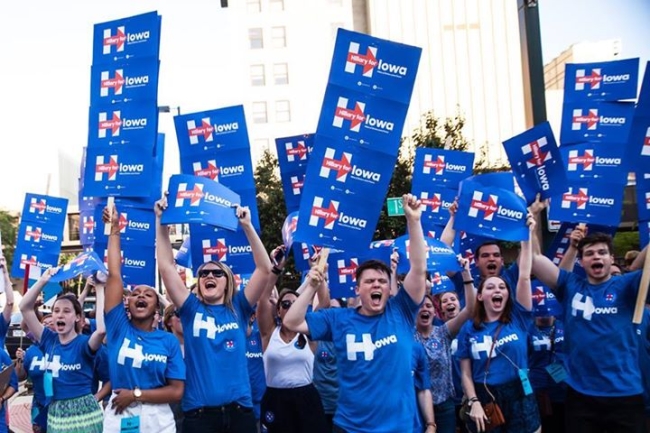 The dismal 21.5 percent youth turnout during the 2014 midterm elections had many pundits crowing about apathetic millennials, but presidential elections are a different story for young voters and college students, particularly in the age of Obama.
Exit polls put the under-30 cohort of the electorate in 2012 at almost one in five, or 19 percent, which is one point above the rate in 2008 when young people played a decisive role in electing President Obama. For that election college students, who make up more than a third of voters under 24, turned out in droves. Seventy percent were registered to vote in 2008, according to the Center for Information & Research on Civic Learning and Engagement (CIRCLE), and 87 percent of registered students cast a ballot. College students were also overrepresented at the polls, making up 39 percent of the 18-24-year-old demographic but 48 percent of its voters.
Students will again likely play an important role in the upcoming election, but exactly what that will look like remains to be seen. Can Hillary Clinton galvanize students like Obama did seven years ago, or will Bernie Sanders steal her thunder? And which of the 15 different GOP candidates has the most traction on college campuses?
Right now, the answers to those questions depend a lot on where you look.
Things are pretty quiet in Colorado, for example, despite an upcoming GOP debate. "By comparison to many other campuses, Colorado universities aren't that into politics," said David Stoffey, president of the Colorado Federation of College Republicans. Though what support there is seems to go to "factionalized candidates" like Bernie Sanders or Rand Paul, Stoffey said. "Candidates who are more left, more right, more polarizing."
Stoffey isn't the first to see parallels between Sanders and Paul, who both bill themselves as outsiders, but Rand Paul hasn't yet managed to inspire the libertarian furor his father, Ron, did in the 2012 election. The younger Paul is one of the few candidates making a strong, concerted effort to reach and talk with college students, however. He visited a series of college campuses in Iowa this week with the goal of persuading 10,000 Iowa college students to caucus for him in February. Whether or not that will happen remains unclear.
More candidates need to spend time on campus, said Kei Kawashima-Ginsberg, director of CIRCLE. "It's really critical to have contact face-to-face," she said, highlighting Paul and Jeb Bush as two "big players" right now when it comes to reaching out to college students. Paul has also been working recently with Senator Cory Booker, a New Jersey Democrat, on justice reform, which is an issue college students care a lot about right now, Kawashima-Ginsberg said. "Young people respond to that issue," she said. And the fact that he's addressing issues in addition to visiting campuses is also critical. "It's not just about being there," she said. "It's about engaging young people on the issues important to them."
Still, according to Stoffey, most of the organized support among campus Republicans in Colorado leans toward Paul, Jeb Bush, Marco Rubio or Ted Cruz, and "of the four, nobody's playing that much with students yet."
That's a much different picture than Michael Cleveland, president of the University of Alabama College Republicans, paints of the election on his own campus.
"It's really surprising this year," he said. "Policy issues are coming up a lot more on campus." Resistance to new taxes and the economy in general is proving to be a major issue for University of Alabama student Republicans, Cleveland said, especially after recent statewide tax hikes. "A lot of kids care about this election and are getting involved."
Front-runners are more clear at Alabama, too, Cleveland said. Rubio and Ben Carson are most popular among students. "Ben Carson, a lot of people like him because they think he's smart," and Rubio because he "has policy solutions. A lot of people like what he had to say in the debate and just in general."
That hews partially to a recent poll showing Carson jumping to the top of the field for college students in September, with 16 percent support. That poll, from Chegg, which rents online textbooks and provides other services for students, also has Bush in the number-two spot with 14 percent and Rubio in sixth with 8 percent.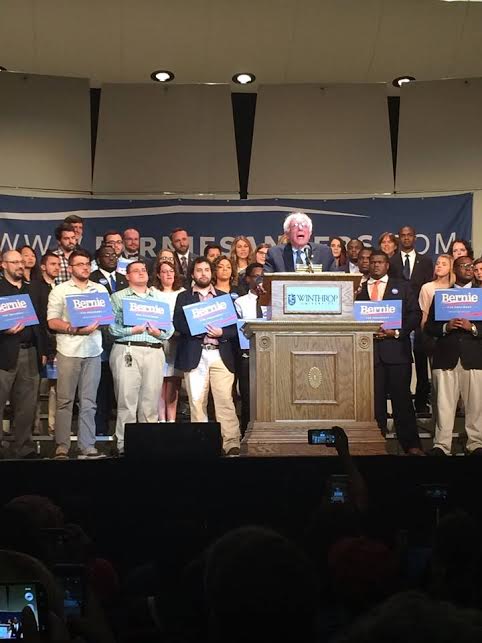 On the Democratic side, the poll puts Sanders way ahead of Clinton with 59 percent to her 18 (and 14 percent for the undeclared possible candidacy of Vice President Joe Biden).
That seems to be a pretty accurate characterization of some campuses known for liberal activism, such as Oberlin College, where Brendan Eprile, co-president of Oberlin Students for Bernie Sanders, said, "I don't think I've met anyone who's definitely for Hillary Clinton over Bernie Sanders. No one is passionate about her the way they're passionate about wanting Bernie Sanders to be elected."
Indeed, the Sanders campaign has attracted considerable attention over record-breaking event turnout. He set and then broke his own records in Arizona, Washington, Massachusetts and Oregon, and directly surpassed Clinton campaign turnout more than once.
Other colleges, like the University of Iowa, are also seeing strong support for Sanders, but circumstances may be more nuanced.
"Both candidates have different strengths among Iowa students," said Lauren Freeman, president of the University of Iowa Democrats, via email. "I think Bernie has the most popularity, but I think Hillary has the most organization. For example, if you are canvassing a popular passing area on campus, you're going to hear more students supporting Bernie. But the foundational organization that the Clinton campaign has is really unmatched by Bernie. Hillary's campaign is more active and organized in recruiting student volunteers and collecting 'commit to caucus' cards."
One area, though, where college students appear to consistently buck national trends is in support for Donald Trump. Trump still leads the GOP field in national polls, but the Chegg student poll has him tied with Rand Paul for third and dropping.
"A lot of students took him as a joke," Cleveland said of Alabama Republicans. "I think people are starting to see him as the talk show host he was before. A lot of students don't want someone like that leading the country."
Two "students for Trump" Twitter accounts (like other Trump campus activity, not necessarily always serious) have attracted a moderate Internet following (118 and 376 followers), and American, Brown, Duke and George Washington Universities, Juniata College and the University of Texas at Austin all have pro-Trump Facebook groups (or what appear to be such groups). The American and George Washington groups even have a small feud brewing ("AU students support Donald Trump better than GW students," the former posted on the latter's timeline. The George Washington group responded by pointing out they have more followers, which provoked the response: "AU Students for Trump are cuter"). And at least one of these groups is, in reality, a "social awareness club," according to its creators Zachary Hesse and Blair Altland.
Juniata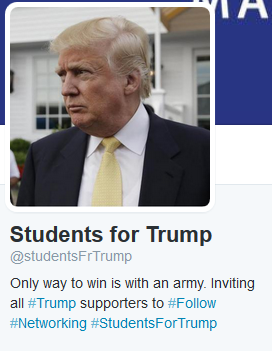 College, a private, liberal arts college where Hesse and Altland are both students, is filled "with the sons and daughters of well-off, liberal, well-educated families," Hesse said. "You'll find that talking about Trump here is sometimes worse than using racial slurs."
With Juniata Students for Trump, Hesse and Altland, who said they "are not strictly Trump supporters," aim to defend the legitimacy of Trump as a candidate, and, more importantly, defend the legitimacy of his supporters' concerns.
By dismissing Trump supporters out of hand, Hesse said, "they're silencing the voices of a large number of people."
Brown University Students for Trump did not respond to an interview request, however the group's Facebook page points out that its name spells BUST, and the only two visitor posts are from a French journalist asking for an interview and a man who simply wrote, "Is this real?"