You have /5 articles left.
Sign up for a free account or log in.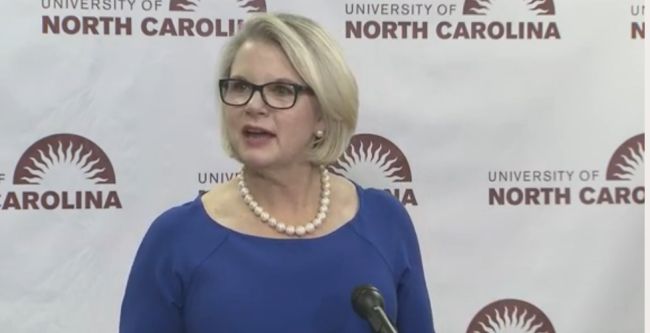 A tense and controversial search for the University of North Carolina System's next leader ended Friday in the unanimous selection of Margaret Spellings, secretary of education under President George W. Bush and the only finalist to meet with the full board and the governor.
Spellings said she wants to lead a "productive, accountable, agile and transparent" university system. And, despite the disagreements within the governing board about the search and criticisms of the process from faculty members and legislators, Spellings says she feels "strongly supported" by the full board.
Spellings also apparently has the support of Governor Pat McCrory, whom she met with this month. She is the only candidate who met with the full Board of Governors or McCrory. Her selection is one more in a string of high-profile system selections nationally in which boards appear, particularly at the system level, to emphasize political acumen over academic experience. 
Meanwhile, faculty leaders are decrying a lack of involvement in the search, releasing a statement earlier this week that the secrecy of the search and the "indifference" Spellings showed "to consulting with staff and faculty … will make it difficult to win the confidence and trust of the university community."
In addition to faculty members, some board members and legislators have expressed concern that the search process was too secretive and not inclusive enough. The State Legislature passed a measure earlier this fall that requires the North Carolina board to consider at least three finalists for the system presidency, but McCrory has yet to sign the bill into law. While the board did discuss multiple candidates, it did not meet with any besides Spellings.
There were no faculty representatives on the 11-member search committee, which consisted entirely of board members. Some faculty members were on a "leadership statement committee," which met early in the search process and identified qualities a candidate should possess. Search committees in other recent searches for the UNC system presidency also were made up entirely of board members -- and several of those searches resulted in the selection of (Democratic) political leaders.
The Republican-leaning board ousted the respected system leader Thomas Ross earlier this year. Ross is the former leader of the private liberal arts institution Davidson College, and many believe his views or goals for the system did not fundamentally align with those of the board or the current governor and Legislature, which is North Carolina's first fully Republican government since Reconstruction.
Spellings, meanwhile, currently leads the George W. Bush Presidential Center and has long been a policy adviser to the former president. She is a seasoned politician, serving as Bush's education secretary during his second term as president and as a domestic policy adviser during his first term. Her time as education secretary was best known in higher education for a major accountability push and a commission that produced a report highly critical of higher education.
Charles Reed, former chancellor of the California State University System, said in choosing Spellings -- and in coordinating a meeting with the state's governor but not consulting with system faculty members -- the Board of Governors is clearly displaying preference for someone with experience with the political process, rather than in academe.
"For a long time presidents and system heads really didn't have any political wherewithal," said Reed, who served as chief of staff for former Florida Governor Bob Graham before becoming a university administrator.
"Higher education is coming under more scrutiny and accountability than it ever has before. That's not bad, but the leaders of the systems have to be able to manage these large complex organizations and they have to be able to politically work with the Legislature and the leaderships of the Legislature and the governor and the governor's staff," he continued. "If you don't have any political sense, you just can't do that and you're not going to get anywhere."
And given the governor's influence over higher education funding, it's beneficial to make sure the favored candidate and the state's leader can work together, Reed said. Added Ronald G. Ehrenberg, director of the Cornell Higher Education Research Institute and a board member for the State University of New York System: "It would be a serious mistake if the chancellor and the governor did not establish a working relationship."
Ehrenberg agreed that more and more state highr education systems and universities are seeking leaders with political acumen, such as the president of the University of California system, Janet Napolitano, a former governor and U.S. cabinet secretary, or University of Texas System Chancellor William McRaven, a retired Navy admiral.
Boards -- usually appointed by the governor or legislature -- are looking for a new type of leader, given "how rapidly things are changing" in higher education and politicians' general impatience with "the slow decision-making process" of universities, Ehrenberg says. In many states where higher education is under increasing scrutiny -- like Texas, Wisconsin, Iowa and Michigan, to name a few -- politicians are calling on universities to focus on producing graduates ready for high-paying jobs and conducting research that directly impacts the economy.
"There is a tendency to move in the direction of system heads being more politically oriented, rather than academically oriented," said Ehrenberg. "But I do not necessarily view that as a good thing."
Yet to coordinate a meeting with the governor but run a search that provides little ability for faculty to provide feedback sends a negative message to faculty and staff members, says Aims McGuinness, a senior associate with the National Center for Higher Education Management Systems.
"It says that there's not much confidence in seeking the internal voice of the faculty in the selection of a major academic leader, which is really interesting," he said.
James Moeser, a former chancellor of UNC Chapel Hill, thinks a politician can be successful in the president's role, provided one crucial factor. "I don't have any objection to reassessing the president's role as a political one. It is a political one," he said. "The danger is if that same person then tries to combine their political responsibility with the assumption of the academic responsibility, with regard to the missions and the individual operations of the universities within the system."
In other words, it's his belief that a system leader can be a politician or an academician, but very rarely both. He recalled former UNC President Erskine Bowles, who led the system from 2005 to 2010 and before that was tightly connected to President Bill Clinton's administration, including serving as the Democrat's chief of staff. Bowles, he said, functioned more like a political leader of the system and did not try to micromanage the system's 16 institutions.
"I can still imagine a successful outcome if she avoids the temptation to micromanage the campuses," Moeser said of Spellings's upcoming presidency.
While Ross was respected by many faculty, his relationship with the board and political leadership of the state was less rosy. He was selected when the state was controlled by Democrats, and his ouster was largely organized by Republicans. Even with the change of political leadership within the state, Ross's ouster blindsided faculty members and leaders within the system, many of whom respected the president and are more suspicious of the board. Professors have been critical of the board's decisions to cut research centers focused on poverty and some have accused the board of micromanaging individual campuses.
Ehrenberg says Ross's ouster highlights how difficult a chancellor's job can become when the political winds of a state change. "A serious problem in the governance of our higher education institutions is that as the political process moves back and forth between the parties [it can be] very difficult for the president to be effective," he said.