You have /5 articles left.
Sign up for a free account or log in.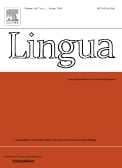 All six editors and all 31 editorial board members of Lingua, one of the top journals in linguistics, last week resigned to protest Elsevier's policies on pricing and its refusal to convert the journal to an open-access publication that would be free online. As soon as January, when the departing editors' noncompete contracts expire, they plan to start a new open-access journal to be called Glossa.
The editors and editorial board members quit, they say, after telling Elsevier of the frustrations of libraries reporting that they could not afford to subscribe to the journal and in some cases couldn't even figure out what it would cost to subscribe. Prices quoted on the Elsevier website suggest that an academic library in the United States with a total student and faculty full-time equivalent number of around 10,000 would pay $2,211 for shared online access, and $1,966 for a print copy.
Under "bundling," in which academic libraries buy many journals together, the total could be less, but the journal might also not make the cut in the decisions of a library under pressure to buy access to journals in many disciplines. And many libraries complain that bundling doesn't create true savings, as the bundles include many journals they don't want.
Johan Rooryck, executive editor of the journal until his resignation takes effect at the end of the year, said in an interview that when he started his editorship in 1998, "I could have told you to the cent what the journal cost," and that it was much more affordable. Now, he said, single subscriptions are so expensive that it is "unsustainable" for many libraries to subscribe. Rooryck is professor of French linguistics at Leiden University, in the Netherlands, where academic and government leaders have been sharply critical of journal prices.
Rooryck said Lingua and most journals publish work by professors whose salaries are paid directly or indirectly with public funds. So why, he asked, should access to such research be blocked?
By quitting his position, Rooryck will give up his current compensation from Elsevier, which he said is about 5,000 euros (about $5,500) a year. He said the pay is minimal for the two to three days a week he works on the journal. "I would be better off going to flip burgers in that time," he said.
Rooryck expects to earn nothing when Glossa launches -- and he's fine with that. "I'm doing this for purely idealistic reasons. I've had it. I think you have to move forward and it might as well be linguistics" that does so. Rooryck said that while he is particularly bothered by Elsevier's policies, the criticisms extend to other corporate publishers. He said that some of his colleagues are already talking to editors of other journals, and hope that they will follow the lead of Lingua and that "linguistics can be a model for other disciplines" in standing up to publishers.
Elsevier released this statement Monday morning: "We regret that the editors of Lingua have chosen to step down from the journal. The editors will continue in their role for the remainder of this year, after which editorial responsibility will pass to a new team. We will continue our work to maintain Lingua's high standards into the future. Lingua is widely available to the academic community. It has a range of open access options and is also included in the Research for Life initiatives, enabling access for researchers worldwide. We appreciate the editors' work on the journal over the years and wish them well."
The resignations at Lingua are attracting attention (much of it positive) from linguists worldwide. Stefan Müller of the Free University of Berlin posted to a linguistics email discussion group to warn people not to take positions on Lingua that Elsevier may now offer.
"You may be flattered by the offer of Elsevier but think twice: the good reputation of the journal was built by researchers like us. This reputation is now transferred to the new journal," he wrote. "If you work for Elsevier you are basically doing harm to your community and you will not profit from the reputation of the journal since it is gone now and Elsevier as such has a rather bad reputation because of the ways in which they act commercially and in terms of copyrights …. I would not hire anybody who did something like that and I would object in any search committee I am involved in."
On Twitter, linguists are saying that Müller is "playing hardball" and they are applauding him for doing so.
Via email, he said it is time to push for change. "The problem is that commercial publishers are misusing their position," he said. "Since they own the brands and since we have to publish in these journals since our reputation is linked to prestigious publications. The problem is that we build this reputation. We are working for the publishers as reviewers (for free), we run the scientific parts of journals (often for free), we provide the content (for free) and they charge us enormous amounts for distributing the stuff."
Alyson Reed, executive director of the Linguistic Society of America, said her members have been watching the growing controversy over Lingua. She said the editors who have resigned are "esteemed colleagues" in linguistics and that Lingua has had a stellar reputation.
The Linguistic Society of America has not embraced a pure open-access position for its journals, but Reed said it has also avoided the high pricing by commercial publishers that has so bothered so many professors and librarians.
Libraries can pay for access to Language, the society's flagship journal, for about $300, "a fraction" of what Lingua costs. The society also lets all content be published open access after a one-year embargo and allows those publishing in the journal to pay $400 for immediate open access to their work. Reed said she knows many libraries feel unable to afford high-priced journals. And while she can't endorse complete open access, she said her group is aiming for "balance" of the various issues involved. A key part of that balance, she said, is avoiding pricing that cuts off access to the journals.
Reed said while linguistics professors have a range of views on publishing models, "our members feel solidarity" with the protest by the Lingua editors.