Topics
'The Good Wife' vs. a Bad For-Profit
A fictional Corinthian-like institution and a debt strike get very close to nonfiction on the CBS show.
Enrollment agreements, students with debts in the tens of thousands and deceptive recruiting tactics -- these topics are usually found in the news or a political debate.
But in a case of art definitely imitating life, student debt and deceptive for-profit colleges were given a prime-time stage as the centerpiece case Sunday on CBS's The Good Wife.
So much so that terms rarely heard outside of policy discussions -- accreditation, the 90/10 rule -- were smartly tossed around in an effort to explain the fictional case of a for-profit graduate and military veteran who was deceived by the (fictional) Colosseum University into taking out more than $40,000 in loans, who then enters arbitration with the institution. The 90/10 rule prevents for-profits from receiving more than 90 percent of their revenue from federal sources, but excludes veterans' educational benefits like the GI Bill from counting as federal student aid.
Along comes the titular good wife and attorney, Alicia Florrick, played by Julianna Margulies, who agrees to help the student sue the fake university. When the student manages to recruit about 350 of her fellow graduates for a debt strike in an effort to place pressure on the for-profit, the real-life comparisons become more clear.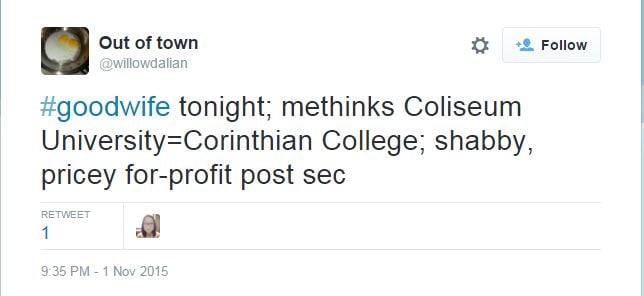 "A class action suit isn't possible, but a debt strike is. It's already happening at another for-profit. Corinthian College," says one of the show's characters, just at the most dramatically important moment (or, after about 45 minutes). The episode, called "Payback," can be found on the CBS website.
The show was clearly sympathetic to the former students and not the fictional Colosseum University. However, the show did allow the latter to score some points by raising questions about whether the fictional lead student had gone to class or purchased textbooks, and used her student loan money not to further her education but to pay her bills.
For advocates and those in the higher education world, it was pleasing to see the awareness of their work projected into homes.
"It was awesome," said Sarah Audelo, policy director at Generation Progress, an organization connected to the Center for American Progress that looks for solutions to social and political issues that affect millennials. "These are the issues that so many students and victims of for-profit colleges are facing across the country, and to see it reflected on a mainstream TV show, where they went into wonky topics … is great."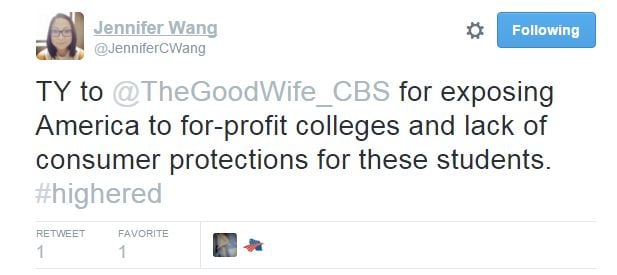 Audelo said the show managed to hit almost all of the issues, like 90/10 and arbitration, which critics say for-profit colleges use to block lawsuits by disgruntled students.
Stephen Burd, a senior policy analyst with New America and a critic of the for-profit sector, said he didn't watch the show but found it amazing how the issue of for-profit colleges and student debt has caught the public's attention.
"A few years ago there were only a few of us paying attention and it felt like we were whistling in the wind," he said in an email. "But the abuses were so bad that I guess it was only a matter of time before people started to pay attention."
Thousands of students nationally were affected by the Corinthian Colleges closure, and a significant amount of media attention has been given to federal and state investigations of other large, for-profit institutions like University of Phoenix and ITT Technical Institutes.
Jennifer Wang, a policy director with Young Invincibles, said the change has been due to more students talking about their experiences publicly and no longer being ashamed of the amount of debt they've incurred or the difficulties they've had in the job market.
"This is largely due to a few things, but I think it's really the students who were brave enough to come forward and tell the stories about their experiences," she said. "These people came forward and started petitions and [asked] the Education Department and the [Obama] administration to do something and it resulted in more people paying attention."