You have /5 articles left.
Sign up for a free account or log in.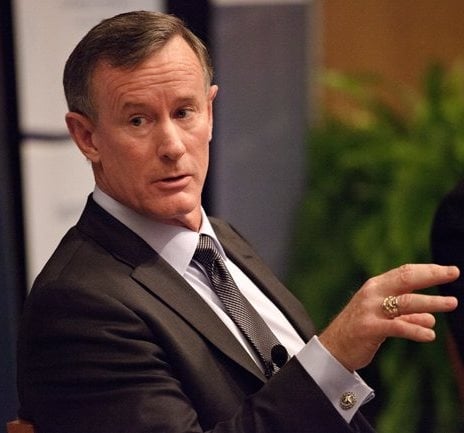 The National Football League has a requirement that a minority candidate be interviewed for every head coaching position. The requirement is known as the Rooney rule, for Dan Rooney, owner of the Pittsburgh Steelers, who pushed the idea.
On Thursday, the new chancellor of the University of Texas System, William H. McRaven, announced that he plans to apply the rule to every administrative search for dean and higher in the 14-institution system.
While many colleges pledge to interview more minority or female candidates for a range of positions, making it a requirement to interview such candidates at the finalist step of searches is not common -- especially for a large university system.
"We are going to implement a Rooney rule similar to what exists in the NFL for hiring head coaches, except ours will be for higher education and health care," said McRaven in a speech announcing the new requirement and also a series of other goals for the system. "This so-called Rooney rule will ensure that qualified women and minorities have an opportunity to be considered for every senior-level position from dean and above. We will write it into UT policy that no senior position can be filled without allowing a qualified woman or minority candidate to be interviewed all the way to the last round of the process."
McRaven added, "While this will not guarantee women or minority hires -- nor should it if a candidate is not qualified -- it will put more women and minorities in a position for the selection committee to recognize the great talents that may have heretofore gone unnoticed."
While the rule will apply only to searches for administrators, McRaven also called for substantial new efforts to recruit minority faculty members. He didn't cite (and UT officials said late Thursday that they didn't have available) statistics on the racial and ethnic makeup of administrators in the system and its universities. But he did cite figures about the faculty. (UPDATE: On Friday, UT officials said in fall 2013, women held 45 percent of dean, provost and vice presidential positions, and minority group members [Hispanic, African-American, American Indian or Alaskan Native] made up 19 percent of these leadership roles in the system.)
Here are the data McRaven shared.
Students and Faculty by Race, Ethnicity and Gender, UT System
| | | |
| --- | --- | --- |
|   | Percentage of Students | Percentage of Professors |
| White | 32% | 62% |
| Hispanic | 39% | 11% |
| Black | 7% | 4% |
| Female | 53% | 42% |
Pointing to a slide with the above data, McRaven said, "This slide makes it very clear that we are not doing the job we ought to be doing in driving equal opportunity and fairness in our hiring and promotion processes. This is particularly disappointing because education is all about opportunity. Making sure our faculty and staff reflect the changing look of Texas is not just about fairness. It's also about effectiveness. We need faculty, administrators and campus leaders who understand the people they're serving, who come from the same kinds of places."
McRaven's use of the Rooney rule drew immediate praise from Shirley J. Wilcher, executive director of the American Association for Access, Equity and Diversity. Via email, she called the new policy a "genuinely creative and proactive step." She added, "We support the chancellor's efforts to take affirmative measures to address the underutilization of people of color in senior positions in higher education​. It provides an opportunity to address the continuing and pervasive underutilization of such groups. This will be even more important as Texas and the nation become more diverse."
But Glenn M. Ricketts, public affairs director of the National Association of Scholars, which opposes to consideration of race and ethnicity in higher education decision making, took the opposite view. "This looks like an extension of the group-based policies that NAS has long opposed," Ricketts said via email. "It emphasizes category over quality, group membership over individual merit …. The proportion of Asians or Jews in elite schools isn't equivalent with their percentage in the larger population, but so what? They've earned their places, so they should be where they are."
And Benjamin D. Reese Jr., president of the National Association of Diversity Officers in Higher Education and vice president and chief diversity officer of Duke University and the Duke University Health System, said via email that he has mixed feelings about the new Texas policy.
"I totally agree with their philosophy and what I suspect is their motivation, but I have serious doubts about a mechanistic approach that focuses solely on a 'requiring a minority candidate,' as opposed to viewing 'excellence' and 'diversity' as overlapping," Reese said. "Search committees need to be held accountable for producing candidate pools of outstanding individuals who also represent the widest range of available intellect, experience and talent. Senior administrators should reject finalists who don't represent diversity and excellence, not require search committees to produce one or two individuals from certain groups. The so-called Rooney rule was promulgated over 15 years ago. I'm not sure it's the best approach in 2015."