You have /5 articles left.
Sign up for a free account or log in.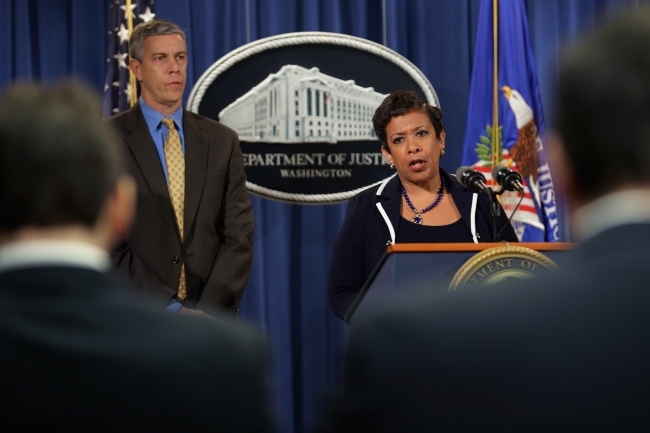 Chip Somodevilla / Getty Images
WASHINGTON -- The Obama administration and a large coalition of state attorneys general announced on Monday a double hit against one of the nation's largest for-profit education companies.
Federal prosecutors said they secured a nearly $100 million settlement with the Education Management Corporation to resolve long-running allegations that the for-profit college chain illegally paid bonuses to recruiters.
Separately, a group of attorneys general from 38 states and the District of Columbia reached an agreement to resolve allegations that EDMC engaged in deceptive practices. The company will be required to fund $102 million worth of private student loan debt relief for certain group of its former students.
The federal settlement, in which several states also joined, was the largest ever with a for-profit education company under the False Claims Act, the federal law that allows whistle-blowers and federal authorities to bring cases against people or companies believed to be defrauding the government. It's unlikely, though, that the settlement will translate directly into any debt relief for students who took out loans to attend EDMC during the time the government alleges it was engaging in high-pressure recruiting tactics.
Attorney General Loretta Lynch said at a press conference on Monday that EDMC had been "operating essentially as a recruitment mill."
The company's actions, she said, "were not only a violation of federal law but also a violation of the trust placed in them by their students, including veterans and parents, all at taxpayer expense."
The complaint against EDMC was first filed in 2007 by a former admissions recruiter. The Justice Department, several states and another former employee joined the lawsuit in 2011.
Education Management Corporation enrolls more than 100,000 students at its Argosy University, Art Institutes, Brown-Mackie College and South University campuses across the country.
EDMC did not admit any wrongdoing in either of the cases. The company said in a statement that it was "pleased to have resolved the civil claims raised by the Department of Justice and state attorneys general. Though we continue to believe the allegations in the cases were without merit, putting these matters behind us returns our focus to educating students."
The settlement comes as EDMC has struggled financially in recent months, laying off employees and closing campuses as its revenues and new student enrollments have slumped. The company was taken private last month and is now mostly owned by banks and private equity firms.
When it last publicly disclosed its financials in March 2014, the company reported $1.9 billion in assets, only $177 million of which was cash on hand.
Lynch said prosecutors did not seek to make the company pay the full $11 billion that the government believed EDMC defrauded the government, because they considered the company's "ability to pay."
A Model for Future Cases?
Both federal and state officials indicated that Monday's settlement with EDMC could be a harbinger of future actions against for-profit colleges, an industry that has been inundated by government investigations over the past several years.
Education Secretary Arne Duncan said the settlement should be a "very clear warning" to other institutions about the administration's efforts to crack down on misconduct, especially at for-profit colleges. He cited the department's multiagency task force on for-profit colleges, which some Republicans have recently sought to partially defund.
Senator Dick Durbin, the Illinois Democrat who is among the most vocal critics of for-profit colleges in Washington, said Monday that he planned to meet with the federal for-profit task force later this week.
Durbin's statement didn't directly praise the Obama administration's settlement. He questioned, "Where's the accountability for the executives who ran this scheme and ran away with our tax dollars?"
Iowa Attorney General Tom Miller, who appeared with Duncan and Lynch at a press conference in Washington on Monday, said some of the provisions in the states' settlement could serve as a model for future ones.
Miller, who, along with other state attorneys general, like those of Illinois, Kentucky, Massachusetts and California, has been particularly aggressive in pursuing for-profit colleges, said his office and others are also negotiating settlements with ITT and Career Education.
He told reporters Monday that it is too soon to say how far along those settlement negotiations are. In some cases, the Consumer Financial Protection Bureau has been involved in the negotiations, he said.
The settlement will require EDMC to provide prospective students with a new one-page disclosure of job placement rates as well as provide new students who arrive with fewer than 24 hours in credit to take an orientation program during which they can drop out and receive a full refund.
EDMC also agreed to accept new restrictions on its marketing and advertising, which types of programs it offers, as well as the types of "leads" it purchases from lead-generation companies.
The agreement will be monitored by an independent monitor, Thomas Perilli, a former associate attorney general in the Obama administration who also oversaw Iowa's settlement with Bridgepoint's Ashford University last year.
Whitney Barkley, policy counsel with the Center for Responsible Lending, a consumer advocacy group, praised the inclusion of a monitor in the states' agreement, which has been unusual in other for-profit settlements.
"The most important thing in any settlement is giving the settlement teeth," she said. "More disclosures are always a good thing, but you also need to have a monitor with enforcement authority."
For its part, EDMC said in its statement Monday that the new disclosure requirements being imposed on it by the settlement could be a "model for higher education."
Federal Loan Forgiveness Unclear
As federal and state authorities have racked up more investigations and lawsuits against for-profit colleges in recent years, debt relief has been a hotly contested issue, most notably in the wake of the collapse of Corinthian Colleges.
On Monday, Secretary Duncan suggested that the settlement would not help federal loan borrowers who attended the company's campuses seek a discharge of their debt.
"What was found here was not misrepresentation to students," he said. "It was lying to us," the government.
The settlement with the state attorneys general does involve misleading information to students. Among other things, state officials accused EDMC of providing inaccurate information about job placement rates.
However, although the states' settlement requires EDMC to wipe out $102 million in private loans it made to students, it similarly may not help borrowers with federal loan forgiveness.
EDMC does not admit any wrongdoing in the states' cases. And Education Department officials have previously said that state allegations against a college alone aren't enough for them to forgive loans; the gold standard of evidence, officials have said, would be a state judge or jury's finding of fraud against a college.
Some state attorneys general, many of whom were involved in Monday's settlements, have been skeptical of that approach and urged the Education Department to take a more lenient approach to loan forgiveness. Massachusetts Attorney General Maura Healey again on Monday said the Education Department should rely on the states' evidence against EDMC to relieve students' federal loans.
The department for months has struggled to decide what types of evidence of a college's misconduct federal borrowers need to provide in order to have their loans wiped out. The Obama administration plans to set a nationwide standard when it rewrites the federal rules governing student debt relief early next year.