You have /5 articles left.
Sign up for a free account or log in.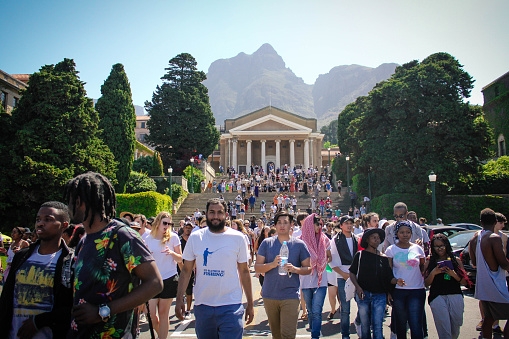 If last week seemed to be a period of heavy protests on American campuses -- with massive demonstrations about race at the University of Missouri at Columbia and Yale University and rallies calling for free tuition and the cancellation of student debt at campuses across the country -- consider the scene in South Africa in October.
Thousands of South African students joined protests against planned tuition increases, forcing the closure of universities across the nation and succeeding in exacting a pledge from President Jacob Zuma for a zero percent fee increase in 2016. The #FeesMustFall protests lent new urgency to problems of inadequate funding for South Africa's universities, while raising the prospect of more fundamental transformations of the country's higher education system.
"Students have found that they have power, and that when they mobilize that power they can achieve results," said Saleem Badat, a former vice chancellor of Rhodes University -- the equivalent to the president -- and program director for international higher education and strategic projects at the Andrew W. Mellon Foundation.
"They've learned the very lessons of the antiapartheid movement of the 1970s and '80s, the power of mass action. They've given the government and the reigning political party, the ANC, lots to think about, about its own approach and its policies."
"I think we are in a very exciting time in South Africa, to the extent that this movement does not dissipate, because that could easily happen."
Badat, a sociologist who wrote a book on black student politics and apartheid in South Africa, noted that the student movement in South Africa is not a homogenous entity and there are many currents and ideological positions within it. Although students united this fall around the issue of fee increases, Badat recalled that an earlier wave of protests erupted in March at the University of Cape Town. Students protested "institutionalized racism and patriarchy" at the university and called for the removal of a statue of Cecil John Rhodes, the British imperialist and diamond mining magnate who donated the land for the campus. (The statue was removed from the campus in April.)
"They had nothing to do with fees," Badat said of the protest that took the hashtag #RhodesMustFall as well as the #RhodesSoWhite movement at his former institution. "They had to do with the idea of decolonizing the university and with important issues of curriculum and institutional culture."
The #RhodesMustFall activists called, among other things, for an increase in the representation of black academics on the University of Cape Town's campus and the introduction of a curriculum "which critically centers Africa and the subaltern." The Open Stellenbosch campaign, which describes itself as a "collective of students and staff working to purge the oppressive remnants of apartheid in pursuit of a truly African university," on Thursday celebrated Stellenbosch University's decision to adopt English -- and not Afrikaans -- as the primary language of instruction.
Another key issue for student activists across South Africa has been ending the outsourcing of university workers.
#FeesMustFall
The protests over student fees began at the University of the Witwatersrand (known as Wits), in Johannesburg, after the announcement of a planned 10.5 percent fee increase. It spread from there to campuses across the country, culminating in a march on Parliament and the president's commitment to a zero percent fee increase at universities across the country in 2016. Fees have been rising at the universities, and in some cases exceed 60,000 rand, or about $4,170 -- a figure that may seem small to Americans but is huge for many in South Africa, a country characterized by high income inequality.
The mass demonstrations have since subsided as students take their final exams, though there continue to be pockets of protest. The University of the Western Cape canceled exams last week after protests on campus in which 16 students were arrested.
At Wits, David Dickinson, a professor of sociology, said that things are returning to normal -- "but it's a new normal. Everything is different and there are flash points that have potential for putting us back into protest mode." One such flash point could happen in January, when the new academic year begins and students will have to pay up-front fees. If some students can't afford to register, Dickinson said, that could spark new protests.
Dickinson, who as an elected faculty representative on the university's governing council had voted against Wits' proposed 10.5 percent fee increase prior to the start of the protests, explained that the demonstrations weren't really about freezing tuition. "It was about saying that fees are unaffordable."
"By voting against the increase, I was voting against a balanced budget," said Dickinson. "But my argument to council was that we have to make a stand and we have to provoke a fight with the government because the real issue is underfunding for the sector as a whole."
Adam Habib, the vice chancellor of Wits, said that while enrollment at South African universities has climbed dramatically, the per-student subsidy from government has declined.
"We've known this for a while now and there have been some concerns about this. The universities in a desire to maintain the quality of the programs have effectively compensated for this by raising student fees," said Habib.
"We've been saying for a number of years now this is unsustainable and is going to blow."
Habib, who also chairs the South African vice chancellors' association, said that university leaders did not initially support the zero percent fee increase demand but swung their support to the students during the height of the October protests. "What the students did in seven days was what we've been trying to do for 10 years, which was get the state to rethink its subsidy," Habib said.
Funding Shortfalls
The government has acknowledged the problem of declining per-student appropriations for South Africa's higher education system and the increased reliance of universities on student fees, even if a solution isn't yet in sight. In an Oct. 27 speech to Parliament, the minister of higher education and training, Blade Nzimande, said that "an appropriately funded higher education sector … would require an additional R19.7 billion [about $1.4 billion] per annum in the baseline for university subsidies," excluding contributions to the National Student Financial Aid Scheme (NSFAS), which is also widely viewed as being undercapitalized. Universities are given a lump sum of NSFAS funds to distribute, and they make awards until they run out: because of the limited funding, some universities note on their websites that students whose families make above a certain income threshold are unlikely to receive NSFAS funding. These advertised thresholds are quite low -- for instance, R160,000 at North-West University (about $11,100).
The protests drew attention to the "missing middle" -- what Fiona Lewis, an independent consultant to NSFAS, described as those students whose families make too much money for them to qualify for NSFAS but too little for them to get a bank loan. "We know that we're not funding the full range of students who sit in that band of being unable to afford their own higher education," she said.
The higher education minister, Nzimande, last week announced a probe into possible corruption and maladministration in the allocation of NSFAS loans by universities, as the South African outlet News 24 reported. The financial assistance program also struggles with poor loan repayment rates. The total amount of NSFAS loans recovered actually fell from R638 million in 2010-11 (about $44 million) to about R248 million ($17 million) in 2014-15. This has implications for current students, as Lewis said that money recovered from loans is infused directly into the pool of funds available for scholarships and grants.
Those are all long-term issues related to funding and administration. In the short-term the government has committed to making up slightly more than 80 percent of the estimated R2.3 billion (about $160 million) shortfall caused by the zero percent fee increases for 2016. The remainder of the difference will be absorbed by the universities.
Universities throughout South Africa had been planning on tuition increases in the 10-12 percent range.
'Free Education in Our Lifetime'
When the zero percent fee increase was announced, students congratulated themselves on winning a battle -- not the war. In a written statement, the Student Representative Council at Wits wrote that the "zero percent fee increment is a short-term victory that we applied a short-term strategy to achieve. We remain steadfast in our call for free education in our lifetime and we acknowledge that this zero percent increment is not just a step in the right direction but is also a turning point to attaining free education."
"Although many students celebrated and considered it a victory as it was one of the main goals of the demand, many of us do not consider it a victory," Sarah Jacobs, a fourth-year undergraduate involved with the #FeesMustFall campaign at the University of the Western Cape, said in an email. "The zero percent increase is only for 2016. Currently, as it stands, with no increase, tertiary education is still not affordable to thousands of students."
The protests have sparked debate over the ideal of free higher education embraced by many of the student protestors. George Hull, a philosophy lecturer at the University of Cape Town, and a researcher in UCT's Poverty and Inequality Initiative, said that there are statements in South Africa's Constitution and in the ANC Freedom Charter, another key document in the country's history, which could be interpreted as promising free higher education. The Constitution states that "everyone has the right … to further education, which the state, through reasonable measures, must make progressively available and accessible."
The ANC Freedom Charter says, "Education shall be free, compulsory, universal and equal for all children; higher education and technical training shall be opened to all by means of state allowances and scholarships awarded on the basis of merit."
"One thing that could be said about free tuition is that it increases social equality, which is the sense of citizens, of students, that they are on equal footing," said Hull. His own view, though, detailed in an op-ed he wrote for The Conversation, is that free tuition for all "is not the route to social justice," in that the masses would be taxed to pay for the higher education of a small elite. Hull advocates instead for an improved and vastly expanded income-contingent loan system, open to all, in which students begin paying back their loans only after they earn income above a certain threshold.
"Because higher education is giving graduates such a massive leg up, such a massive completive advantage, it's fair for them to make a substantial contribution to the cost of their education, but the challenge is to make that contribution in a way that doesn't decrease access," Hull said in an interview.
Nico Cloete, the director of the Centre for Higher Education Trust (CHET) and coordinator of the Higher Education Research and Advocacy Network in Africa, suggested that the experience of free higher education elsewhere in Africa and in Latin America is more relevant than the experience in Finland, Germany and Norway. He argued in a recent University World News op-ed that the story of free higher education in developing countries has been of the poor subsidizing the rich.
​"Who got access to the full scholarship flagship universities? The children of the business and political elite who themselves had gone to top schools locally and internationally. A few extraordinarily gifted poor students also gained entrance into free higher education. The rest, coming from poor schools, ended up (if they were lucky) in low-quality, fee-paying nonuniversity [private] institutions," Cloete writes.
By contrast, Cloete writes, "What is easy and what is morally defensible is free higher education for the very poor -- for example, an annual income below R120,000" (about $8,340).
The government has articulated its support for the "progressive realization of free higher education for the poor, up to the undergraduate level." Zikisa Maqubela, the outgoing Student Representative Council president at Rhodes University, said a problem with free higher education just for the poor is defining who's poor.
"The goal should be free education for all. If the government has to introduce an education tax, so be it," said Maqubela, who added that there's no reason such a tax couldn't serve redistributive ends in taxing the wealthy at higher rates.
"I am of the view that to aid our economy and to create more productive citizens, we have to spend more on education," Maqubela said. "The move should be toward free education for all. There must be no student left behind."