You have /5 articles left.
Sign up for a free account or log in.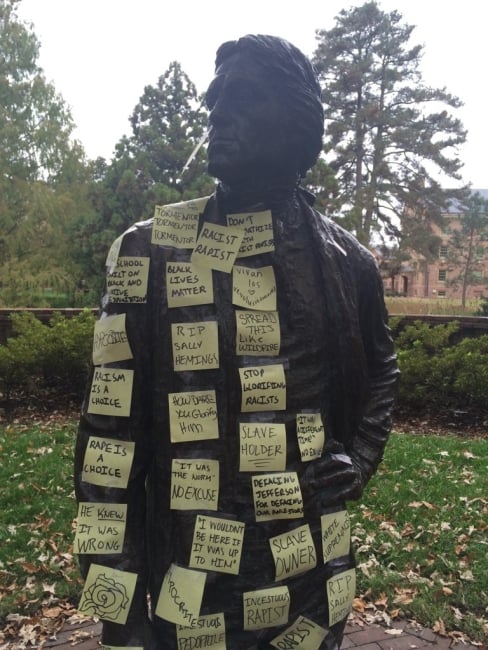 In the last week, Princeton University students who object to having Woodrow Wilson's name on an academic unit and a residential college occupied the president's office and left only when promised that the university would review its use of the Wilson name. The students pointed out that Wilson was a racist who, as president of the United States, had federal government agencies segregated, reversing progress toward civil rights for black people. Many observers have wondered which historical figure honored on American campuses would next capture critical attention.
The answer appears to be Thomas Jefferson. At both the University of Missouri at Columbia and the College of William & Mary, critics have been placing yellow sticky notes on Jefferson statues, labeling him -- among other things -- "rapist" and "racist."
Once again, students are raising the question of whether men seen as heroes in American history were decidedly unheroic when it came to issues of race -- and black students are demanding that colleges consider the impact of various honors for people whom they do not consider heroes. While Princeton has said it is considering the issue of the Wilson name, which could well remain, the student protest movement has led to widespread discussion of Wilson's record on race, which even fans of his idealistic internationalist vision admit was horrible. Publications such as Vox and Salon are running articles detailing just how bad Wilson was with regard to issues of race -- and giving prominence to a part of the historical record many have never considered.
How will colleges respond to questions about the prominent place some institutions give Jefferson?
At William & Mary, Jefferson's alma mater, the notes on the statue just appeared, without an individual or group claiming responsibility or formally asking for the statue to be removed. Officials have noted that the protest has not actually damaged the statue, so they are not treating the incident like vandalism.
"A university setting is the very place where civil conversations about difficult and important issues should occur. Nondestructive sticky notes are a form of expression compatible with our tradition of free expression," said a spokesperson via email.
Students have been debating the issues raised by the notes on social media and in columns in the student paper.
At Missouri, the Jefferson statue became an issue last month as tensions were rising over a range of issues raised by black students, who cited incidents of racial harassment as well as campus culture issues, such as the prominence given to a Jefferson statue.
A petition is circulating calling for the statue to be removed. The petition notes the history of Jefferson's involvement with slavery. "Thomas Jefferson's statue sends a clear nonverbal message that his values and beliefs are supported by the University of Missouri. Jefferson's statue perpetuates a sexist-racist atmosphere that continues to reside on campus," the petition says.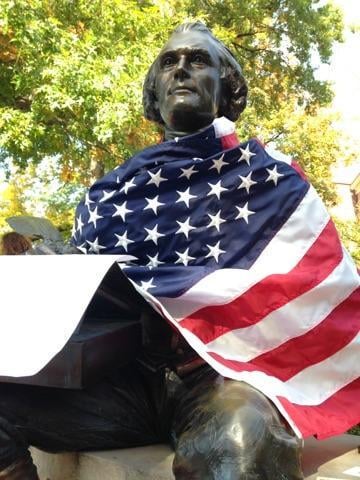 College Republicans countered with a #standwithJefferson hashtag on Twitter, demanding that the statue remain in place. Defenders of the statue have also draped an American flag around it (at right) for events at the site of the monument.
As Missouri and William & Mary are dealing with statues, there are of course institutions where Jefferson has an even greater presence. While black students at the University of Virginia, like their counterparts on many other campuses, have been pushing a range of issues, there has not been a public debate on Jefferson's role on campus, in light of the recent discussions elsewhere.
The conservative blogosphere has widely mocked the student campaigns against honors for various historic figures, including Jefferson.
The Scholarly View
Scholars of Jefferson and his record on race and slavery have been watching the debate with great interest. There is no consensus among researchers on whether Jefferson's accomplishments (the Declaration of Independence and his advocacy for religious toleration, among others) are outweighed by a record on race and slavery that many argue wasn't just bad, but was bad even for his time. Scholars have a range of views on whether Jefferson statues and other honors should be reconsidered, but they generally agree that the public doesn't know enough about Jefferson's poor record on issues of race.
Paul Finkelman, author of Slavery and the Founders: Race and Liberty in the Age of Jefferson (Routledge), said that he couldn't judge how colleges should deal with Jefferson statues, but he said the history is clear.
"I don't think you go around honoring people for behavior that was truly awful, and Jefferson's relationship with slavery and race was truly awful, even from his own times," Finkelman said. "This is not looking back from now," he stressed.
Finkelman, a senior fellow at the University of Pennsylvania Program on Democracy, Citizenship and Constitutionalism and the Ariel F. Sallows Visiting Professor of Human Rights Law at the University of Saskatchewan College of Law, compared Jefferson to George Washington.
"George Washington ceased using white overseers to manage his plantations before he became president," and gave the positions to slaves "as a prelude to emancipating them in his will," Finkelman said. Jefferson never took such a step. "Washington famously said that he did not take men to the market like cattle, but Jefferson sold nearly 100 slaves in the 1790s," Finkelman said.
Henry Wiencek, author of Master of the Mountain: Thomas Jefferson and His Slaves (Farrar, Straus and Giroux), said via email that his approach to the issue of statues and other honors for Jefferson (as well as Wilson and others) would be based on a Jefferson quote: "The earth belongs to the living."
Explained Wiencek: "If the rising generation finds the actions of these men to be repugnant, then the new generation has the right to demand the removal of memorials to them. There should be informed and reasoned discussion and debate -- universities are the ideal forum. Let the defenders of the memorials make their case on behalf of the enslavers."
Annette Gordon-Reed, a professor of history and the Charles Warren Professor of American Legal History at Harvard Law School, is the author of two books -- Thomas Jefferson and Sally Hemings: An American Controversy (University of Virginia Press) and The Hemingses of Monticello: An American Family (W. W. Norton) -- that have criticized previous generations of scholars for ignoring evidence or downplaying the story of Jefferson's relationship with one of his slaves.
Via email, Gordon-Reed said that she didn't think Jefferson statues should be taken down. Further, she said it is important to distinguish Jefferson (whatever his record on slavery) from figures associated with the Confederacy or Jim Crow, for whom there may not be any reason for honors on campuses to continue.
"I understand why some people think his statues should be removed, but not all controversial figures of the past are created equal," Gordon-Reed said. "I think Jefferson's contributions to the history of the United States outweigh the problems people have with aspects of his life. He is just too much a part of the American story … to pretend that he was not there. This conversation about statues and symbols really got going with calls to take symbols and figures from the Confederacy out of the public sphere. Then it shifted to every famous person who was an enslaver and/or white supremacist, basically letting the Confederates off the hook. That's a lot of people to be disappeared. There is every difference in the world between being one of the founders of the United States and being a part of group of people who fought to destroy the United States."
She added: "It's a line-drawing function, but we draw lines all the time. Statues and buildings for Jefferson Davis and John C. Calhoun? No. Statues and buildings for Thomas Jefferson? Yes, but with interpretation and conversations about all the meanings of his life and influences -- good and bad. The words of the Declaration of Independence that blacks have made use of over the years and Monticello, his home, a slave plantation that has now become a site for substantive discussions about race and slavery, exist together as a part of our history, just as he was. He drafted the declaration, he was a president, he founded a university, he championed religious freedom. The best of his ideals continue to influence and move people. The statues should be a stimulus for considering all these matters at William & Mary and the University of Missouri."