You have /5 articles left.
Sign up for a free account or log in.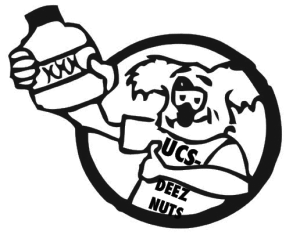 This article contains explicit language.
In an attempt to starve out a controversial student publication without violating the First Amendment, the student government at the University of California at San Diego voted last week to cease any funding of student media.
The move -- which First Amendment experts said does not pass constitutional muster, despite the student government's maneuvering to avoid targeting a specific group -- came after UCSD administrators condemned the most controversial of the university's publications amid student protests about racism on campus. At a recent Black Lives Matter protest on campus, black students cited the student-run humor magazine, the Koala, for content they view as racist.
A recent article published by the Koala mocked the idea of safe spaces, saying that the university would now provide "dangerous spaces."
"Too long has the no-blacks rule been removed from our campus," the article read. "Too long have students not been free to offend their hypersensitive peers." The article suggested that in the era of safe spaces, students were talking about their excitement over a new Starbucks rather than chanting a common racist slur for black people, a word the article repeated five times.
On Nov. 18, the university's administrators responded to student complaints, condemning the Koala in a statement. "We, the UC San Diego administration, strongly denounce the Koala publication and the offensive and hurtful language it chooses to publish," several administrators, including the university's president, stated. The Koala responded to the denouncement by publishing a series of profanity-laden and slur-filled fictional emails meant to be written by administrators.
Student leaders appear to have been worried that if they just ended funding for the Koala, and did so based on its content and language, they would be violating the First Amendment. So later that day, the Associated Students Council voted to defund all student media by removing a section from its constitution about financial support of student media organizations.
The Associated Students provides about $15,000 per year, drawn from student fees, to several student media organizations, including student-run research journals and magazines. The twice-weekly student newspaper, the Guardian, is independent and was not affected.
"When this was brought to council floor, I made it a point to address that this issue was not to be tied to any particular organization," Dominick Suvonnasupa, the student government's president, said in an email. "The question was whether to fund media at all, and at the end of the meeting, council decided not to. AS decided to discontinue print media funding as it was determined that there were other areas of campus that could better benefit from the limited resources of the Associated Students. All campus media organizations have received suggestions of alternative funding sources."
Gabe Cohen, the Koala's editor-in-chief, declined to comment, citing a policy that prevents Koala staff members from conducting any interviews unless they are given alcohol. "We demand beer," he said in an email. The publication made similar demands from news organizations in 2011, when it published an essay calling a female student leader a "square-chinned, thick-necked uppity skank" and a "fat whore."
The Koala has a long history of controversy on campus, and has survived several attempts to stop it from publishing.
In 2002, the university's judicial board held a hearing in an unsuccessful attempt to dissolve the publication after it mocked the president of a Mexican-American student group. Five years later, the Koala was evicted from the university's student center when officials found alcohol and drug paraphernalia in its office. The following year, several local printers refused to print an issue that included "racism, sexism, pornography and general crudity."
In 2010, the publication used its television program to defend students involved in an event called the "Compton Cookout," which many decried as racist. In the program, Koala staff members used racial slurs. Then, in a scenario reminiscent of this week's decision, the Associated Students Council voted to stop funding all student media in an attempt to squelch the Koala.
"You have been trying to shut us down for 28 years and you have failed for 28 years," former Koala editors said in an open letter at the time. "There is no reason to think it will be any different this year. We are smarter then [sic] you. We are slicker then [sic] you. We are quicker then [sic] you. We are defiantly [sic] funnier then [sic] you. And believe it or not, a large percentage (if not a majority) of the student population supports us."
The Foundation for Individual Rights in Education intervened, as it has in other Koala controversies, and funding was restored to all 33 student-funded media organizations by the following month. Greg Lukianoff, president and CEO of FIRE, said the student government's new attempt to cut funding will likely end in a similar fashion.
"It's become something of a pattern that has repeated over the years at UCSD," he said. "And it's almost certainly unconstitutional. It's difficult to claim your decision to cut funding was content neutral when it's really clearly about a particular magazine and its viewpoint. It's wrong and foolish to cut all media funding, and ironic because by cutting funding to all publications, you're getting rid of the funding that allows for some of the best counterspeech."
One of the affected publications is the Muir Quarterly, the Koala's rival humor publication. Over the years, the Muir Quarterly has used some of its funds to produce issues parodying and critiquing the Koala and its questionable attempts at humor. The publication and its staff received no advance notice about the decision to cut its funding.
Andrew Deneris, the Muir Quarterly's editor-in-chief, said he shares the student council's concerns about the effect certain "hateful, offensive publications" have had on campus. But cutting funding to all student-funded publications, he said, is not the answer. The Koala, he said, will likely survive by using its long history and controversial status to find new funding sources. Other publications may not be as fortunate.
"The end result, then, could well be a significant decrease in the availability and diversity of student-produced media, which will strengthen the Koala's influence rather than weaken it," Deneris said. "In essence, they're trying to throw the baby out with the bathwater, but the bathwater isn't leaving."