You have /5 articles left.
Sign up for a free account or log in.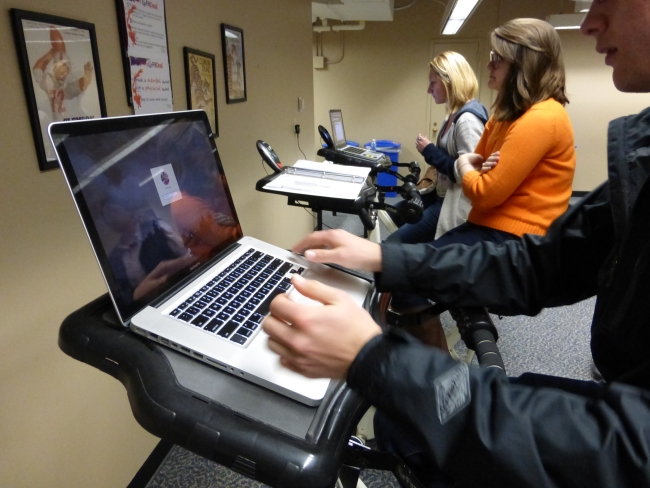 First comes the elementary school desk, cramped and rigid (cursed by lefties everywhere), then the desk desk, in your own room in high school or college, and its cousin, the library carrel. After that, if you were lucky, maybe an office desk or cubicle. Then, of course, standing desks burst onto the scene, along with their overeager cousins, treadmill desks. Now, popping up in dozens of colleges and universities in the United States and Canada, is another step in desk evolution -- a stationary bike and desk combination called the FitDesk.
Most recently, Wake Technical Community College in North Carolina installed two FitDesks in its library in order "to have a little something different that gets [students] excited about coming to the library," President Stephen Scott told the News Observer. "A little sizzle on the steak."
He got the idea from Clemson University, which has accumulated 22 of the $300 gadgets since 2013 and has been using them to conduct research on the effect of exercise on academic performance.
In five studies involving about 100 students over the course of one and half years, June Pilcher, a professor of psychology, is beginning to see some very preliminary results.
First and foremost, the chairs don't seem to have a negative effect on focus or academic performance, Pilcher said. One problem is she is doing this research on "largely young, healthy, bright people," she said, so "it's going to be difficult to increase performance."
Anecdotally, however, students have consistently reported some kind of positive feeling or effect from using the FitDesk while studying, and Pilcher said she has felt the same, but the challenge has been finding a way to accurately put it into words so she can measure the effect, whatever it is.
Along the way, however, Pilcher's research has suggested some interesting results she didn't set out to find. Students who used the desk for at least two hours a week while studying reported more stable sleeping patterns than students who didn't. "It did not improve sleep quality," Pilcher said. "But maybe it made it more stable."
"We've generated more questions than we've answered," Pilcher explained as she racked up just over four miles of stationary biking during a half-hour phone interview with Inside Higher Ed. "We're still figuring out what to measure …. I think there is something positive happening, but it's very subtle. That's what we're really trying to detect, and science is not good at detecting subtle things."
A small but growing body of research does point to some positive health outcomes for continuous use of standing or treadmill desks, or at the very least that not using them and sitting all day may have some startlingly negative health outcomes, "but there's not as much data out there as you might think," Pilcher said. "We are at the beginning of a new idea here."
Still, campuses are increasingly interested. FitDesk has sold hundreds of desks for library use to dozens of colleges and universities, including Harvard University, Florida State University, the University of California in Los Angeles and Mississippi State University, according to company co-founder Ryan Moore. Both Google and Facebook number among their corporate clients as well. They're attractive to colleges, Moore said, because they're light and collapsible, so you can add a few to a room or move some chairs and fill a classroom with 30.
At Ole Miss, it was a donor who offered to buy four of the desks for the university library, which it gladly accepted, said Stanley Whitehorn, head of Library Facilities and Access Services. They are "quite well used," he said, with students using at least one of the bikes about 30 percent of the time. "It's killing two birds with one stone," he said (studying and exercise). "Which is sometimes an irresistible combination for these students."