You have /5 articles left.
Sign up for a free account or log in.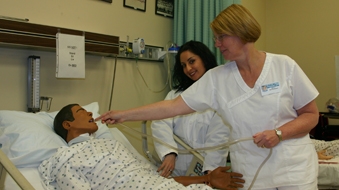 The demand for nurses isn't going away and it seems interest from potential nursing students remains strong. But colleges continue to find it difficult to admit all of the qualified candidates into their nursing programs, especially some of California's community colleges.
Take for instance California's Cabrillo College, where hundreds remain on the nursing program wait list in hopes of grabbing one of 60 spots. The wait can last six years or more. The wait lists have become so difficult to handle that many colleges in California are eliminating them altogether, said Marshall Alameida, dean of health sciences at College of Marin.
Solano Community College, located between San Francisco and Sacramento, is trying a new approach, according to Glenn Burgess, the college's director of nursing. Students there would spend two to three years on the nursing program wait list even after completing the major science courses needed to apply.
"We have placed a hold on accepting applications in order to reconsider the impact the wait list has on students and the cost to maintain a wait list. Currently, we have decided to not keep a wait list and students will need to reapply each year in September and all qualified applicants will be placed in a lottery to fill the next class," Burgess said in an email, adding that college officials are hopeful they will be able to get students into the program sooner with the new approach.
Napa Valley College saw similar problems with waitlists. 
"It has, upon occasion, topped in excess of 300 students for a 40-person program. We found that maintaining a waitlist of this magnitude was cumbersome and inefficient as many students were on multiple waitlists. Thus, a student might be on the waitlist for anywhere from two to five years," said Robert Harris, dean of the college's health occupations program, in an email. 
This fall, Napa Valley will also end using the waitlist and move to a new method of simply accepting or not accepting students, Harris said. 
Two years ago the state passed a law allowing community college nursing programs to use a selective application process that awards points in a number of categories including prior academic degrees or certificates, grade point average, volunteer or work experience, proficiency in a foreign language, and other life or special experiences. The Multicriteria Screening Process was extended this year to sunset in 2020.
"But the real issue remains that in terms of applicants to programs, not 100 percent of qualified applicants are admitted to programs," Alameida said.
According to the National League for Nursing, associate degree in nursing programs rejected 45 percent of qualified applications in 2012, compared with 36 percent in bachelor of science in nursing programs. Furthermore, 28 percent of ADN programs and 38 percent of BSN programs cited lack of faculty members as the main obstacle to expanding.
"There just aren't enough faculty, and the only reason students, potential applicants, are turned away is the lack of faculty and lack of clinical placement," said Beverly Malone, chief executive officer of the National League for Nursing. "When you come in, there's not enough space in hospitals or community health clinics to get experience. So you have to clamp down on the number coming in."
NLN estimates that 34,200 new nursing instructors will be needed by 2022.
Many current nurses have remained in the field because the recession kept them from retiring, but now they are leaving as the economy has rebounded, Malone said.
Finding instructors willing to work in the community colleges can be even harder, Alameida said.
"We're having a difficult time finding qualified faculty. I had an open position for a simulation instructor and I had one applicant, so we had to make concessions on the minimum qualifications," he said.
That concession was the decision to hire faculty members who didn't have a master's degree -- which is a state requirement, Alameida said, but as part of the employment agreement those faculty members would continue their education to achieve that master's degree within a short period of time.
It's mostly due to the salary disparity, which is also more of a regional problem. According to the U.S. Bureau of Labor Statistics, a registered nurse can earn on average of about $90,000 a year in California. Nursing instructors, especially at the community colleges, are often paid less than what they can earn in the field, Alameida said. "A nurse manager is making $150,000 … but I'll bring in a new faculty member and start them at $82,000."
Wait lists are a regional problem, said Donna Meyer, chief executive officer of the National Organization for Associate Degree Nursing, adding that she's never heard of a six-year wait list, but one-year wait lists are typical. Meyer agrees that the faculty shortage is a problem, but finding the clinical settings for students in these programs to gain experience is just as much of an issue.
"Nursing programs aren't inexpensive programs to run and operate," she said. "You can have 100 students in a classroom, but in a clinical setting the direct ratio of students-to-faculty member is regulated in each state."
States typically will only allow six to 10 students maximum with a faculty member, Meyer said.
Linda Zorn, statewide director of the health workforce initiative for the California community colleges, said officials have been working for the past year on finding solutions for increasing clinical slots for students. The Affordable Care Act has helped in that regard -- since a large proportion of slots are in hospitals, the health care reform law has made it possible for educators to look for clinical experience sites in other health-related areas.
There is competition, too, among colleges and universities to use clinical sites at nearby hospitals and clinics.
"So a lot of places are looking at what we call alternative clinical sites," Meyer said. "So it's much more about going out to public health and long-term care facilities. We've changed our thinking in that way, but health care is moving out of the hospitals and into places like rehabilitation centers."
And many students who are waiting a year or two to enter a nursing program spend the time finishing prerequisite courses like anatomy and physiology, so they can be in the student role and getting ready for nursing, she said.
California continues to spend about $13 million a year on nursing education at its community colleges in order to maintain and expand programs and that budget item saw a slight increase this year, Zorn said.
But Malone said there are two federally funded areas that could help increase the number of nursing instructors -- both Title VII for health care professions and Title VIII Nursing Workforce Development funds could help nurses currently in the field to get their master's degrees and go into teaching.
"The shortage is in the lack of resources to pay for those nurses to go back [and become instructors]. I believe the interest is there," Malone said.