Standing With Their President
Board of Suffolk U seeks to fire Margaret McKenna, institution's fifth president in five years, seven months into her tenure. Students, professors and alumni rally behind her.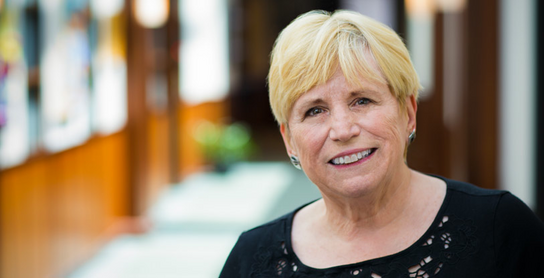 The board of Suffolk University has scheduled an emergency board meeting for this week with the goal of firing Margaret McKenna (right) as president, seven months into her tenure.
Presidents have tended to come and go at Suffolk in recent years. McKenna is the fifth (counting interims) in five years. But a president with broad support from faculty members, students and alumni alike? That's a new thing in recent Suffolk history. Those groups are all backing McKenna. Many are stunned by the move to oust her and are organizing campaigns to dump board members and keep McKenna.
According to many on the campus, McKenna is the first president they have known who takes shared governance seriously -- and who regularly consults with and listens to students and faculty members. She is praised even by people who disagree with some of her decisions, who say that she took time to listen to their concerns and treated them with respect whether or not they agree.
Many also praise her for urging Suffolk to focus on public service and public policy, with an orientation toward the university's home in Boston. The university lacks the resources to be all things to all people, they say (and the president has said frequently), and she's led an honest discussion about that and put forward a plan many on campus find logical.
Rumors are flying that the board never forgave McKenna for not being its first choice for the job and for insisting that she run the college on day-to-day matters and develop strategy for board consideration and approval. Boston media organizations have in recent days been featuring numerous leaks from board leaders, who reportedly are talking to Martha Coakley, a former attorney general of Massachusetts who in recent years lost high-profile elections for governor and U.S. senator, to replace McKenna.
After initially being vague about why board members wanted McKenna out, the latest round of rumors report that she is running a deficit and may be too "abrasive" or may not be "a good cultural fit." (Her supporters view that language as a sign of board discomfort with a strong woman, and question whether the financial issues at the university are a result of her decisions or of the board and those who preceded her.)
Rotating Presidents
The five years of presidential turnover started in 2010, when David J. Sargent resigned as president. Sargent had been president for 21 years. His retirement was announced the day it took effect, following a furor over his salary -- $1.5 million -- which many said was inappropriate at a university that isn't flush and that serves many working-class students. In 2014, another permanent president -- James McCarthy -- was replaced by the board with no word on why he was removed.
Meanwhile, the university -- facing the challenges of being a nonelite private institution in the crowded Boston-area market -- was struggling.
In 2014, it froze salaries to offset an $11 million revenue decline due to falling enrollment.
When searching for interim and permanent presidents, the Suffolk board wanted to tap Marty Meehan, according to several sources with knowledge of the discussions. Meehan is a former U.S. representative who holds two degrees from Suffolk and was considered a successful chancellor of the University of Massachusetts at Lowell. But he made clear that his first choice was the presidency of the UMass system, and he was named to that position.
McKenna's Record
While McKenna may have been the board's second choice, many at Suffolk considered her an ideal choice as president. McKenna started her career as a civil rights lawyer, held various government positions, including work on President Clinton's education transition, and had a highly successful presidency at nearby Lesley University, which she led from 1985 to 2007, an unusually long tenure for a president these days. She is credited with growth in academic programs and the endowment there, and she led Lesley to full coeducation.
McKenna spoke about board relations when she held a meeting with faculty members shortly before she was named Suffolk's president, The Boston Globe reported.
She said at that time that Suffolk trustees have been more involved with daily decision making than is appropriate and that she told them she believed that should change. The Globe reported that she said she told the trustees, "You hire me, you give me the keys. I'll report to you. You'll never be surprised. … You have got to trust me to make the right decisions."
Administration and faculty sources who asked not to be identified said that, in fact, the board has continued to "micromanage," telling McKenna and others whom to hire as consultants and how student activities events should be scheduled, and participating other issues that are not typically considered board matters.
These sources said that McKenna "said no" and that board leaders were not used to that.
On administrator who asked not to be identified for fear of being forced out of a job said that some of the things trustees complained about were petty -- for example, that in a renovation of a law school building, photographs of board members were moved and not immediately replaced (a move that the administrator said had nothing to do with McKenna). This administrator also said that McKenna's focus on local needs -- while appropriate -- didn't appeal to board members who want Suffolk to be thought of as a more prestigious institution. "We're not Harvard and they don't like that," said this administrator.
As president, McKenna has also stressed diversity issues more than board members would like, the administrator said. (In the past few days, signs have gone up on campus from supporters of the president that say, "Diversity Matters!")
McKenna and her chief spokesman did not respond to repeated email requests for their views, and in particular to respond to the new allegations from board members about finances. But they may be unable to do so, because the board sent her a cease-and-desist letter telling her not to try to defend her record in any way (or use university employees to do so). The spokesman has also not responded to requests to be put in touch with board leaders.
On Friday, McKenna did send a brief email to the campus. "What I want you to know is that I'm committed to Suffolk University. I believe deeply in its mission, in its people, who care so much for this institution, and most of all in its students. I don't intend to resign," she said.
The Boston Globe reported today that McKenna sent trustees a letter over the weekend answering allegations they have made in the press. When she arrived, she wrote, the university faced a $5 million deficit, and she has brought that down to $2.3 million. Of the moved photographs, she said the law school dean asked to move them so that photographs of law school donors could go where the trustee photos had been. McKenna wrote that she informed the board chair and "had no idea it would be interpreted as some kind of affront to trustees."
Outpouring of Support
The support on social media for McKenna has been intense -- especially given that she has not been on campus that long. On Twitter, the hashtag #SUStandsWithMcKenna features comment after comment:
Matthew Jerram, associate professor of psychology at Suffolk, said McKenna has "a coherent plan" for the university to focus on urban public policy issues -- and not everything else. "What's really refreshing is that previously everything was just market driven, let's support this major, let's support that major," he said. "The approach was to try to look which way the wind was blowing."
McKenna seems realistic about judging where the university can make a difference, he said.
The reason so many faculty members value McKenna, even though she has been president for just a short time, is that she's been reaching out. "She makes an effort to get in touch with people besides the board," he said.
Colin Loiselle, student body president at Suffolk and a senior, said he has never seen a president like McKenna and that he's shocked the board would want her out.
"Her door is literally open to us," he said, in contrast to previous leaders of the university. "She listens, she asks questions, she is trying to make decisions that will help students," he said. Loiselle said her push for more focus is necessary in that Suffolk does have the ability to make a difference in some areas, if it uses its resources accordingly. "We've been funding programs with two or three students, and we can't do that," he said.
Loiselle said that the trustees who have been feeding negative information to the Boston newspapers "are hurting the school's reputation," while McKenna's approach "can attract more students here." He added that "students can't believe what's going on" and are determined to fight for McKenna.