You have /5 articles left.
Sign up for a free account or log in.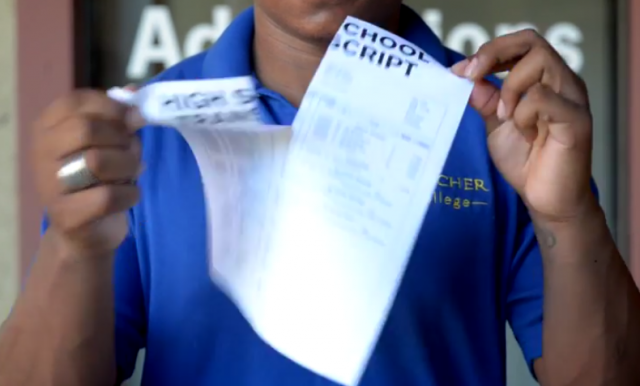 When Goucher College announced it was starting a new admissions option -- in which applicants would be evaluated primarily on the basis of a two-minute video, with no transcripts or test scores required -- the move attracted considerable attention and considerable skepticism. While many admissions experts debate whether standardized tests are necessary, there is a wide consensus that the high school transcript is the single most valuable tool for predicting college success. So many doubted the wisdom of admitting students without the transcript.
Now the results are in -- first-semester grades of the first cohort of students who were admitted via two-minute videos. And Goucher is proclaiming success. According to statistics released today, the grade point average of students admitted via video was 3.15 for the first semester; it was 3.11 for everyone else.
While Goucher is pleased with the results, there is one problem: not many students actually enrolled this way. Goucher's freshman class consists of 389 students admitted with transcripts and an application, etc. (the college has long been test optional on admissions), and 15 students who took the video route.
Goucher admitted 51 applicants who applied with videos, and 23 of them placed a deposit. But five deferred for a year, so have no freshmen grades available. And three of them were, in the end, admitted through traditional means, although they started off with the videos. That leaves 15.
José Antonio Bowen, president of Goucher and the chief proponent of admissions by video, acknowledged in an interview that the small sample of students is a genuine limitation on the findings. He said Goucher is continuing to offer the alternative this year and will eventually have larger samples of students -- along with the ability to measure academic success beyond the first semester.
Still, he said, "I'm very excited. I do think we've discovered a new way to identify talent, and it works."
Bowen said it was important to share results of academic performance in college. "I think this means the naysayers, who said we would be lowering standards, were wrong," he said.
If a two-minute video can work, should colleges reconsider traditional admissions methods? Bowen said he wasn't calling for the elimination of traditional measures. But he said colleges should think seriously about whether their current systems, which create stress for students and families, can be changed.
"What we did worked just as well, and it was less stressful," Bowen said. "The doors to innovation should be open. The traditional way is too expensive and too stressful."
Whether the naysayers will be convinced remains to be seen. When Inside Higher Ed surveyed admissions directors in 2015 and asked them if it was ever appropriate to admit students without requiring the high school transcript, only 31 percent of admissions directors at public institutions and 20 percent at private institutions said it was.
More from Traditional-Age