You have /5 articles left.
Sign up for a free account or log in.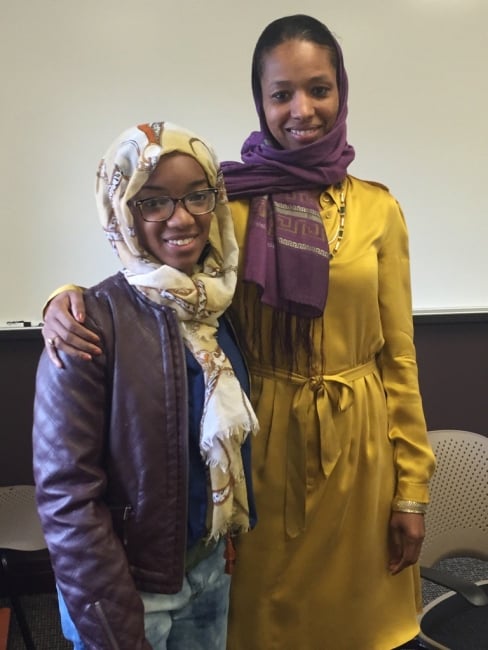 Wheaton College in Illinois announced Saturday night that it has reached an agreement to "part ways" with Larycia Hawkins, an associate professor of political science whom it has been trying to fire.
The announcement may not end a controversy about whether Wheaton had grounds to take action against Hawkins. Many faculty members at Wheaton, a prominent college in Christian higher education, say that any agreement should have kept her teaching at the institution. The announcement -- made jointly with Hawkins -- did not provide details of the settlement.
But the announcement did include mutual praise. Philip Graham Ryken, Wheaton's president, is quoted saying of Hawkins: "We are grateful for her passionate teaching, scholarship, community service and mentorship of our students." She is quoted as saying, "I appreciate and have great respect for the Christian liberal arts and the ways that Wheaton College exudes that in its mission, programs, and in the caliber of its employees and students."
The statement also says that "both parties share a commitment to care for the oppressed and the marginalized, including those who are marginalized because of their religious beliefs, and to respectful dialogue with people of other faiths or no faith."
Supporters of Hawkins say that it was just that commitment that landed her in trouble, and that led Wheaton to argue she was violating the Statement of Faith all faculty members at the college must support.
In December, Hawkins announced that she would wear a hijab during Advent to show solidarity with Muslims at a time when some politicians were using anti-Muslim rhetoric. The college has said that the act of wearing the hijab was not the issue. Rather it was a statement by Hawkins that Muslims "worship the same God" as do Christians. Theologians are divided on that point, and many supporters of Wheaton disagree with her statement. In a December statement, Wheaton rejected the idea that Christians and Muslims worship the same God.
"While Islam and Christianity are both monotheistic, we believe there are fundamental differences between the two faiths, including what they teach about God's revelation to humanity, the nature of God, the path to salvation and the life of prayer," said the statement. "As an institution of distinctively evangelical Christian identity, the core of our faith, as expressed in our Statement of Faith, is our belief that 'the Lord Jesus Christ died for our sins, according to the Scriptures, as a representative and substitutionary sacrifice, triumphing over all evil; and that all who believe in him are justified by his shed blood and forgiven of all their sins.' We affirm that salvation is through Christ alone."
Hawkins was placed on leave late last year, and the college said it reached an impasse with Hawkins after Wheaton requested clarification of her views. She has denied saying or doing anything that is inconsistent with Wheaton's commitment to Christian thinking.
In early January, the college announced it would move to fire Hawkins in a process involving a faculty committee review, under Wheaton's rules for dismissing a tenured faculty member.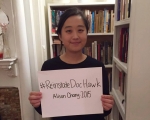 That move led to widespread criticism of the college from academic groups, even as some evangelical leaders continued to back its position. Among those writing to Wheaton to question its treatment of Hawkins were the American Political Science Association and the Middle East Studies Association of America. On Twitter, the #supportdochawk hashtag attracted many advocates for Hawkins. Wheaton alumni, students and faculty members elsewhere have been posting "solidarity selfies" expressing support for Hawkins (see photo at right).
Many of those criticizing Wheaton were academics who don't have to affirm statements of faith at their own institutions. What created more of a problem for the college was that many of its own faculty members -- people who take the college's Statement of Faith seriously and who have affirmed it -- said that Hawkins had done nothing to violate it. Many said that a college shouldn't be able to interpret such a statement to cover issues (such as Christians and Muslims worshipping the same God) if those issues were never stated in the first place as subjects on which everyone must share an opinion.
Seventy-eight current and former Wheaton faculty members released a statement this month in which they said Hawkins had not violated Wheaton's codes and should be reinstated.
On Saturday night, Wheaton's provost, Stanton Jones, sent faculty members an email announcing that he was turning over the Hawkins case, which he has handled, to Ryken, the college's president. Many professors were celebrating this news, The Chicago Tribune reported, assuming this was a first step toward reinstating Hawkins. But then two hours later, another email announced the decision of the college and Hawkins to "part ways." Many of those who had been celebrating said they were no longer doing so.
The statement announcing the settlement said Wheaton and Hawkins would not be commenting until they hold a joint press conference Wednesday.
Making Statements With Attire
Hawkins, in wearing a hijab during Advent, is not the only academic at Wheaton who sees the value of making statements of solidarity with attire.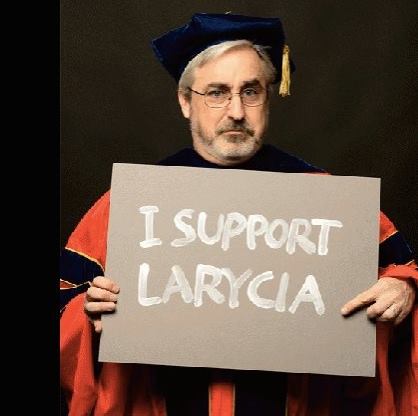 William Struthers (right), a professor of psychology at Wheaton, said in an email interview with Inside Higher Ed Sunday morning that he and several other faculty members have been teaching in their academic regalia this semester to stress the academic importance of protecting Hawkins. "[Her] wearing of the hijab was designed to be an expression of one of the Christian faith's fundamental tenets -- love of neighbor. As it is with many aspects of a devout faith, her actions were misunderstood," Struthers said. "This is why I (and several other faculty) have been teaching in our regalia since the beginning of the semester -- an embodied sign of solidarity with Dr. Hawkins's devout faith and as a sign of support of her as a scholar and colleague."
He said that the failure of Wheaton to welcome Hawkins back is causing great pain to many there, and that he plans to wear black in class.
"I'm wearing black as a sign of lament. I'm not sure who else among the faculty will, but it doesn't matter if they don't," he said. "I lament because it didn't have to be this way. There are many of us -- students, staff and faculty -- who will miss Dr. Hawkins desperately. She occupied a safe place in the lives of many of us on campus. Her absence has left many who are vulnerable at even greater risk. As Dr. Hawkins has continually stated since the beginning of this process, reconciliation is at the core of the Christian Gospel. I struggle to see how this was the best we could do. And she is more than Dr. Hawkins to us; she is Larycia -- our beautiful friend -- and she will be missed desperately. She is the Wheaton College I know. So we ache for our friend and we lament."