You have /5 articles left.
Sign up for a free account or log in.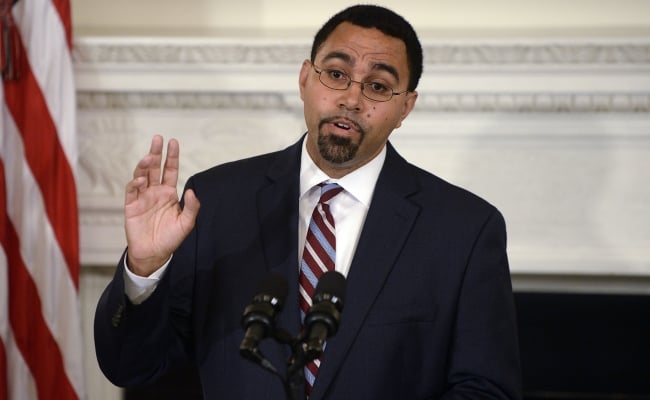 The Obama administration is creating a new office at the U.S. Department of Education dedicated to investigating and punishing illegal activity at colleges and providing debt relief to defrauded federal loan borrowers.
Officials on Monday announced a new "enforcement unit" that will be charged with investigating misconduct at colleges, imposing administrative actions against colleges and resolving student loan debt relief claims linked to fraud.
"This new unit will allow us to respond more quickly and efficiently to allegations of illegal action by higher education institutions," said Acting Education Secretary John B. King Jr.
The department already conducts investigations and audits of colleges and universities that receive federal funds, but officials said the administrative reshuffling will speed up and improve the quality of its investigations of wrongdoing.
The new office absorbs three existing Education Department units: the team of regulators who review whether colleges are following campus safety rules under the Clery Act, the group that doles out punishments to colleges and hears their appeals, and a newly formed team of lawyers who have been working on debt relief claims spurred by the collapse of Corinthian Colleges. And it will also contain a new team of employees armed with subpoena powers and responsible for investigating misconduct at college. That investigative work currently occurs elsewhere in the department and through routine audits of colleges.
More than 50 department employees will staff the new office, a combination of new hires and personnel reassigned from existing posts elsewhere within the department, King said. The administration is also requesting $13.6 million in additional funding from Congress as part of its 2017 budget to help pay for the increased enforcement efforts. But King said the office will take shape regardless of whether lawmakers approve the extra funding.
The department has tapped Robert Kaye, who worked at the Federal Trade Commission for 14 years, most recently as its top consumer protection official, to lead the office. Kaye will report to James Runcie, the chief operating officer in charge of the Office of Federal Student Aid, which is the Education Department's banking arm that also reviews whether colleges are following federal rules.
The new enforcement unit will focus on investigating a wide range of misconduct at colleges and universities. For example, regulators will pursue colleges that deceive students about their job prospects after completing a program or otherwise misrepresent the strength of their educational offerings, officials said. They will also be looking at colleges that illegally recruit students or improperly dole out federal student aid.
"This enforcement unit is not exclusively about for-profits," King said. "It's about the higher education sector generally."
Still, King said that the administration was especially concerned about problems at career colleges, many of which are for-profit institutions. He said there are "too many programs that promise students a better life, only to leave them with piles of debt without the prospect to pay it off."
King said that the intensified enforcement efforts were a "logical next step" after the administration's gainful employment rule, which largely affects for-profit colleges. He touted the fact that some colleges had already closed programs because they expected to fail the debt and earnings metrics under the rule.
Consumer and student advocacy groups, many of which have long complained of weak federal oversight of colleges, praised the department's new dedicated enforcement unit.
"We're encouraged the department intends to take a more proactive stance in investigating and taking action against institutions that engage in misconduct at the expense of students," Abby Shafroth, a staff attorney at the National Consumer Law Center's Student Loan Borrower Assistance Project, said in a statement.
Lauren Asher, president of the Institute for College Access and Success, said in a statement that the department was "taking an important step forward."
"We hope that the new unit moves quickly to better protect students and taxpayers from school fraud, and we urge Congress to further invest in the department's enforcement capacity," she added.
U.S. Senator Dick Durbin of Illinois, a top-ranking Democrat and vocal critic of for-profit colleges, called the department's new enforcement office "long overdue."
Noah Black, vice president of public affairs at the Association of Private Sector Colleges and Universities, which represents for-profit colleges, questioned whether the new unit would advance the administration's stated goal of boosting college completion rates.
"This isn't something that is going to produce new graduates," Black said. He added that the group hoped that the government's stepped-up enforcement efforts would truly be focused across all of higher education, not just aimed at the for-profit sector.