You have /5 articles left.
Sign up for a free account or log in.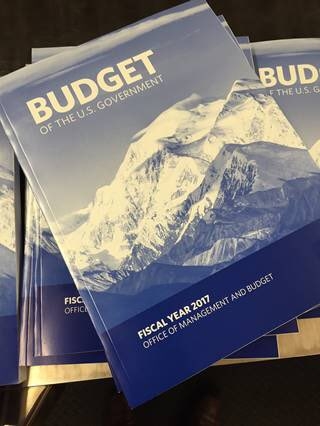 Executive branch budgets are often little more than wish lists of the party in power, especially in eras of divided government. Add to the mix that this is an election year and the last one of the Obama administration, and the 2017 budget the president proposed Tuesday is a largely symbolic document that is unlikely to significantly influence federal policy.
Which is too bad for many advocates for colleges and students, because President Obama -- who has emphasized the importance of higher education from the very start of his administration, lavishing funds on it while at the same time demanding more of it -- would do much of the same in his last budget plan.
The administration's blueprint for the 2017 fiscal year has something for everyone -- including a slew of new programs, some of which have been announced in recent weeks.
It would significantly increase spending on most programs to support basic and other research (except for defense-related studies), bolster the Pell Grant Program and invigorate the recently rescued Perkins Loan Program, and fund President Obama's plan for free community college and a new technical training fund. (It would also continue to toughen the regulation of for-profit higher education by lowering to 85 from 90 percent the proportion of an institution's revenues that can come from federal student aid programs.)
Even as they largely praised the administration's budget, college leaders seemed to acknowledge they were unlikely to reap the benefits, almost pleading with government leaders not to punt on such decisions until next year.
"Election-year politics should not foreclose progress in the year ahead," Peter McPherson, president of the Association of Public and Land-Grant Universities, said in a statement. Ambitious proposals to pour money into seeking a cure for cancer and the like "should not be immediately dismissed simply because there will be a new occupant at 1600 Pennsylvania a year from now."
But that's exactly what most observers expect will happen. The 2017 fiscal year, which the budget proposal would cover, begins on Oct. 1, five weeks before the Nov. 8 election and three-plus months before Obama is replaced. The Republican-controlled Congress is unlikely to take seriously a budget that would fund many of its big-ticket items with tax increases and other approaches conservatives don't like.
Republican congressional leaders went so far as to refuse to let President Obama's budget director formally present the plan to key Senate and House committees this week, a breach of a 40-year-old tradition.
"This budget joins his others by placing America on a fiscal path that is unsustainable and threatens our long-term economic growth," Senator Michael B. Enzi of Wyoming, chairman of the Senate Budget Committee, said in a news release.
Grain of Salt
So recognizing that the budget plan may prove to be little more than a menu for a Democratic successor to President Obama or something for a new Republican president to ignore, what is in it?
The administration's 2017 budget is first and foremost student friendly. It would fully fund the Pell Grant in 2017 and ensure that the maximum grant grows with inflation indefinitely -- a provision indexing the program to inflation is due to expire next year. At a briefing on Tuesday, Jeff Appel, deputy under secretary of education, described Obama's support for Pell as a "legacy feature" of his presidency.
The Education Department's budget plan also would restore year-round eligibility for Pell Grants, reversing a budget-conscious decision of four years ago, and create a $300 annual bonus for Pell recipients who take at least 15 credits per semester.
The budget would once again let prisoners earn Pell Grants and remake the Perkins Loan Program to make much more money available, but also to restructure it so that the funds flow primarily to institutions that enroll and graduate significant numbers of low-income students. The Obama administration has been trying to bring about the latter change since 2009.
Low-income students also would benefit from a plan to cut from the Free Application for Federal Student Aid numerous questions related to "assets, non-IRS untaxed income, non-IRS income exclusions, and other income adjustments, which have been shown to confuse students," the administration said.
Advocates for students generally applauded all those changes, which they said would help make college more affordable. Their one major qualm was with a budget provision that would "strengthen academic progress requirements" in the federal financial aid programs "to encourage students to complete their studies on time."
Supporters of low-income students frequently worry that toughening eligibility requirements will unfairly hurt academically underprepared students, but Carrie Warick of the National College Access Network said she had been assured by an Education Department official that the plan would "not include a full-time-enrollment or a [grade point average] requirement, which are the two elements we oppose seeing added." Instead, she said, the department plans to require completion of a minimum portion of the credits a student attempts.
"On the whole," Warick said, "the budget's proposed changes to the Pell Grant program, FAFSA simplification and changes to the campus-based aid allocation programs are all big wins for low-income students."
Mixed Bag for Colleges
The budget contains lots of sweeteners for colleges generally and for some groups of institutions (though it's probably safe to say there's little in there for for-profit colleges to like).
As has been the case throughout much of the Obama administration, community colleges would fare well under the 2017 blueprint. It contains the president's much-discussed (and expensive: $61 billion over 10 years) plan from last year's budget proposal to help states make two years of community college free, as well as more recently unveiled initiatives that would create 100 new job centers modeled on Tennessee's technical college system and establish a tax credit to encourage employers to hire two-year-college graduates.
The budget would also provide healthy funding for career and technical education and the Labor Department's existing job training programs; the latter would receive $138 million more in 2017 than it is this year.
"Over all the budget looks positive for our key programs," said James Hermes, associate vice president for government relations at the American Association of Community Colleges.
Historically black colleges would also benefit from the free community college plan, as low-income students who enroll there would also get funds. The administration also proposed a $30 million "Innovation for Completion" fund that would provide competitive grants to minority-serving institutions that "foster innovative and evidence-based, student-centered strategies and interventions to increase the number of low-income students completing degree programs."
The Research Picture
The supporting documents for the budget proposal offer a strong rhetorical argument for the importance of academic research and development for the country's future. "To compete in the 21st-century economy and make America a magnet for job creation and opportunity, we need to invest in American innovation, strengthening our manufacturing base and keeping our nation at the forefront of technological advancement," says a budget document about "meeting our greatest challenges." Research investment is key, it suggests.
And the budget does propose a 4 percent increase in overall spending on research and development, including an aggressive new "moon shot" push for cancer research, an extra $500 million for the National Science Foundation and a boost for energy research.
But the Association of American Universities was quick to point out that the budget plan would inflict "deep cuts in basic research at the Department of Defense" and that despite setting "aspirational goals" for research support, much of the new money would come from "mandatory funding streams that Congress will not seriously consider," because of the restrictive discretionary budget caps that remain in place.
In other words, AAU suggests, the administration's big increases are largely illusory.
"In the long run, our country needs to recognize that we face the threat of an innovation deficit caused by the combination of our own still-inadequate investment in research and higher education while other countries race to catch and bypass us," said Hunter Rawlings, AAU's president. "Only when Congress and the president are prepared to deal with the actual causes of the nation's long-term fiscal issues will there be adequate resources to fuel our nation's economy and its future."
A few other details about the budget proposal:
The budget for the National Endowment for the Humanities would edge up to $149.8 million, from $147.9 million this year.
The AmeriCorps national service program would be level funded, at $386 million, after getting a nearly $50 million lift in last year's budget agreement.
The budget seeks an additional $31 million for the Education Department's Office for Civil Rights, which has made a big push to crack down on campus sexual assaults, among other issues.