You have /5 articles left.
Sign up for a free account or log in.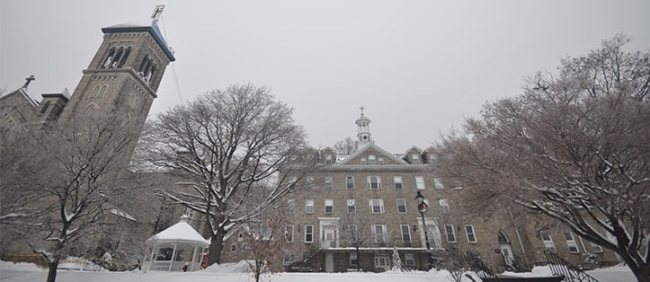 Cases involving the alleged violations of the rights of faculty members don't always attract much attention, especially if they are at colleges that don't usually attract much attention.
But Tuesday, many professors who hadn't heard of Mount St. Mary's University a month ago were paying attention to the Roman Catholic liberal arts college in Maryland in a way they never had before.
As they read about how the president there had fired two faculty members, outrage spread. One professor, who had tenure, was fired for insufficient loyalty, according to the letter he was given, signed by President Simon Newman. The other faculty member was the adviser to the student newspaper that revealed the Newman had told faculty members unhappy with his retention plans, "This is hard for you because you think of the students as cuddly bunnies, but you can't. You just have to drown the bunnies … put a Glock to their heads."
Behind the now infamous quote is an approach to retention that the president has pushed for -- despite opposition from many faculty members and administrators. The idea involved giving new students a survey, telling them there were no wrong answers and then using the results in part to decide which students to encourage to drop out early -- before they would owe much tuition or incur debt and before the college would have to record them as dropouts.
The president has said that such actions could raise the college's retention rate. And it was in discussing these plans with faculty members that he made the quote about drowning bunnies.
Many faculty members have criticized the president's plans, saying it is unethical for a college to admit students and not do everything possible to encourage success. These faculty members have said it would be completely legitimate for the university to raise its admissions standards, but that the obligation to all new students is to assume they will succeed with the right support.
Here are articles about how the story first broke, how the university responded by blaming faculty critics, how the president fired the provost (who opposed the retention plan and was allowed to keep a faculty job) and then fired two professors.
The developments at Mount St. Mary's have struck a nerve with many professors, who view the controversy as emblematic of an erosion of faculty rights and of what can happen when a nonacademic like Newman is given a presidency. Blog posts raised issues about the case and repeatedly made the point that -- with or without inflammatory metaphors -- many professors these days are vulnerable.
"We Are All Bunnies" was the headline of a blog post Tuesday by Elizabeth A. Lehfeldt, dean of the Jack, Joseph & Morton Mandel Honors College at Cleveland State University. The post urged faculty members nationwide to think about their own institutions, and whether enough was being done to protect academic freedom and the rights of non-tenure-track faculty members. "In the current higher ed climate, no one is immune from these kind of actions," she wrote. "We can shake our heads and wring our hands and say how messed up things are at Mount St. Mary, but I bet our colleagues there didn't see this coming, either."
Here are other developments on Tuesday:
The American Association of University Professors wrote to Newman, saying, "We are writing to advise you that your administration's action to dismiss Professor [Thane] Naberhaus without having first demonstrated adequacy of cause in a faculty hearing is fundamentally at odds with basic standards of academic due process." The letter added, "We therefore urge in strongest terms that you immediately rescind the notice of dismissal issued to Professor Naberhaus and that any subsequent action be consistent with the procedural standards cited above."
The Foundation for Individual Rights in Education issued a statement condemning the firings. "Mount St. Mary's went nuclear," said Peter Bonilla, director of FIRE's Individual Rights Defense Program. "It's shocking that the university fired faculty members, including a tenured professor, for dissenting from the administration and raising awareness of an issue of great concern to the community. Speaking freely is a dangerous proposition at the Mount if it is willing to go this far to silence its critics."
More than 2,800 people -- most of them faculty members from around the United States -- have signed a petition demanding the reinstatement of Naberhaus and of Ed Egan, the other faculty member fired. "The manner and circumstance of their dismissal raises serious questions about the respect given to moral conscience and intellectual freedom at Mount St. Mary's. Of particular concern is that Professor Egan was fired partly for actions taken in his role as faculty adviser to the university's student newspaper, which first broke the stories leading to the present controversy. It is also alarming that these faculty were fired without any academic due process as required under AAUP guidelines and the customary standards of tenure," the petition says. "As a Catholic institution, Mount St. Mary's is bound by the teachings that 'charity always proceeds by way of respect for one's neighbor and his conscience' (Catechism of the Catholic Church, par. 1789), and that in the context of the Catholic university 'the freedom of conscience of each person is to be fully respected' (Ex Corde Ecclesiae, II.2.iv)."
Philosophy professors are taking the lead in many online expressions of dismay. Amy E. Ferrer, executive director of the American Philosophical Association, noted that Naberhaus was a philosophy professor at the university and that the provost who lost that position, David Rehm, is a philosophy professor. She called the firings "deeply troubling."
At Elizabethtown College, in Pennsylvania but not far from Mount St. Mary's, the Faculty Assembly on Tuesday adopted a resolution that "denounces the decision of Mount St. Mary's President Simon P. Newman to terminate, without due process, faculty members for their disloyalty as antithetical to the mission of higher education and demonstrating a profound ignorance of academic culture and shared governance" and that "condemns the use of fear and intimidation, through threat of job loss, to silence faculty." The resolution urges Elizabethtown to look for ways to help those "unjustly terminated." Carl J. Strikwerda, president of the college, said via email that "based on the statements issued by Mount St. Mary's and the reports in the media, I'm deeply concerned about what appears to be a threat to due process, healthy debate and shared governance, all of which we greatly value in higher education."
A spokesman for Mount St. Mary's declined to respond to the various statements being issued. But he said, "Naberhaus was terminated because his actions violated multiple university policies and the university's standards of ethical conduct. He was not terminated for expressing differing views from those of the administration. To have done so would have been contrary to the academic and educational environment that has always characterized Mount St. Mary's University." Supporters of Naberhaus noted that no such policies have been identified nor was he given any hearing or even told of the alleged misdeeds, leading them to believe he is being punished for disagreeing with the president.
The Cardinal Newman Society, which encourages Catholic colleges to stay close to church teachings, has long been a fan of Mount St. Mary's, and includes it among the institutions it recommends. Many critics of Mount St. Mary's have said that its recent actions are inconsistent with the church's teachings on how people should be treated. The Cardinal Newman Society frequently issues news releases criticizing Catholic colleges for inviting to campus speakers who favor abortion rights or allowing student groups to stage The Vagina Monologues. A spokesman said that the society is doing one of its periodic reviews on which colleges it recommends, but that it would have no comment on Mount St. Mary's.