You have /5 articles left.
Sign up for a free account or log in.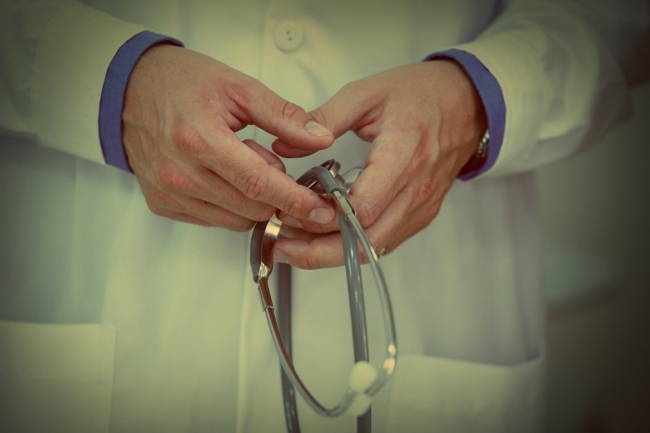 The medical student was depressed and nearly 1,500  miles from home. Feeling homesick is a common sentiment for students, but as she settled into her new life at the University of Nebraska Medical Center in Omaha, the student said, she felt especially alone.
She had long suffered from depression, and now, in an unfamiliar terrain, she could feel the familiar symptoms of the condition creeping in. While she attempted to balance the stress and responsibilities of medical school -- what she described as the "innate adjustment you go through when entering a professional program" -- the symptoms grew worse.
She was told to talk to a psychiatrist, she later recalled, but she wasn't sure she had time in her schedule for counseling. Before long, she was hospitalized for trying to harm herself.
The student is not alone. According to the American Foundation for Suicide Prevention, medical students have rates of depression 15 to 30 percent higher than the general population. Nearly 10 percent of fourth-year medical students in a 2009 study reported having suicidal thoughts in the previous two weeks. Few seek help.
"You have to prioritize mental health if you want to stay on top of it, but a lot of times in this environment you're under the impression that you should be putting your work ahead of yourself," the student, who asked that she not be named, said. "You face these time constraints. You're encouraged to maximize your study time and to keep pushing yourself. You think you have to 'suck it up.'"
Each year, an estimated 300 to 400 doctors commit suicide. That's the equivalent of losing an entire medical school student body to suicide annually.
In recent years, the issue has received more attention, in particular after two first-year medical residents jumped to their deaths from the top of buildings in New York City within days of each other in 2014. The public nature and timing of the deaths prompted national headlines and articles in academic journals, but the cases were not wholly surprising to administrators at residency programs and medical schools.
Instead, they highlighted a long-running -- though, officials say, too rarely discussed -- concern among health professionals.
"You're working and studying and not getting much sleep," Liselotte Dyrbye, associate director of research applications at the Mayo Clinic, said. "Time pressures are substantial and health professions students struggle with a lot of financial debt. There's the stresses that start in medical school, such as experiencing loss of a patient or dealing with a serious illness for the first time. Our ability to keep people healthier for longer periods of time has also made health care increasingly complex. Our very success has led to new challenges for health care professionals and students."
Dyrbye was a speaker this month at a two-day conference about mental health hosted by the University of Nebraska Medical Center. Last year, a student at the medical center committed suicide and another student attempted to do so this year, prompting the university to reassess how it was handling mental health and to organize the conference.
"It's pretty widely accepted now that stress, burnout, depression and suicide [are] not unheard of in health professions education, but there is still a stigma around these issues," Jeffrey Gold, the medical center's chancellor, said. "We're trying to shine the light of day on them."
A 2009 study published in the journal Academic Medicine found that students entering medical school generally reported the same level of mental health issues as their peers, while several studies show that levels of depression and anxiety increase as the students move through medical school, meaning there are stressors unique to medical school programs that can lead to depression, anxiety and suicidal thoughts. The research is widely known among educators in health professions, Juliann Sebastian, dean of the University of Nebraska Medical Center College of Nursing, said, but medical students are still less likely to seek help for emotional and mental problems than their similarly aged peers.
"No one wants to be thought of as having a problem, and this is a real concern for health professionals who are trying to help other people," Sebastian said. "It's difficult for them to reach out and say they might need help or that they'd benefit from some kind of mental health support or work-life balance."
A 2003 study published by the Journal of the American Medical Association concluded that "the culture of medicine accords low priority to physician mental health" through discrimination in medical licensing, hospital privileges and professional advancement. Andrew Shaw, Student Senate president at the University of Nebraska Medical Center, said even when a program is supportive of students struggling with mental health issues, the stigma is still present. "There's just this thinking that you're not supposed to be sick," Shaw said. "You're helping people get well. You're supposed to be well yourself."
In the years since the JAMA study, there have been serious attempts to address and destigmatize mental health among health professionals.
In 2003, residency programs were required to start capping work hours at 80 hours per week. The Accreditation Council for Graduate Medical Education now requires that medical programs provide counseling to trainees who might be thinking about committing suicide. In December, the University of Nebraska Medical Center hired a wellness coordinator, whose job entails "coordinating wellness activities and delivering proactive stress management education to students."
The center also recently modified its smartphone app to include software that helps students self-screen for mental health issues. It also features phone numbers for students seeking help. The numbers are located in several places within the app, Sebastian said. "We deliberately created redundancies so the information is available in multiple locations," she explained. "The last thing students who are stressed need to do is hunt for phone numbers."
This month's two-day conference was designed, Sebastian said, to help students talk more openly about mental health, and it included student-only seminars to encourage conversations about the issue.
The student who was hospitalized early in her time studying at the University of Nebraska Medical Center said there's now "a real sense of bringing the topic to the forefront" on campus. She eventually did seek counseling, she said, even though doing so left her with less time to study.
"I really had to change my priorities," she said. "I was doing things that were endangering myself, and that's something I don't want to do again."