You have /5 articles left.
Sign up for a free account or log in.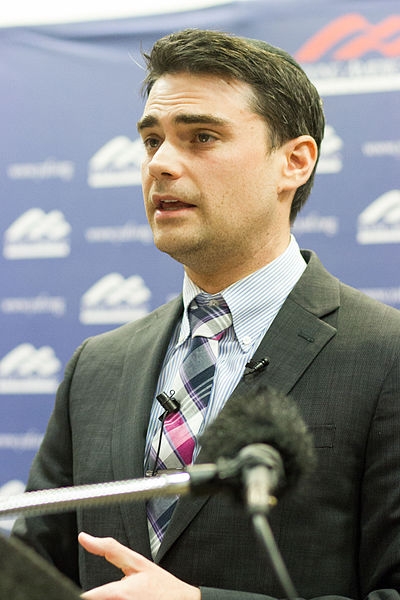 The president of California State University Los Angeles canceled a speech by controversial conservative writer and commentator Ben Shapiro after students and faculty objected to Shapiro's views. The president said Shapiro could appear later, but only alongside others with opposing views -- a requirement many advocates for academic freedom and free speech view as antithetical to those values.
Shapiro was scheduled to appear Thursday at an event called "When Diversity Becomes a Problem," where he would discuss "how trigger warnings, 'diversity,' microaggressions, Black Lives Matter, safe spaces and #concernedstudents1950 pose a threat to freedom of speech on college campuses."
William Covino, president of the university, sent an email Monday explaining his decision to Mark Kahanding, chairman of the campus chapter of Young Americans for Freedom, which organized the event and works to bring conservative speakers to college campuses.
"After careful consideration," Covino wrote in the email, "I have decided that it will be best for our campus community if we reschedule Ben Shapiro's appearance for a later date, so that we can arrange for him to appear as part of a group of speakers with differing viewpoints on diversity. Such an event will better represent our university's dedication to the free exchange of ideas and the value of considering multiple viewpoints." (Through the public relations office, Covino declined to comment further.)
When Shapiro's planned visit was announced, many students and faculty members quickly took to social media, especially the event's Facebook page, calling Shapiro racist and some of his supporters, in a post by one professor, "white supremacists."
But Young America's Foundation, the parent group of the campus organization that wanted to bring Shapiro to CSULA, said it was "sickened" by the decision. "This is a clear violation of student rights," its press release said, adding that several liberal speakers, such as Cornel West and Angela Davis, appeared on campus recently or were scheduled to do so with no requirement that their events include opposing views. "Only conservatives are subject to liberal administrators' obstructionist tactics to promote progressivism at the expense of any modicum of ideological diversity. This is a clear-cut case study in that disturbing pattern."
Peter Bonilla, director of the Individual Rights Defense Program at the Foundation for Individual Rights in Education, said that requiring Shapiro appear in a forum or debate alongside speakers with differing views raises constitutional concerns.
"It seems pretty clearly to be an unconstitutional action by the university," he said. "What the university can't do is what it's done, which is apparently compel the YAF chapter to include a diverse range of speakers, including speakers presumably who would be opposed to Ben Shapiro's viewpoint, as a condition of having him on campus as their guest."
"There's a very well-established doctrine of free association that gives students and student organizations the right to associate and not to associate with certain views and certain messages," Bonilla said. "Just like students can espouse what they want, they're free to not associate with who they don't want or to not provide a platform to those with messages counter to their own."
The American Association of University Professors also warns against requiring speakers with opposing views at an event in the name of balance. "Campus groups should not be compelled to invite someone they do not want to hear as a condition for inviting someone they do want to hear," reads a letter from the organization about outside speakers and academic freedom. "It would be improper for a university administration to require the College Republicans to invite Barack Obama in order to 'balance' Dick Cheney …. A different student group can invite Obama, or the university can create its own event and add it to the campus schedule."
Jose Castaneda, a student at Cal State who organized a rally against Shapiro's planned visit, said they (Castaneda's preferred pronoun) think the university made the right move. "Ben Shapiro's rhetoric directly attacks black and African-American, LGBTQ, and other marginalized communities," Castaneda said in an email. "Shapiro is using his college tour as an excuse to continue the same hateful rhetoric we have seen throughout U.S. history."
"I believe the university administration handled this event well," Castaneda said. After setting up the event page, they said, university staff reached out "tactfully and consistently," and Castaneda suggested that a forum featuring multiple perspectives might make more sense. "Cal State LA's administration is truly promoting intellectual and ideological diversity by rescheduling the event and changing the format to a forum. It does not impact Shapiro's freedom of speech in any way. I would hope other universities follow suit."
"It is a mistake," Castaneda said, "to allow for incredibly misguided speakers to divide college campuses with polarized views. Now more than ever, we must think critically about how information becomes biased when it is used for political purposes. Universities must not become an engine for the cultural production of ignorance. Instead, they should remain the sites for inclusive dialogues and intellectual growth."
Who Pays for Security?
Supporters of bringing Shapiro to campus also said that they were told that they would have to cover security costs -- a requirement they said was unconstitutional but that the university said was not part of the decision to call off the event.
Robert Lopez, executive director of the Office of Communications and Public Affairs, said he couldn't say more than that the letter "was not part of the calculation, and I know that because I was in those meetings," and "our fees are not unconstitutional."
A letter, sent by the conservative group Alliance Defending Freedom on behalf of YAF, says the university unconstitutionally charged the student group $621.50 for security services, citing only the fact that the speaker was controversial as its reason.
Attached to the letter, which can be found on the alliance's website, is a public safety work request from the student union director of operations that says, "Mr. Shapiro's topics and views are controversial, therefore university police will be assigned to this event."
Bonilla also said that if the charges are accurate, the fees do indeed appear to be unconstitutional.
"If the university judges security is necessary, then that's fine, but it can't pass those costs along to the students," Bonilla said. "If universities could pass on these extra security costs directly to the students holding the events, it could be all too easy for the groups with opposing viewpoints to see that group's events were priced into oblivion."
Just last year, Western Michigan University settled a First Amendment lawsuit alleging security fees charged to student organizers amount to a tax on controversial speech. The university agreed to revise its policies and pay $35,000 in damages and legal fees.