Commencement Choices and Diversity
Students and faculty members at Barnard question selection of a white woman -- someone not suggested by students -- to address graduates.
In recent years, debates over commencement speakers have focused on the political views or actions of some of those selected.
This year Barnard College is having a debate over whether it should have been more focused on selecting a minority woman to speak and whether the college should have been guided by student views.
Barnard announced last week that this year's speaker will be Anne-Marie Slaughter, president and CEO of New America, a think tank in Washington. Previously she was a professor at Princeton University and director of policy planning for the U.S. Department of State. She is also the author of a much-discussed 2012 article in The Atlantic, "Why Women Still Can't Have It All," which sparked debate about the difficulties of women balancing career success with family obligations. (In the piece, Slaughter credits sacrifices by her husband, Andrew Moravcsik, a Princeton professor, and their relative wealth for allowing her to be ambitious about her career.)
While many have challenged Slaughter's analysis of women's career success and others have supported it, the debate at Barnard is in part about Slaughter's views and also about what she is not: a minority woman.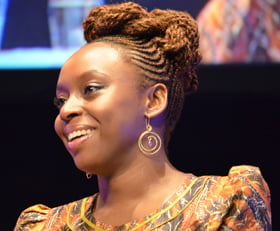 Mariam Elnozahy, a Barnard senior, created a petition and wrote an essay for The Columbia Daily Spectator urging that Slaughter be replaced by Chimamanda Ngozi Adichie (at right), an author who has won numerous awards and who divides her time between Nigeria, where she was born, and the United States.
Adichie is one of three people who in addition to Slaughter will receive the Barnard Medal of Distinction at commencement. Those honorees -- except for the commencement speaker -- don't address the graduates.
Elnozahy said that Barnard needs to seek out more speakers who are minority women. She noted that only two minority women have been commencement speakers at Barnard. (The college has had a prominent black man, President Obama, as commencement speaker as well.)
Barnard's student government surveyed students this year on whom they would want as commencement speaker, and Slaughter was not one of the choices recommended. Adichie was, along with several other minority women.
In her essay, Elnozahy wrote, "I, as well as many of my peers, have a different understanding of this Barnard ideal. From my experiences in classes and various student organizations, Barnard has been a place for me to cultivate a multifaceted conception of intersectional, inclusive feminism. This particular version of feminism is not represented by those who sit on boards of Fortune 500 corporations or those who hold government positions. Instead, it's represented by women who illustrate resilience and overcome adversity under everyday circumstances. Women who can express themselves through caretaking within the home, or women who demonstrate strength through hard labor. These are women whose stories are not told. For me, Adichie is one of the few writers in our age who puts these women at the forefront."
Elnozahy added a quote from one of those who signed the petition, who wrote: "I think the 'having it all' discussion is really constrained to upper-middle-class, white, heterosexual women, and I'm not sure someone who's made her fame on it would be the best person to address the whole Barnard senior class."
Several dozen Barnard faculty members wrote a letter backing Elnozahy.
Barnard's president, Debora Spar, weighed in with a letter of her own Friday afternoon. She said she was "deeply impressed" by Elnozahy's essay and that they had met to discuss it.
Spar did not comment on the critiques of Slaughter, but wrote that it was unrealistic to pick commencement speakers based on student surveys. "The selection of our commencement speaker is not -- and to the best of my knowledge never has been -- handled by either a committee or a student vote. Instead, while I always try to get a sense of student views and preferences, I reach out independently to potential speakers. There are several reasons why this is so, but the most important is purely practical: it is actually quite difficult to procure commencement speakers and usually involves a complicated alchemy of diplomacy, persistence and luck. At times, we have speakers lined up years in advance; other times the acceptances come at the eleventh hour," Spar wrote.
She did say that she would look for opportunities for the medal winners to give addresses at Barnard, and saw value in their doing so. Spar added, "I take your broader concerns about diversity seriously and look forward to working with you in the days and months ahead to find ways to bring as many voices as we can to campus and to our shared community."
Via email, Slaughter said: "I am enormously honored to be one of such a distinguished group, all the more as I am a great fan of Chimamanda Ngozi Adichie's writing. I also understand the concerns of the students who wrote; one of the themes of my book Unfinished Business is that our current brand of advancing women by focusing on how many CEOs, presidents and other leaders we have distracts us from the core issues that are so important for the vast majority of women. We have an unlovely symmetry: too few women at the top and far too many at the bottom. I also understand the desire to provide as many fora as possible for women of color, whose voices are so often silenced. Over all, the vibrant debate demonstrates that Barnard is doing its job of fostering independent thinking and individual action; President Spar has responded in just that vein with a pledge to find opportunities for all Barnard's medalists."
Read more by
You may also be interested in...
Today's News from Inside Higher Ed
Inside Higher Ed's Quick Takes
What Others Are Reading
Past:
Day
Week
Month
Year