You have /5 articles left.
Sign up for a free account or log in.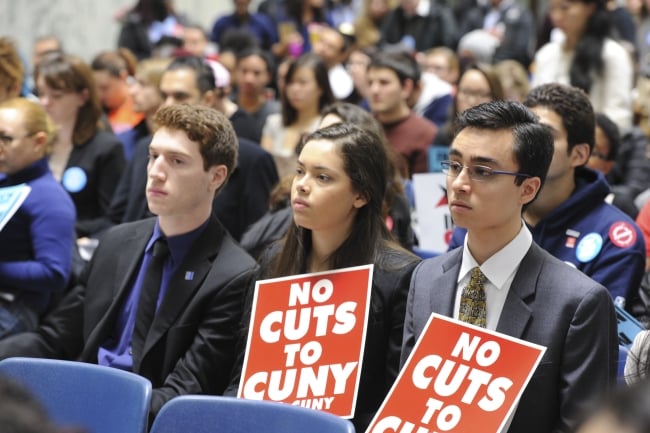 Soon after Governor Andrew Cuomo unveiled his budget for fiscal year 2017, the protests began at New York City's public colleges.
Nearly 500 students and faculty members traveled to Albany two weeks ago to attend a rally, and another group returned Tuesday to meet with legislators. Last week, the University Student Senate held a press conference on the steps of City Hall.
Why are you targeting our colleges? they asked. Do you know how much the higher education system matters to our city?
For decades, the state has paid for most of the operating funds of the City University of New York's four-year colleges and universities, much like it does for campuses of the State University of New York (though CUNY's community colleges do receive city funds). But in January, Cuomo announced his plan to reduce state funding by $485 million. On Thursday, the New York State Assembly rejected the plan in its one-house budget, which proposes restoring the $485 million and freezing tuition for two years. But the matter is far from resolved.
The budget debate is driving a wedge between the colleges and the state. Many worry that Cuomo isn't looking out for CUNY's best interests, and they wonder how badly such a drastic cut will hurt the university system.
"We feel that the governor's not listening," said Joseph Awadjie, University Student Senate chair and a graduate student at Brooklyn College. "We feel that he's turned his back on us."
Cuomo's argument relies on the university system's history: the state started funding CUNY back in the 1970s, when the city was going through a devastating fiscal crisis. But now that the city is faring well, the governor's office wrote in a budget briefing, Cuomo wants to shift that responsibility back to the way it was.
And then there's the matter of governance. Because the city controls 30 percent of appointments to the CUNY Board of Trustees, Cuomo argues, it should also pay 30 percent of its expenses.
If the governor's plan goes through, CUNY's funding model would be an anomaly. While CUNY evolved from a historic commitment from New York City, many other public universities in urban areas -- think the University of California at Los Angeles, Georgia Institute of Technology or the University of Illinois at Chicago -- are financed by states, not cities. Bachelor's-degree-granting and graduate and professional institutions in the public sector are with a few exceptions not financed by local governments.
One of the largest university systems in the country, CUNY sees itself as one of the only affordable pathways to opportunity for the city's underprivileged. Last fall, minority students made up around 75 percent of the student body. Over half were Pell Grant recipients, and about a third came from households making less than $20,000.
"We cannot cut CUNY," Eric Adams, Brooklyn borough president, said at a recent rally. "This is not an option. This is not a discussion."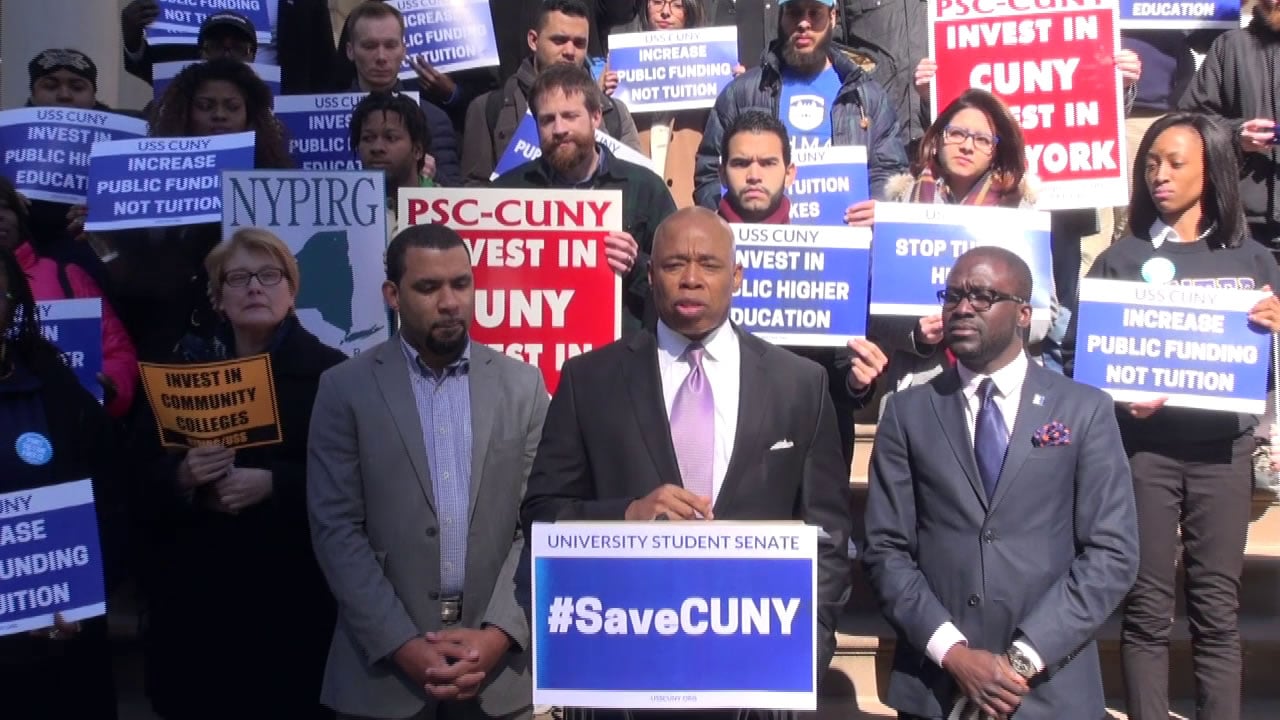 But it's not a cut, Cuomo has argued. Since the announcement, the governor has avoided using the term, and he promised that the change "won't cost New York City a penny." Of course those who depend on CUNY say that even if you say removing nearly a half billion dollars isn't a cut, that noncut is a lot of money.
Budgets are more than just dollars, Cuomo told NY1 in January; they are a way to promote policy conversations.
"The budget process goes on for months," he said. "This is really the beginning of a discussion."
For Cuomo, the budget is about reducing the cost of bureaucracy. He wants the state and the city to work together to centralize services and processes across the system.
"There is no scenario in which this plan would adversely impact CUNY students," Dani Lever, a Cuomo spokeswoman, said in a statement. "To suggest otherwise is simply untruthful."
New York City Mayor Bill de Blasio plans to hold the governor to his word. After initially vowing to fight Cuomo's proposed budget, the mayor's strategy seemed to shift. In recent weeks, he's repeated the governor's promise that the new budget won't hurt the city.
"The governor has assured us this won't cost the city a penny, and we take him at his word," de Blasio spokeswomen Amy Spitalnick said in an email.
CUNY officials echo de Blasio, saying that they're working with the parties involved in the budget negotiation process, and that they're pushing for a secure outcome that supports CUNY's mission, but they declined to comment further.
James Milliken, CUNY's chancellor, has also been hesitant about calling the change a cut. Like the governor proposed, he has said, it's "a shift in the funding source."
In a February budget hearing, State Senator Liz Krueger told the chancellor that she was skeptical, and that she did interpret the plan as a proposed cut. "Let's say I'm right. What do you do on day one of the new budget year when you don't have that $485 million?"
"Numerous colleges, depending on how you did this, would have to be closed, or you'd take a 30 percent decrease across the entire system," Milliken told her. "I can't even imagine how devastating that kind of a reduction would be."
And he doesn't have to, he added. "I haven't laid out what the scenario would be yet, because I can't imagine that that is a possibility."
A Shift in Funding
But two months after Cuomo's budget announcement, it's still unclear exactly where the money will come from, or how the city will make up the difference.
"You can't suddenly dump that additional expenditure on the city," said Richard Ravitch, former lieutenant governor of New York and an expert on city and state finance. "Over a period of time, you might."
"If that cut were to be put in place, and the city were not willing or able to pick up that enormous amount, then CUNY would suffer ruinous consequences," said the faculty union president, Barbara Bowen. "It would be devastating."
Bowen sees the proposal as part of a history of underfunding. She's angry about the cuts, but as head of the union, she's also angry that faculty members haven't gotten a raise in six years.
"People are jumping ship," she said. "It's tragic. We're losing people who want to be there to teach our students."
In his budget, Cuomo plans to put $240 million toward retroactive raises for faculty members, a proposal Bowen believes is vital. But the money is tied to the half-billion cut, and it's unclear whether one could go through without the other.
In late February, a group of New York state senators spoke out against Cuomo's plans in a letter. The $485 million cut is too much, they wrote, and the $240 million for faculty raises should be uncoupled from the budget cut.
Besides, they continued, the state provides all of the funding for SUNY's senior colleges. "Fairness dictates that there be parity between CUNY and SUNY," they wrote. "What is done for SUNY must be done for CUNY."
The idea that Cuomo favors SUNY over CUNY is a common complaint from the governor's critics. Some believe that there's unresolved tension between Cuomo and de Blasio, and that Cuomo has a fraught relationship with the university system; in 2014, the faculty union did not endorse his re-election in the Democratic primary.
Others argue that, because New York City is doing well this year, Cuomo wants to tap into the city's reserves and send more money elsewhere. "All he cares about is those upstate," Awadjie said. "What about us in the city?"
Lever said the governor is committed to CUNY's mission and its students, many of whom are the first in their families to attend college. "The governor has always been a champion and advocate for these students and is committed to ensuring this system remains strong, healthy and viable for generations to come."
For the governor, the way to do that is by consolidating and streamlining services. It's a goal, Lever said, that would actually direct additional resources to the classroom.
In late January, Cuomo's operations director, Jim Malatras, wrote a letter about high costs at the state's public colleges. The state's top 50 highest-paid employees are all from CUNY and SUNY, he wrote, and administrative overhead is high: $4,634 per student at CUNY and $3,804 at SUNY.
What he didn't mention, his opponents are quick to point out, was the breakdown of that top-50 list. In reality, only three of those employees come from CUNY; the rest are from SUNY. And many of the SUNY employees on the lists work at the university's hospitals, where health professions salaries are hardly reflective of what those who teach undergraduates earn.
Then there are the smaller affronts: the governor has been accused of mentioning CUNY less in his speeches and meeting less often with its leaders, and there have even been rumblings that he hopes to merge the two systems. In January, he backed a $15 minimum wage at SUNY, but not at CUNY.
At least, not yet at CUNY. Lever reiterated that SUNY's board agreed to raise the minimum wage for its employees, and said that the governor will work with CUNY to do the same.
Even so, some students complained that the governor isn't saying enough. Even if the budget doesn't cost them, they feel that Cuomo threatened their colleges while leaving important questions unanswered.
"It's really putting a sour taste in how we look at the governor," Awadjie said.
And if funding is going down, Awadjie doesn't think tuition should go up; why should students pay more money for fewer services? This weekend, he will attend a march across the Brooklyn Bridge to protest the cuts.
Chika Onyejiukwa, a student at Hunter College and the University Student Senate's vice chair for legislative affairs, attended the governor's budget address in January, and she will be at the march this weekend, too.
"We feel like we're part of a political game that the governor is playing," she said. "We do believe that the state has always been there for us, but we are being forgotten."