The 2016 Women's Academic Bracket
Inside Higher Ed's fifth annual academic bracket for the NCAA women's basketball tournament. And the winner is ...
Can DePaul University continue its winning streak?
This is the fifth year of the annual Inside Higher Ed academic bracket for the National Collegiate Athletic Association women's basketball tournament. With this bracket, how teams perform in the classroom is what determines the victor.
Here's how it works: to determine the winners, we first look to the Academic Progress Rate, the NCAA's multiyear measure of a team's classroom performance. When two teams tie, we turn to the NCAA's Graduation Success Rate, which measures the proportion of athletes on track to graduate within six years*.
In the event of a GSR tie, we then turn to the Federal Graduation Rate, a different formula that the government uses to track graduation rates.
DePaul has emerged the winner in three of the previous four tournaments, and was the runner-up in a third. This year, DePaul made it once again to the championship round in a clash of academic performance that went into double overtime, tying on both the APR and the GSR.
Click on the bracket below to see if DePaul continued its streak, and be sure to check out our men's tournament bracket.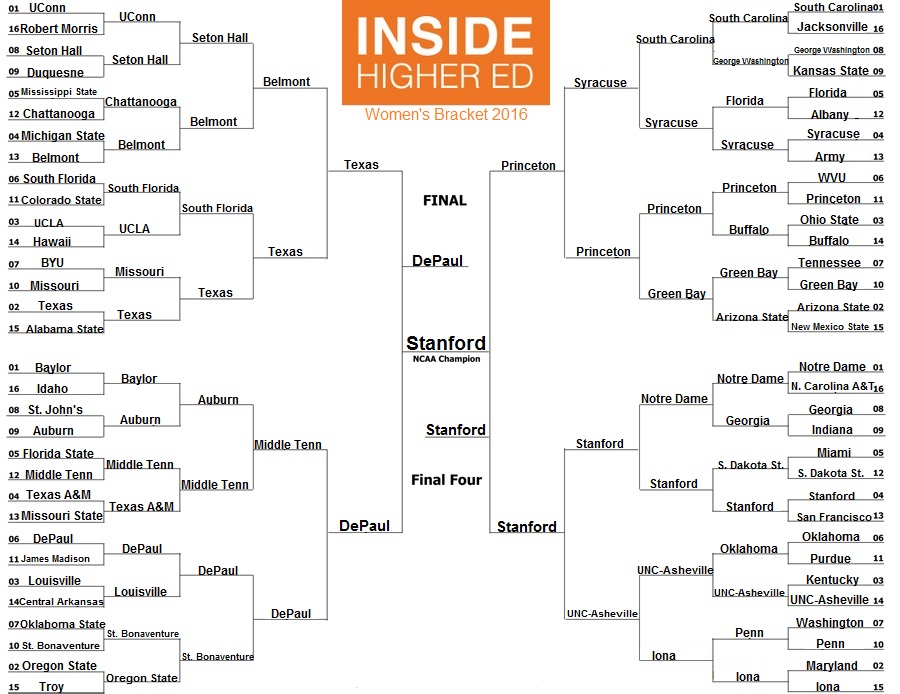 *The NCAA's approach has its critics.
You may also be interested in...
Today's News from Inside Higher Ed
Inside Higher Ed's Quick Takes