You have /5 articles left.
Sign up for a free account or log in.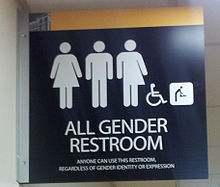 Introduced, debated and passed last week -- by the North Carolina House and Senate -- and signed by the governor in under 12 hours. Such was sudden and speedy birth of North Carolina's Public Facilities Privacy and Security Act, which will force public colleges and universities (as well as other public venues and government buildings) to require their restrooms be used only by people whose biological sex at birth matches the sign on the door.
The law, which also prevents local governments from passing individual antidiscrimination laws, was swiftly and forcefully denounced by gay and transgender rights organizations. Several private colleges known for being friendly to lesbian, gay, bisexual and transgender students also rejected the spirit of the law -- though it does not directly affect them -- and affirmed they will remain as inclusive as ever, including the choice of individuals to select their own restrooms.
For many professors and academic leaders, many of whom are content to use traditional gender restrooms, the law's impact goes well beyond bathrooms. They see the legislation as a sign that North Carolina is hostile to transgender and gay people, potentially deterring prospective faculty members and students from coming to the state's many colleges and universities.
Despite all the concern, public college leaders have generally not spoken out on the law. Some number of them have restrooms that either by policy or de facto practice are open to all -- and many institutions have said that they haven't considered it an issue if people select their own bathrooms. Such policies -- formal or de facto -- could be forced to change.
"We are still digesting, studying and trying to understand the law," said Buffie Stephens, a spokeswoman for the University of North Carolina at Charlotte. "I think everybody is."
"We do not have an official bathroom policy," she said. "When someone goes into the bathroom, we're not monitoring what gender goes into the bathroom. We monitor behavior -- if there's inappropriate behavior we would deal with that no matter what gender in any bathroom."
Whether or how the university would change its behavior was still unclear, she said.
The law states, however, that, "Public agencies shall require every multiple occupancy bathroom or changing facility to be designated for and only used by persons based on their biological sex."
Both the University of North Carolina at Chapel Hill and a UNC system spokeswoman said they were still investigating how the law would impact their campuses. "We remain fully committed to making sure that our campuses are welcoming and inclusive places for students, faculty and staff of all backgrounds, beliefs and identities to live and learn and work alongside one another," said Joni Worthington, a spokeswoman for the university system.
UPDATE: On Monday, three university employees backed by Lambda Legal, the American Civil Liberties Union, the ACLU of North Carolina and Equality North Carolina sued the state, charging it with illegal discrimination. One of the plaintiffs, Joaquín Carcaño, a transgender employee at Chapel Hill, said that the new law "is hurtful and demeaning. I just want to go to work and live my life. This law puts me in the terrible position of either going into the women's room where I clearly don't belong or breaking the law. But this is about more than restrooms -- this is about my job, my community and my ability to get safely through my day and be productive like everyone else in North Carolina."
Title IX Impact
Critics of the law see a negative impact on students and institutions. "Transgender people suffer from more harassment and fear [for] their physical safety on campus," said Shane Windmeyer, executive director of Campus Pride, which advocates for gay, lesbian and transgender students. "In the state of North Carolina, we just amplified that three times prior to what it was."
Windmeyer also suggested the law could put the state's $4.5 billion in federal higher education funding in jeopardy. A 2014 clarification from the Department of Education specified gender identity and "failure to conform to stereotypical notions of masculinity or femininity" are covered under Title IX of the Education Amendments of 1972, which bars sex bias by institutions receiving federal funds.
"The UNC system and statewide public higher education has a real safety issue on their hands and a real risk of losing $4.5 billion in federal aid resources due to Title IX compliance," he said. "The UNC system leadership and higher education should be up in arms about the harm and negligence of HB2 becoming law. They should be speaking out vocally for the safety of all students, particularly LGBTQ youth, as well as the potential loss of billions of revenue. To not do so is plain stupid and cowardice. I sincerely hope the UNC system will speak up -- but I'm not holding my breath."
Margaret Spellings, who is president of the UNC system and assumed office this month, has come under fire in the past for her statements on LGBT issues. After her appointment as system president but before assuming office, she answered a question about gay rights by saying, "I'm not going to comment on those lifestyles."
Many individuals and groups, including Windmeyer's Campus Pride, said use of the word "lifestyles" was problematic and showed a lack of understanding of gay issues.
Community Colleges Covered as Well
The North Carolina community college system was closed and unavailable for comment Friday (despite several emailed attempts), but it is covered by the new law and some of its campuses have been subject to accusations of transgender discrimination.
Two years ago, for example, a transgender student named Andraya Williams was detained by campus police and escorted off campus after using the women's bathroom. That community college, Central Piedmont Community College, currently allows individuals to use the facility matching their gender identity, and, according to a spokesman there, is still looking into how its campus will be impacted: "Of course, it's the college's intent to comply fully with all local, state and federal laws."
Private Colleges Are Speaking Out
Several private colleges in North Carolina condemned the new law and assured their students it does not cover their campuses.
"As a Quaker college that has historically worked to oppose discrimination and is guided by our core values, we deeply lament the passage of this harmful bill and remain fully committed to affirming the lives and experiences of LGBTQ community members and providing a welcoming and inclusive educational environment for all," wrote the president of Guilford College, Jane Fernandes.
Guilford, as well as Elon, Duke and Wake Forest Universities, all said last week that students on campus were free to use whichever restroom aligns with their gender identity.
Wake Forest University and Davidson College's presidents took to Twitter to reassure students and faculty members.
Also speaking out was the president of Northeastern University, which is based in Boston but has a campus in Charlotte. A statement from Joseph E. Aoun, the president, said, "At Northeastern University we believe diversity is a strength to be celebrated, not a source of division. Diversity in all its forms -- race, gender, religion, political beliefs, sexual orientation, gender identity -- enhances the pursuit of knowledge and prepares people to thrive in a pluralistic society. We join with many other organizations in North Carolina, and across the country, in expressing our deep concerns about this new law."