You have /5 articles left.
Sign up for a free account or log in.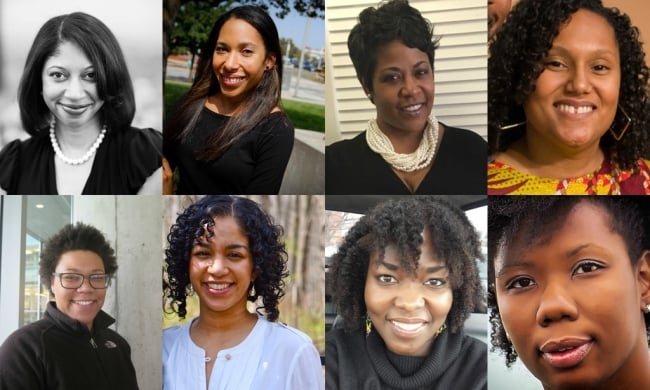 Eight African-American women will earn Ph.D.s in education from Indiana University this May. That number is unusually high even for a field that tends to attract a greater proportion African-American doctoral candidates -- compared to math, say, or engineering -- and it's high even for Indiana University's School of Education, which has put a premium on building a diverse faculty.
The students attribute much of their achievement to a group the eight of them formed, which they call their sister circle, through which they were able to support one another and vent shared frustrations. In any given year, the Indiana University School of Education might graduate one or two African-American Ph.D. students, maybe three. When the website For Harriet noticed that number this year would be eight -- eight women -- they were dubbed "the great eight."
"This has been a really humbling experience for the eight of us," said Juhanna Rogers. "Jasmine [Haywood] made a Facebook post one night, which is totally out of her character, and then we went to bed and woke up in a different world."
The group's conception, Rogers said, can be traced back to an academic conference several years ago, though she couldn't remember which one. Rogers and another soon-to-be member (and imminent graduate), Nadrea Njoku, were discussing the black male experience in education. It seemed to them, Rogers said, that there was more institutional support for black men than women in education, via initiatives such as My Brother's Keeper, which was launched by President Obama to close opportunity gaps for men and boys of color.
"We thought maybe we could come together and just talk and see if other people feel the same way, too," Rogers said. Which, it turned out, others did.
"We were able to create a safe space for being able to talk about our social lives and aspects of being the in Ph.D. program," said Njoku. Not only were the circle's members often the only African-American students in a classroom, she said, they differed demographically in other ways as well. The majority of them are mothers, for example, and married or newly married.
A number of other factors contributed, at least to some extent, to this year's record-breaking graduation.
The graduating class is larger than normal this year, for example, said Victor Borden, coordinator for the doctoral program that six of the eight students completed. The higher education and student affairs program, headquartered on the Bloomington campus, usually only graduates seven or eight Ph.D. students. This year it's 12 or 13, Borden said. The other students completed the Urban Education Studies program at Indiana University-Purdue University at Indianapolis.
"We have also expanded the diversity of our faculty in recent years," he said. "When you have faculty of color, they can serve to attract students of color."
Njoku and Rogers both echoed that sentiment.
"Indiana University, and specifically higher education and student affairs, has a long history of educating critical and prominent African-American scholars," Njoku said. "You go to these conferences, and you look through conferences' booklets. Everyone that's black that you see that's critical graduated from this program."
"The idea that we stand on the shoulders of individuals couldn't be more true in this case, because the lineage between all of us getting here connects back to the groundwork that was laid by faculty and students that came before us," Rogers said.
Both also noted that Indiana University has a flexible admissions process that will tolerate lower GRE scores in favor other metrics, like references and personal statements, which can be kinder to black applicants.
Looking toward the future, Njoku has handed off the logistical responsibilities of running the circle to Haywood, another member of the eight and managing editor of the International Journal of Qualitative Studies in Education. She in turn will eventually hand it off to someone else. The plan is very much to keep the sister circle alive after the great eight have graduated.
"I will say that it's going to be difficult because there's not many women of color coming after us, or not as many as there have been," Haywood said. "There's a couple people that I think might be interested, so I'll essentially hand it off to them."
She and the others are also lobbying Indiana University for administrative support of the circle as well as other initiatives to support underprivileged students.
"We're looking to get our group institutionalized," she said, "so that it's more sustainable and supported by the institution, because, while I know it's needed, it takes a lot of my time, and I think the institution has a responsibility to retain graduate students of color."
The eight women (in left-to-right, top-down order per the headshots above) are Jada Phelps-Moultrie, Shannon McCullough, Johari Shuck, Nadrea Njoku, Tiffany Kyser, Jasmine Haywood, Demetrees Hutchins and Juhanna Rogers.