You have /5 articles left.
Sign up for a free account or log in.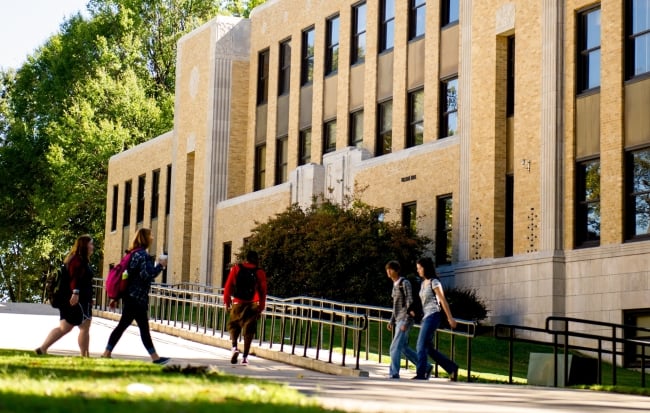 When he applied to medical school, John Ukadike wanted to stay close to home.
But he was open to going farther; he had to be. Home was Little Rock, Ark. -- and Arkansas had only one medical school.
And then, in December, the state had two -- the newest with a long-distance pedigree.
This fall, Ukadike will join the inaugural class at the New York Institute of Technology College of Osteopathic Medicine's new location. Students will take classes on the campus of Arkansas State University -- a public institution in Jonesboro, Ark. -- and they will earn an NYIT degree.
Why Jonesboro? Arkansas is one of the country's unhealthiest states. It ranks 46th out of 50 states in the number of active physicians per capita. And it ranks 48th out of 50 states in its population's health status.
Over the next nine years, the country will be short 61,700 to 94,700 doctors, the Association of American Medical Colleges predicts. But the shortage is spread unevenly across the country, with some states suffering far more than others. Massachusetts, for instance, has more than 400 physicians per 100,000 people, while Arkansas, Idaho, Mississippi, Nevada and Wyoming all have fewer than 200.
To address the problem, medical schools are experimenting with ways to graduate more doctors. Since 2002, M.D.-granting-medical-school enrollment has grown by 25 percent, and it is expected to increase by 32 percent by 2020, according to a new report from the AAMC. And at D.O.-granting medical schools, enrollment is expected to increase by 55 percent.
While much of that growth comes from expansion at existing schools, some of it comes from the creation of new medical schools. Since 2002, 20 new M.D.-granting medical schools and 10 new D.O.-granting medical schools have been established.
Over all, 84 percent of medical schools have -- or plan to establish -- programs to recruit diverse students interested in working with underserved populations. Sometimes that means creating new locations in rural areas, in states at the bottom of the AAMC's lists. When students study in underserved locations, the hope is that they'll stick around.
"In states that are experiencing shortages in physicians, the best way to supply more physicians is to grow your own," said Barbara Ross-Lee, dean of NYIT's new location.
But new locations are expensive -- and logistically fraught. At the same time, many medical schools are already at capacity, unable to increase class sizes on their main campuses. That's why some medical schools are operating on the campuses of other colleges instead of building their own spaces in new locations.
"This is a way to meet a real, legitimate need in a cost-effective way," said Charles Bird, a former Ohio University administrator who now consults with colleges and universities about branch campuses.
More often, Bird sees universities partner with community colleges in other locations. But for medical schools like NYIT, planning partnerships with four-year colleges, the benefits are similar: the partnerships allow medical schools to grow enrollment while saving on expenses like infrastructure and staff support.
NYIT calls its new location a "landlord-tenant arrangement," with NYIT leasing space from Arkansas State. NYIT pays for access to services like student health and libraries, along with equipment like lab tables and medical technology, while Arkansas State is responsible for renovating NYIT's space. The two universities don't split the revenue, and tuition dollars go straight to NYIT.
At the same time, rural locations attract applicants who want to study in their home states, like Ukadike. NYIT tends to recruit regionally; at its Jonesboro location, it recruits in Arkansas and the surrounding area. The applicants to the New York and Jonesboro campuses rarely overlap.
'The Cost Is Way Too High'
It's hard to attract doctors to rural, underserved areas. But often, the best results come from recruiting students who are from those areas and then keeping them in those areas during medical school.
"Students who train in those communities get to know those communities," said the University of Kentucky's provost, Tim Tracy. "It's not just a place they come to train. They become part of it."
The University of Kentucky College of Medicine's main campus, in Lexington, is already at capacity. Soon, it will open a new medical school program in Bowling Green and expand another program located in Morehead.
Like Arkansas, "Kentucky unfortunately leads the country in some statistics that we would prefer not to lead in," Tracy said.
Kentucky is sixth in the country in heart disease, seventh in diabetes and eighth in strokes. The state ranks 36th in the country for active physicians, and 40th for active primary care physicians.
"Just too many Kentuckians die," Tracy said. "The cost is way too high."
Tracy is confident that students at the new locations will stay there. So is Ross-Lee. She estimates that, after graduation, 70 to 80 percent of graduates will stay in Arkansas to practice.
But the decision to stay is complicated. Even if graduates want to stick around, they need to be able to find a residency position, which isn't always easy.
"If you have more medical graduates than residency positions, those medical graduates are going to have no choice but to seek residencies outside of the state," said Tannaz Rasouli, the AAMC's senior director of public policy and strategic outreach.
A number of factors go into students' location decisions: whether they grew up in a rural community, whether their spouse grew up in a rural community, whether their spouse will be able to find work.
Still, Rasouli said, the students most likely to stay in a particular location are the ones who completed their training and residency there -- which is why it's critical for medical schools to expand into underserved areas. "A shortage in 2025," she said, "is really a problem we have to address today."
But students operate on their own timelines: they spend a few years at medical school and then they figure out what comes next.
"Four years is a long time for me to say 100 percent I'll be in Arkansas," Ukadike said. "But it's very likely that I come back to Little Rock and practice there. So there's a high chance that I'm going to stay."