You have /5 articles left.
Sign up for a free account or log in.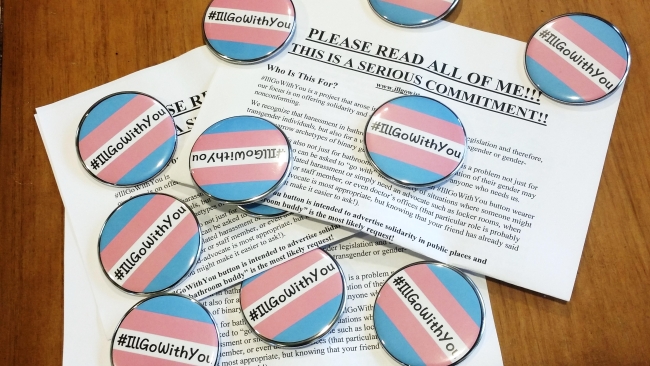 Oregon State University's Pride Center
To support its transgender students, Oregon State University has started handing out pink-and-blue-striped pins that read #IllGoWithYou. By wearing the pins, students offer to accompany their transgender peers to gender-exclusive spaces -- like bathrooms and locker rooms -- where they may feel unsafe.
"It shows support," said Cindy Konrad, assistant director of LGBT Services and Outreach. "It shows there are people on campus who care."
When the campaign began in the fall, it was months before North Carolina barred transgender people at public colleges from using bathrooms associated with their gender identities. And even now, as the ban continues to attract national attention, the controversy seems far away from Oregon State.
And in many ways, it is.
"It isn't something that people are particularly worried about happening here," Konrad said.
Oregon State already has 200 gender-neutral bathrooms on its 400-acre campus. Konrad thinks it's a good start, but that it would be helpful to have more.
The #IllGoWithYou campaign started off slow. But by the winter, the university's other cultural centers wanted to take part. "Now, we get six to 10 people coming in a day asking about the buttons," Konrad said.
At the state policy level, Oregon's climate is nothing like North Carolina's. Earlier this month, the Oregon Department of Education released guidelines for supporting transgender students, including a recommendation to provide gender-neutral accommodations for students who request them.
But despite the 2,500 miles separating the states -- and the fact that, in many cases, efforts to support transgender students have been in motion for years -- the North Carolina law is changing the discussion's tone.
"We've seen a real surge in interest around these issues," Konrad said. "The situation in North Carolina is helping to spur conversations on all campuses."
'A Lack of Clear Policy'
In response to the North Carolina legislation, the Obama administration issued a letter earlier this month, directing public schools to allow transgender students to use services in a way that's consistent with their gender identity. The administration has made clear that the letter applies to higher education as well. (Some colleges have obtained exemptions based on their religious views.)
For years, many colleges have been expanding services -- and not just bathrooms -- for transgender students and employees. Many others have not done much but have allowed transgender people to use the bathroom of their choice. The debate in North Carolina has led to more institutions announcing specific policies that protect the rights of these students.
Yale University announced this month, along with commencement information, that gender-neutral bathrooms will be available in 23 buildings. On its website, Yale details the bathrooms' locations in an interactive map.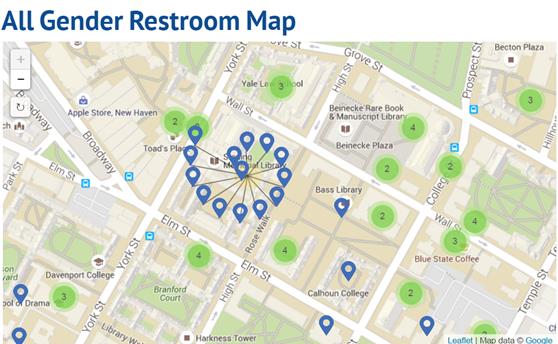 Additionally, Yale will now allow students to use the name they prefer, rather than the name on their birth certificate, on their diplomas. And many other colleges are adopting similar changes -- typically small ones -- that allow transgender students to complete everyday activities as their preferred gender.
"There's just a lack of clear policy or options," said Zooey Sophia Pook, coordinator of LGBT+ programs at New Mexico State University.
In many cases, she said, the problem isn't discrimination. Rather, the problem is that the world isn't already suited to meet transgender students' needs. Simply expanding access to services for these students goes a long way, Pook said.
NMSU already has a number of gender-neutral bathrooms. While they're harder to add to older buildings, most new buildings on campus have them. The university is also adding more housing options for transgender students, as well as an option for preferred names on class rosters.
"I completely understand the climate of the school," said Pook, who is transgender. "I really wanted to push these things."
States That Push Back
The guidance from the Education Department, while aimed at North Carolina, applies across the country. But that doesn't mean that all states agree -- and now, some are pushing back.
In Louisiana, Attorney General Jeff Landry encouraged colleges to refuse the federal government's guidance, and state legislators have also questioned whether President Obama's actions were legal.
Louisiana State University did not respond to requests for comment, but the institution had already promised to add more gender-neutral bathrooms last March. "Everyone wants to be comfortable when taking care of a basic need, like using a restroom," Derrick Rovaris, vice provost for diversity, told The Times-Picayune at the time. "The gender-neutral restroom gives everyone the opportunity to feel comfortable."
In resisting states, sometimes it's the colleges themselves that matter most. Even in North Carolina, private colleges -- which aren't affected by the new legislation -- are working to show their support for their transgender students.
Last week, Duke University announced that it would turn some of its single-stall bathrooms into gender-neutral facilities. While the university isn't building any new restrooms, the goal is to have one gender-neutral bathroom in every building that already has single-stall bathrooms.
At Duke, many are vocal opponents to the North Carolina legislation. A petition, started by Duke employees, got 600 signatures in the first day.
The new initiatives weren't prompted by the state legislation, though they weren't entirely unconnected, either. The gender-neutral bathrooms are part of an ongoing effort -- but the legislation prompted Duke to emphasize its commitment to equality, said Benjamin Reese, vice president of Duke's Office for Institutional Equity.
"There are strong feelings about anything that the governor or the Legislature might do that might directly or indirectly infringe on equity or fairness," he said.