You have /5 articles left.
Sign up for a free account or log in.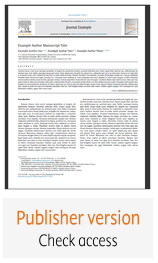 The University of Florida and Elsevier are unveiling a project to connect the institution's repository of scholarly works to the larger network of publishing platforms, giving users a portal through which they can explore tens of thousands of articles by the university's authors.
Researchers at UF publish around 8,000 scholarly articles a year, and about a quarter of them appear in the top 10 percent of the most cited journals. Elsevier's journals are the most popular destination; about 1,100 articles appear in the publisher's journals, and they generate more citations than articles published elsewhere, on average.
Yet with all that research output, UF hasn't had a culture of authors depositing their articles in its institutional repository, said Judith C. Russell, dean of university libraries at UF. The repository collects research and disseminates it free, but while graduate students might deposit their dissertations, anyone looking for research published in scholarly journals has had to look elsewhere. In fact, until this year, the Institutional Repository at the University of Florida, known as IR@UF, contained just seven articles that appeared in journals published by Elsevier, she said.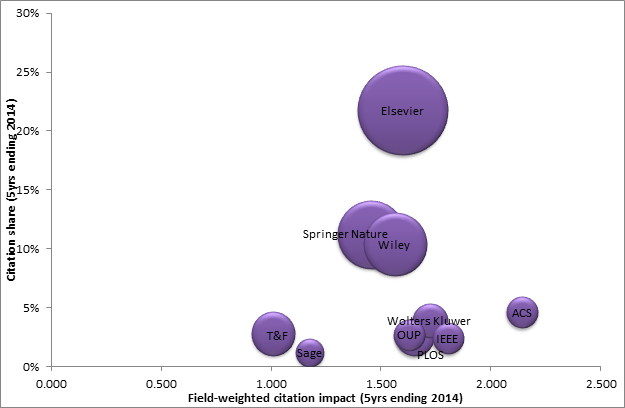 How research by UF authors is cited. (Source: Elsevier)
As more funding agencies -- most notably the federal government -- require that researchers make their work accessible to the public, many universities are looking for ways to ensure they are in compliance. During conversations with administrators and faculty members, Russell said she saw an opportunity for the library to tackle that challenge. More broadly, she said, they voiced an interest in the library aggregating scholarship by UF authors, making it discoverable to researchers and showcasing it more broadly.
Doing so, however, would require collecting information about tens of thousands of scholarly articles. As the university debated its options, Russell said, one major problem emerged: "How do we do this in a manner that accomplishes those objectives but doesn't put additional demands on the time of faculty?" she said.
The university believes automation is the answer. Last week, UF announced a first-of-its-kind pilot to link the repository with ScienceDirect, Elsevier's online journal and ebook catalog. Instead of filling the repository with tens of thousands of journal articles, the university is using application programming interfaces (APIs) to search ScienceDirect on a regular basis for new articles published by UF researchers. The repository stores the metadata gathered from those searches, presenting it as though the researchers themselves took the time to type up and submit the articles' titles, collaborators, time of publication and more.
When researchers now browse the repository, they'll find links to more than 31,000 articles that appeared in Elsevier's journals, the oldest dating to 1949. As long as they or the institutions they are affiliated with subscribe to those journals, they can read the article as it appeared in print (open-access articles are of course readable by anyone).
"The nice thing about this pilot is it opens up the repository," said Alicia Wise, Elsevier's director of access and policy. "Rather than being the end destination, it's part of the fabric of interconnected platforms."
Wise is talking about interoperability -- the notion that different platforms, systems and tools can work together without data being lost as researchers move between them.
Interoperability has already made its mark on other segments of higher education, for example the learning management system market. Instead of being locked into a single system and its default grade book, calendar and collaboration tools for years, colleges can now increasingly customize their systems by plugging in digital tools that work across all platforms. The focus has since shifted to ensuring users can track learning analytics data, too, regardless of which platforms and tools they use.
"The idea of the Internet is that it should be easier and more efficient for researchers to enter information once and for all our systems in the background to share that work," Wise said. "Information doesn't need to be replicated in lots of different places. It needs to be available, switch across platforms as needed, and there needs to be good two-way linking between those services."
In the case of the UF pilot, interoperability doesn't just benefit researchers. Elsevier, since it serves up the articles from ScienceDirect, collects data about what users are reading, Wise said.
While the pilot could be seen as UF handing some control of its institutional repository over to Elsevier, Russell said she views the partnership as "enriching" the content available. The articles available through ScienceDirect don't replace any of the university's own content, she pointed out. Additionally, the repository contains dissertations, theses and other materials the university has digitized -- including more than 11 million images, grant proposals, undergraduate research projects and more.
UF plans to pursue similar partnerships with other publishers, and it also hopes to expand the Elsevier pilot, Russell said.
The next stage of the project will likely look at how to increase access for users who aren't subscribers. The goal, Wise said, will be to grant any user the option to see "some full text" -- either the published article (after an embargo period) or a manuscript.
"Most repositories don't hold as much information as [universities would] like," Wise said. "We can save them some hassle and effort by working together."