You have /5 articles left.
Sign up for a free account or log in.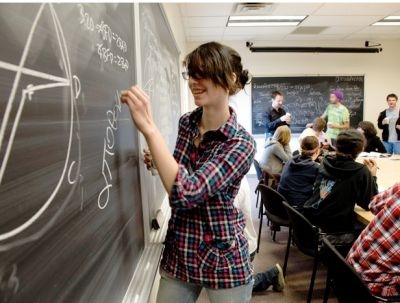 St. John's College's Board of Visitors and Governors will consider a proposal later this month to overhaul the Great Books college's governance, shifting from parallel presidents at its two campuses in Annapolis, Md., and Santa Fe., N.M., to a collegewide presidency held by the relatively newly hired Santa Fe president, Mark Roosevelt.
The proposal, which comes as longtime Annapolis president Christopher B. Nelson prepares to retire at the end of the next academic year, drew fire Monday from Roger Kimball, a prominent conservative writer and former St. John's board member. Kimball accused the proposed changes of subjugating the older Annapolis campus to its much younger Santa Fe sister and of changing the college's identity.
Kimball reserved much of his criticism for Roosevelt and said that the college board was planning a "coup."
"His real interest seems to be in 'progressive' politics, not education," Kimball wrote in a column published by RealClearPolitics.com.
Much of Kimball's criticism is of the educational differences between Antioch College, where Roosevelt was previously president, and St. John's. When named to his post, Roosevelt pledged support for the St. John's mission. "The program demands extraordinary commitment, and St. John's challenges students to widen their horizons, overcome their fears and even -- in an era of hyperpartisan contentious discourse -- change their minds. When a student comes to terms with nuance, ambiguity and intellectual uncertainty -- not to mention Ptolemy and Apollonius -- she leaves college ready to navigate the challenges of modern life," Roosevelt wrote.
While there are no plans to turn St. John's into Antioch, the fact that there is a proposal to change governance of an institution in its fourth century in Annapolis -- and proud of tradition -- prompted an outcry on social media. Alumni and supporters wrote such comments as "one of education's last holdouts is falling" and "this is literally the worst news imaginable in practically every way."
Faculty members in Annapolis have put forward an alternate proposal that supports the idea of a single president but would structure the change differently. In contrast to the existing proposal, the faculty proposal would not keep a subsidiary president reporting to the overall president, Nelson of the Annapolis campus said.
"Annapolis faculty has said if we're going to have one president, let's just have that one president responsible for all," he said. "Mark Roosevelt is a responsible man, and if he's willing to undertake the job, let's make sure he has an equal responsibility for all campuses."
Nelson sought to play down the significance of the proposed governance changes. St. John's has re-evaluated its presidential structure from time to time since opening its Santa Fe campus in the 1960s, Nelson said, and the college had a single president for more than two decades after the Santa Fe campus was first opened. Nelson is not being forced out of the presidency in Annapolis, he said, refuting a rumor mentioned in Kimball's piece. He also rejected the idea that Roosevelt will change the culture at St. John's.
"There is absolutely nothing to the story that there is some kind of threat to the program," Nelson said. "Every time one of the presidents retires it's time to ask ourselves these questions. What the board is doing is simply considering the best kind of governing structure for the college at this point."
St. John's has not closed the year with an operating deficit since 2008, Nelson said. It has closed revenue gaps with philanthropy and "unusual financial gifts." In other words, its financial model has changed to rely more on philanthropy.
To that end, St. John's has worked to increase the size of its endowment, boosting it 20 percent since the markets crashed in 2008 to $160 million, Nelson said. He wants to see the college double the endowment over the next five to six years to keep pace with a college that has between 750 and 800 undergraduates across both campuses, and an annual budget that's currently about $46.5 million. At the same time, he acknowledged the college is seeking ways to be more efficient.
The governance changes are set to be voted on June 18 at a board meeting in Annapolis. St. John's has asked staff, students and alumni for comment by June 13. The changes were proposed a special meeting in May of the college's Board of Visitors and Governors, at which the board attempted to lower deficits by cutting expenses, raising revenue and consolidating functions, it said at the time. Specific changes included the creation of the collegewide president, the dissolution of a management committee and the creation of a new cabinet for the collegewide president that would include the Annapolis president.
Roosevelt was named to the Santa Fe campus presidency at the end of May 2015. He had been president of Antioch College since January 2011 and was credited with raising more than $80 million to go toward projects including physical plant renovations. He is also a former Pittsburgh Public Schools superintendent, a former Democratic nominee for Massachusetts governor, and a former Massachusetts legislator.
Annapolis President Nelson announced on April 20 that he plans to retire at the end of the 2016-17 academic year. He has been president since 1991. Nelson, beyond St. John's, has been a prominent defender of the liberal arts and a critic of assessment trends that he has argued devalue education.
St. John's traces its history back hundreds of years, with a charter from the state of Maryland in 1784 and roots dating to a school founded in 1696. It opened its second campus in Santa Fe in 1964. Each campus normally enrolls between 450 and 475 students.