You have /5 articles left.
Sign up for a free account or log in.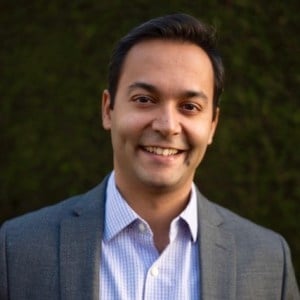 A psychology instructor at Kwantlen Polytechnic University says he was forced to choose between his principles and the wishes of his publisher as part of a disagreement about the textbook industry and the role of open educational resources.
Rajiv S. Jhangiani, a faculty member in psychology at Kwantlen Polytechnic in British Columbia, Canada, announced in a blog post last week that he had withdrawn a chapter he had written for Thematic Approaches for Teaching Introductory Psychology, an upcoming anthology of best teaching practices published by Cengage. Jhangiani made the decision after he was asked to make "a series of changes that would make my previously accepted chapter more palatable to the publisher."
Since the blog post went live, many academics have praised Jhangiani for taking a stand against what they see as publisher overreach. Others involved in the editing process said Jhangiani's criticism is overblown, and that the disagreement only involved the wording of a handful of phrases.
Jhangiani's chapter, titled "Unleashing Openness in the Teaching of Introductory Psychology," argues that scholars of psychology should embrace openness -- in the course materials they assign, the journals they publish their research in and their pedagogy. It criticizes publishers and bookstores for not doing enough to contain growing textbooks costs, presents open educational resources -- or OER -- as a potential solution and explains to faculty members how they can design their courses around free and open course materials.
That Jhangiani would dedicate his chapter (readable here) to OER should not come as a surprise. He counts open education as one of his research interests, serves as a research fellow with the Open Education Group, which examines OER uptake among students, and edits course modules in psychology for the OER platform Noba.
Despite the critical tone and references to business practices such as "releasing new editions with only very minor changes," the book's editors -- two other psychology professors -- last year said Jhangiani's chapter was "ready for our 'done' folder," according to emails shared with Inside Higher Ed. He next heard about the project in March, when the editors emailed the collaborators to say that editorial changes at Cengage had caused a delay, but that they were eyeing a release in December or January.
"Please remember that at this point there can be no additions or major changes to your work -- a new reference here or there might be OK, for example," the editors wrote. "Other than that, you should only address substantive changes required by the copy editor."
Jhangiani in May received an email from one of the editors about softening some of the language in his chapter, perhaps by "offering some pro views of traditional textbook resources in tandem with the con ones" or adding "a qualifier that OER may not be ideal for all teachers and that traditional sources still have an important role to play." The concerns had arisen after the editors went through the chapters with Cengage, the editor wrote.
Shortly thereafter, Jhangiani heard directly from one of Cengage's product managers, encouraging him to add "a few more value statements made around traditional publishers' offerings." The publisher had "no issue with the presentation on OER," the product manager wrote, "but [we] need to feel we are being fairly represented."
After going back and forth with his editors and with time running out before his chapter would be cut from the book, Jhangiani eventually agreed to let the editors make the changes they would like to see as long as he could give final approval.
When the editors returned with their edits, which described traditional textbooks as "high-quality texts" that are "routinely revised in depth" and that faculty members "should beware" when exploring OER, Jhangiani decided to withdraw the chapter. Although the disagreement revolved around a handful of sentences in a 30-page chapter, he said the revised language didn't accurately reflect life as a faculty member.
"I don't doubt that the editors feel that they were trying to achieve what they think is a more balanced account of traditional publisher practices," Jhangiani said in an interview. "I simply disagree with their interpretation of what that is -- with the Cengage product manager as well. When I cited the specific percentage increase in textbook costs, that comes from the [U.S.] Bureau of Labor Statistics. They didn't want that in there. When I talked about the practice of superficial revisions of textbooks, they didn't want that there. When I talked about the quality of OER … they wanted to embed statements like 'buyer beware.'"
Dana S. Dunn, one of the editors of the book, downplayed the disagreement.
"We made some suggestions for Rajiv to try to add a little more balance," Dunn, professor of psychology at Moravian College, said in an interview. "Rajiv withdrew the chapter, and we were sorry to see that happen."
In a statement, a Cengage spokesperson said the publisher does not have editorial control of the content and did not ask Jhangiani to make "specific edits." The language in Jhangiani's chapter was "flagged for perceived inaccuracies about the industry" during the copyediting stage, the spokesperson said, and the editors subsequently asked him to revise it.
"Cengage Learning recognizes the value that OER materials bring to higher education," the spokesperson said. "We use OER content in a growing number of our products and are exploring new offerings that will leverage OER to offer an affordable, reliable option for students and instructors."
The book is still on track to be published later this year or early next year.